Kootenay Lake Fishing Report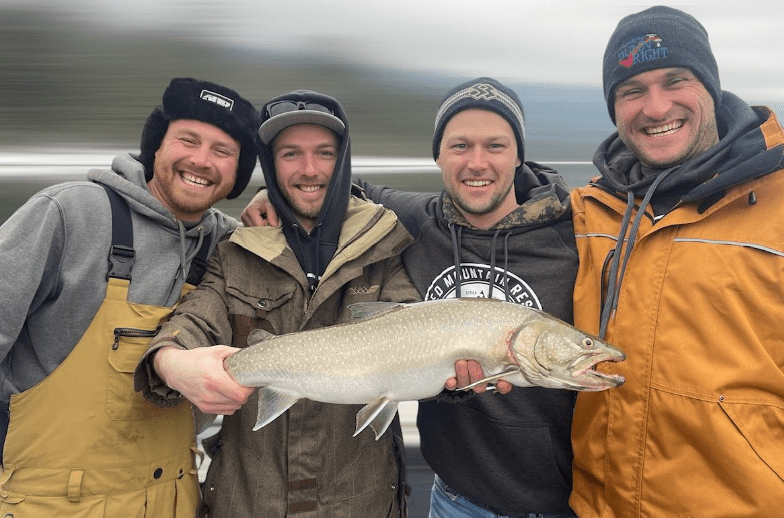 Well, I thought we were out of the woods and headed into spring, but apparently not!
Oh well, one last blast of winter and we should be good to go.
In saying that, we have still been on the water a bit, so here's your latest fishing report:
Kootenay Lake
Like January, we had some good days and some slow days in February.  Typical for this time of year, as the water is at its coldest and the fish metabolism has slowed.
February saw more Bull Trout than Rainbows but getting some nice ones.
Our latest group of skiers from back east were rewarded with some nice fish.  After skiing/snowboarding for five days in a row, they were looking for a break.  A day to rest their legs and found something fun to do on their rest day.
As I explained to them about the current conditions and the lazy, winter fish, I kind of set the bar low.  The crew wasn't concerned about the fish, but more excited to get out on the water in the mid of winter.
We started out with a few bites, but nothing coming to the boat.  But then, when the magic hour happened, the fish became more aggressive.  First fish to the boat was a beauty nine-pound Bull Trout.  What a start!
Not far after that, we caught and released a chunky seven-pound Bull Trout.  These guys were losing their minds.  Not expecting a lot, and mostly used to catching two-pound fish back home, they were pleasantly surprised.
The fishing slowed down late morning, so we moved locations and tried a different approach.  Hoping to hook a few Rainbows, we put on the lucky Gibbs Croc spoons and a couple buck tails.  Only one strike on the surface in a couple hours, so we decided to switch back to using the down riggers.
Early afternoon the bite began again.  A couple more Bull Trout hooked before we ended our day.
What a great way to spend a 'rest day' from the ski hill.
We had a few more trips throughout February, although the quick cold snap shut us down for a few days.
Most other trips managed to hook into a fish or two, although the bite seemed to slow down.
As March has rolled in, we look forward to the weather hopefully changing for the better.  As the water begins to warm up, the fish will become more aggressive.
Spring break is fast approaching, and the phone has started ringing again.
Looking forward to getting everyone out on the water during the break.  We still have a few dates available if you're looking at getting out.
What are they biting on?
Bull Trout have been biting on the usual flasher/hoochie combo, hockey sticks, or Lyman plugs on the down rigger.  Our favourite combo has been the Gibbs STS flasher, followed by the green spatter back or the green pistachio hoochie.
Favourite depths have been between 100 – 160ft.  Try adjusting depths according to where the bait is showing up on the sonar.
On the surface, we have been dragging our favourite Gibbs spoons.  The Skinny G (outfitter or no bananas), or the brass/fire stripe croc have been working best for us.  Also getting the odd fish on the buck tails as well.  Lucky numbers have been bucktail #203, 207, 210, 215.
Trolling speed is still a factor during the cold-water months.  Our best speed lately has been between 1.8 – 2.3 mph but need to experiment with that.
That's it for now.
Hope this helps with your next adventure
Tight lines…….
Kerry Reed, Reel Adventures Sportfishing