Emergency Operation Centre COVID-19 Update #12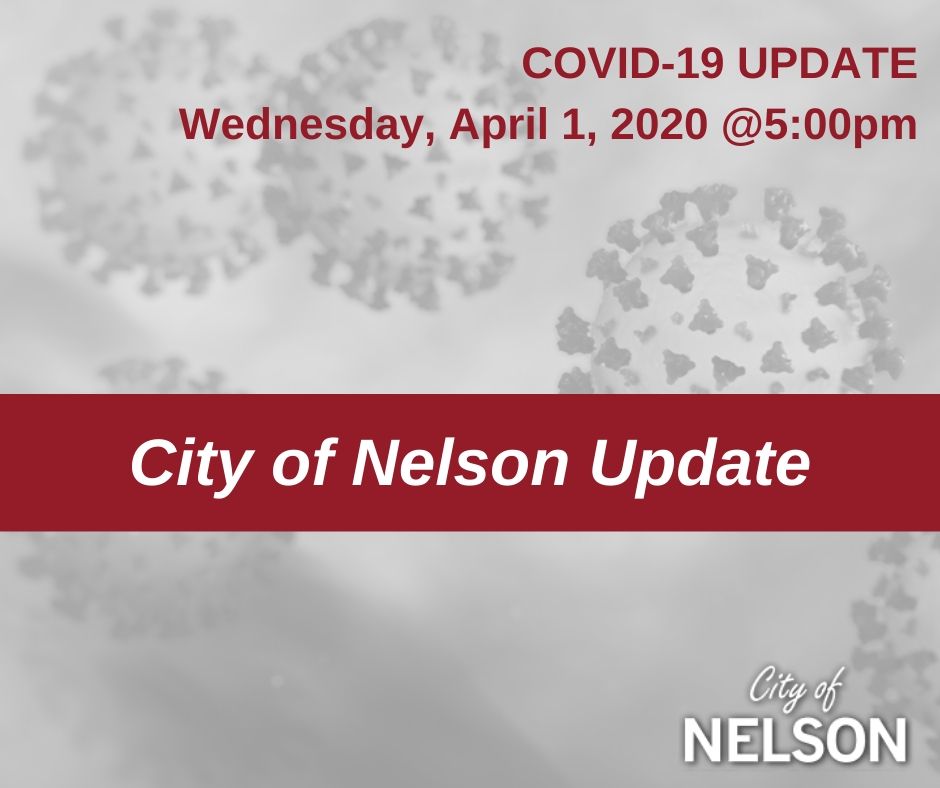 Submitted by City of Nelson Emergency Operation Centre
Provincial Health Officer Dr. Bonnie Henry says we are currently in a very challenging time and it is having an impact on all of us. She said the more committed we are now, the less the burden there will be on the health care system in the weeks to come.  We all need to continue to do our part.
Dr. Henry reminds us that all the orders that have been implemented by the province, remain in effect, but the goal is to have them in effect for as short of time as possible. We need to learn from other experiences around the globe and be very mindful that when we eventually can increase activities, it is done in a way that does not tip us over the edge.
City departments continue to provide services such as building permits, street sweeping, garbage pick-up, emergency services, online bill payments, etc.  Additionally, Nelson's Emergency Operation Centre is monitoring the situation, both locally and globally to ensure an appropriate and coordinated response.
The EOC is working with Interior Health, Emergency Management BC, BC Housing, and others to help ensure our community is prepared. This includes collating Provincial Health Minister and Provincial Health Officer's information and sharing with our community. Please visit nelson.ca/covid19 for daily updates.
Mayor and Council would like to thank our community for their incredible response and resilience during this very trying time.  Whether it be joining the rest of the BC and the world at 7:00pm to cheer frontline workers everywhere, hearts in windows, grocery and medicine deliveries to those isolating, or general acts of kindness we are seeing all over our community, we should all be very proud.
Quote from Prime Minister Trudeau today:
"We must fulfill our collective responsibility to each other. Listening to public health rules is your guidance. Staying home is your way to serve. So be smart about what you do, the choices you make.That's how you will serve your country."
The BC Government has provided the following information today:
COVID-19 Cases:             
Total cases in BC to date: 1066— 497 in Vancouver Coastal Health; 367 in Fraser Health; 72  in Island Health; 114 in Interior Health; 16  in Northern Health
Total recovered cases in BC: 606
Total new cases in BC: 53
Total fatalities in BC to date: 25
Total cases in Canada to date: 9,730
Total fatalities in Canada to date: 115
Update from Nelson Kootenay Lake Tourism:
The community is working together to gather information on which businesses are open and closed and offering new innovative services. A list of resources is also being collected to help us all navigate these challenging times. If you have any additions, please email info@nelsonkootenaylake.com.
Please visit the Nelson and Kootenay Lake Tourism webpage. 
'Everybody is susceptible': Why younger Canadians may be helping fuel the spread of COVID-19
This is an excerpt from CBC News – April 1, 2020.
Younger Canadians represent one in three of all reported COVID-19 cases, and experts say they could be unknowingly accelerating the spread of the virus in Canada and around the world.
Of the 4,186 COVID-19 cases for which the Public Health Agency of Canada has provided epidemiological data, 29 per cent are aged 20 to 39 and four per cent are under 19 — meaning one-third of cases in Canada involve people who are younger than 40.
Canada's chief public health officer, Dr. Theresa Tam, said Sunday that those under 40 made up about 12 per cent of hospitalized cases.   Read the article here…
'Best case scenario': COVID-19 measures expected to last until July, government document says:
This is an excerpt from the National Post – April 1, 2020.
Canadians are far from done with dealing with COVID-19, as measures to fight the spread of the virus are expected to continue until at least July, according to a government document obtained by the National Post.
"Current GoC [Government Operations Centre] modelling suggests as a best case scenario that current measures continue until at least July."     To read the full article click here.
________________________________________________________________________________
Reminders:
To help provide important information to our community, the City of Nelson has developed a dedicated webpage nelson.ca/covid19 that will be updated frequently as new information becomes available.  Please sign-up for 'City News' on NotifyMe to receive automatic updates from the City via text or email.
The City of Nelson relies on Interior Health, BC Public Health, and the Federal Government for information related to the virus itself. If you believe you are exhibiting symptoms of COVID-19, please contact your physician, or call the COVID-19 telephone line at 1-888-COVID19, to be assessed or call the testing clinic hotline at (250) 551-7500 to be triaged for testing.   Symptoms of COVID-19 include coughing, fever, sore throat, and difficulty breathing. These symptoms may not present themselves for up to 14 days, but you may be a carrier of the virus; therefore it is important to follow the guidelines set out by the health experts.  
To check your symptoms or get updates from the BC Government you can download the BC COVID-19 App or visit this website
News and information about the spread of COVID-19 is coming at us quickly. It can be hard to remain calm given all that is going on. Stress, anxiety, and depression are not unusual for people of all ages. But there are things we can do as individuals and collectively to deal with stress and support one another during these challenging times. Visit the managing stress website here.
The City of Nelson Emergency Operation Centre thanks the public for doing their part to help maintain a safe and healthy community and for understanding the importance of this evolving situation.
Information from the BC Center for Disease Control on COVID-19