Nelson Leafs conclude amazing season with Awards Banquet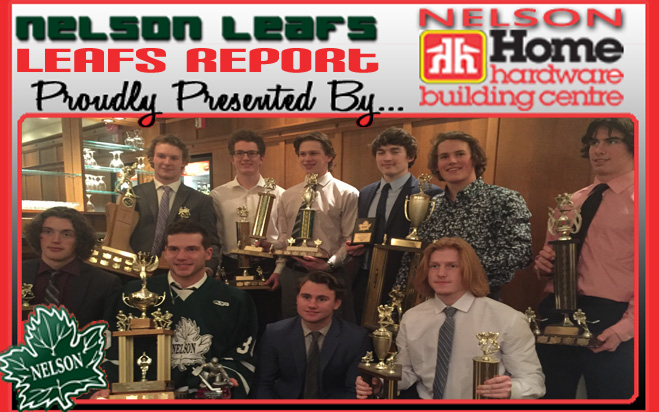 The Nelson Leafs Hockey Club officially dropped the curtain on a very successful campaign as the team held its annual year-end banquet at the Hume Hotel.
The banquet allows the hockey club to salute the contributions made by players and volunteers during the recent Kootenay International Junior Hockey League season.
The awards were spread out amongst the team with forwards Jack Karran and Josh Williams leading the way by capturing the Top Playoff Performer and Most Valuable Players honours, respectively.
Other winners included forward Ryan Cooper, Rookie of the Year; winger Logan Wullum, Coaches Choice and Most Spirted Player; defenceman Brendan Mckay, Most Improved Player and Michael LeNoury, Best Defenceman.
Sawyer Hunt was the Leafs leading scorer; hard-working Ryan Piva claimed Sportsmanship trophy; netminder Caiden Kreitz, Citizenship award; while hard-hitting Brent Headon took home the Unsung Hero hardware.
Brendan Mckay was also recognized for the Leafs scholarship award.
Leafs goalie Josh Williams and forward Ryan Cooper also captured the Murdoch Division's top goalie and rookie awards.
Nelson, which won the Neil Murdoch Regular season title, concludes the season by advancing to the Conference Final for the first time since 2010.
During this year's playoff run, the Leafs hosted 10 games at the NDCC Arena which averaged more than 700 fans.
Kimberley, defeating Nelson in a grueling six-game series, now advances to meet Revelstoke Grizzlies in the KIJHL Final beginning Friday in the Bavarian City.
Revelstoke advanced by rallying to defeat Osoyoos Coyotes in seven games.
The KIJHL winner travels to Richmond to compete in the 2018 Cyclone Taylor Cup, April 12-15.
The KIJHL is the defending champ after the Beaver Valley Nitehawks won the title in 2017.