Made For Trades Presents Pathways for High School Students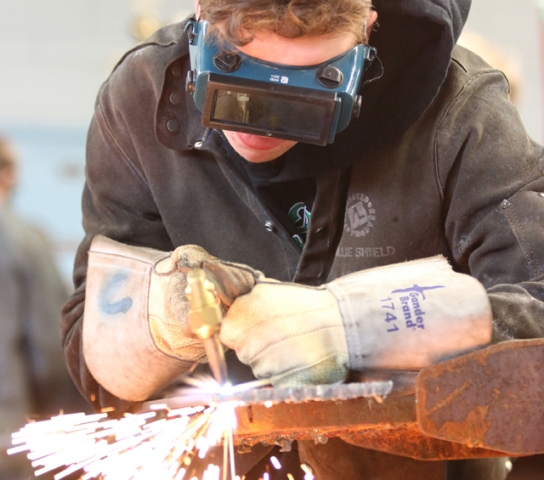 More than 200 junior high and high school students descended on the Selkirk College Silver King Campus in Nelson on Friday to get a closer look at gateways into trades training.
The annual Made For Trades event brought students from around the West Kootenay-Boundary region to the campus to introduce the youth to the advantages of post-secondary as a springboard into trades careers. Students from Grade 8 to Grade 12 had an opportunity to tour the Silver King Campus, ask questions of the instructors, interact with current students and take part in hands-on workshops.
"It's important to give high school students the opportunity to see what goes on here," said Rob Schwarzer, chair of the Selkirk College School of Industry & Trades.
"It's nice to see the hallways and shop areas filled with all this excitement. We are stressing career paths and shop safety, but I think what the students will take away is the chance to get some hands-on experience in the shops. Hopefully it will inspire them and help them discover some options."
The Selkirk College School of Industry & Trades offers programs in Carpentry, Electrical, Fine Woodworking, Heavy Mechanical, Metal Fabrication, Welding, Millwright/Machinist, Plant Operator and Refrigeration Plant Operator.
Friday's Made For Trades day also included the Hairdressing Program and Esthetics Program.
"I'm interested in the trades, mostly welding," said Logan Mengler, a Grade 11 student at New Denver's Lucerne Secondary School.
"The concept of building things and construction interests me."
One of the current Selkirk College students helping run a workshop in the Heavy Mechanics Program shop was 17-year-old Hayden Baird. An option for high school students is the ACE IT (Accelerated Credit Enrolment in Industry Training) high school transition program which enables participants to start their post-secondary career while still in Grade 11 or 12.
Baird attended the Selkirk College Made For Trades day when he was in Grade 9 and then set himself on a pathway towards ACE IT.
"I think coming to this day helps kids if they're unsure of what they want to do," said Baird. "They can come and see what we do and how we do it. It was a big push for me to come up here and I'm happy I did."
A student at Nelson's L.V. Rogers Secondary, Baird has spent the last nine months in the mechanics shop earning both high school and college credit. He will graduate from the Heavy Mechanical Foundation Program later this month and then graduate from high school in June.
"I saw the way the Selkirk students were up here to show the kids around when I was younger," said Baird about his reason for volunteering to put on a Made For Trades workshop.
"I wanted to have that chance because it's fun to interact with the students from the different schools and get them interested in what we're doing. My year at Selkirk College has been so great and I would definitely recommend it."
Selkirk College puts on two Made For Trades events each year, one in the Fall and one in the Spring. To find out more about the School of Industry & Trades Training go to selkirk.ca/school/industry-and-trades-training.