After setting max temperature records, March goes out like a lion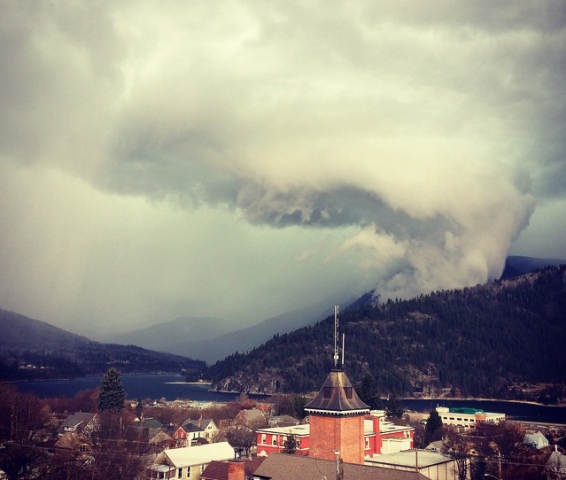 Weather lore says March usually comes in like a lion and goes out like a lamb.
However, this was not true in 2015 as the opposite occurred on the calendar for the third month of the year according to Ron Lakemen of the Southeast Fire Centre.
"Last month an upper ridge of high pressure (generally centred over the coast) dominated for dry, fairly clear, sunny and unseasonably mild conditions during the initial 13 days of March," Lakeman said in his monthly media release.
"The only measurable precipitation recorded during the February 13 through March 13 period was 0.2 millimetres of rain during the morning of March 11," Lakeman added.
Record daily maximum temperatures of 17.0, 19.0, 20.1 and 17.1 degrees were set on the 8th through 11th, respectively."
Those four temperatures set records for the West Kootenay for daily highs, with the warmest day the March 10 when the temperature climbed to over 20 degrees Celsius.
However, Lakeman said that all changed when a Pacific system tracked inland to end the dry spell during the night of March 13.
"A larger Pacific system followed for heavier precipitation during the weekend of the 14th-15th, 20.2 millimetres of rain was recorded along with another 10 centimetres of wet snow (due to a subtle input of cool air from the east) during the night of March 15," Lakeman explained.
Lakeman said the snow largely melted on contact and was the only snow experienced during the month.
Lakeman said high pressure briefly rebuilt over southern BC for relatively sunny and warm conditions again on the 18th and 30th. 
Those were the only two mild days as the second half of March was relatively wet with disturbances embedded in a west or south westerly flow producing frequent showers and four days with thundershowers.
"The warm start to the month resulted in the mildest mean temperature during March since local records began 50 years ago," Lakeman said.
"The previous mildest March was 1992. The total amount of precipitation (82.8 mm, almost of which fell after the 13th) was 132% of the monthly normal."
The weather for the start of April was much the same with a few unsettled days followed by a few sunny, but cool, days.
The seven-day forecast calls for sunshine Tuesday and Wednesday followed by wet weather for the weekend.