Saints add firepower to future with commitment by Dallas Calvin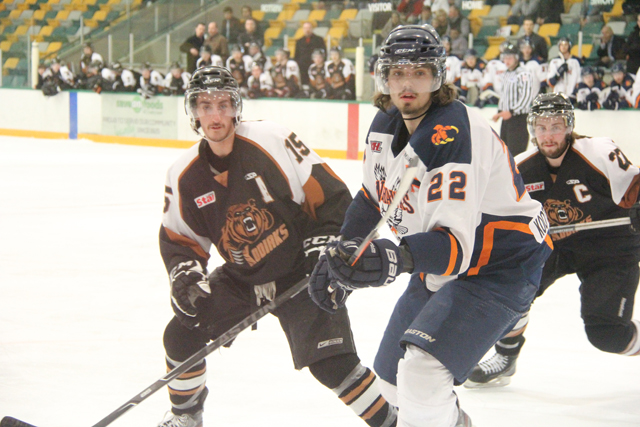 On the eve of the first round of the British Columbia Intercollegiate Hockey League (BCIHL) playoffs, the Selkirk College Men's Hockey program announced great news as former KIJHL and BCHL star Dallas Calvin has inked a playing commitment of to attend the Castlegar-based school in and compete 2015-2016.
The six-foot-4, 220-pound Calvin recently completed his final junior hockey season with the Trail Smoke Eaters of the British Columbia Hockey League (BCHL).
Combining an extreme amount of skill to go along with his big frame, the Trail native accumulated 16 goals and 29 assists in 32 games for the orange and black this season. For his efforts, he was named the Smoke Eater's "Unsung Hero."
Prior to this season, Calvin suited up for the Vernon Vipers in 2013-2014 before returning to the Beaver Valley Nitehawks in the Kootenay International Junior Hockey League where he led the team to its second championship in three seasons.
During his four year career for the Nitehawks, he scored 122 goals and 151 assists in 165 career games and is the club's all-time leader in points with 273.
"It is important for us to continue to add players with championship experience to our hockey program," says Saints head coach Alex Evin.
"Dallas played a huge role in leading his team to the KIJHL, Cyclone Taylor Cup, and Keystone Cup under Terry Jones last season and we hope he can contribute to more championships at Selkirk College."
Calvin enjoyed his time with the Trail Smoke Eaters and hopes to continue on with academics and hockey as far as he can.
"Selkirk College has had a great hockey team the past few years and I am excited to be part of the growing program," he says.
"It will hopefully be a good stepping stone for me in my academic and hockey career. I want to be an impact player every game, get stronger, and continue to improve so I can move onto a higher level once my career with Selkirk is over."
Calvin is the eleventh player who is committed to a collegiate hockey program to dawn a Smoke Eaters jersey for the 2014-2015, an impressive achievement for the organization.
Smoke Eaters head coach coach Nick Deschenes says Calvin will make an impact at BCIHL level.
"We want to congratulate Dallas Calvin on his recent commitment to Selkirk College," says Deschenes.
"He was a dominant player at the BCHL level and I believe that he will have a positive impact on and off the ice for the Saints. This is a great opportunity and our organization wishes him all the best in the future."
Calvin is the fifth Nitehawk to suit up for the Saints in the last three years following in the footsteps of former KIJHL champions Arie Postmus, Mason Spear, Ryan Edwards and Mike Vlanich.
"I think it fantastic for these young men who grow up playing minor hockey, junior hockey, and now college hockey are able to reunite. Those are memories that will stay with them forever and I hope they have a lot of fun working towards academic success and BCIHL championships together," says Evin.
Calvin plans to enroll in the Business Program at Selkirk College where he can them transfer onto a university to complete his degree.