Cooper Creek rocked by early morning fire at Meadow Creek Cedar mill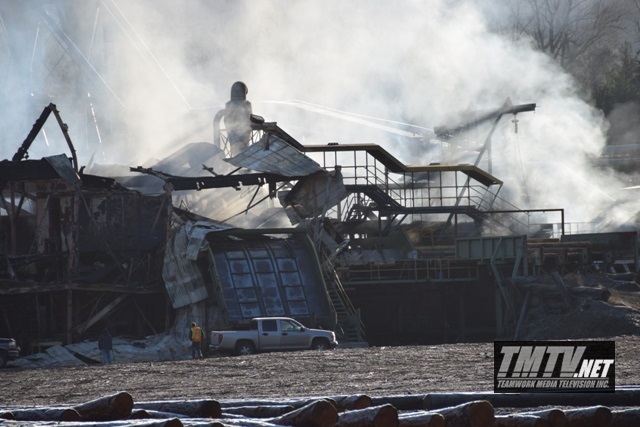 The small community of Meadow Creek was rocked early Thursday morning by explosions from a fire at the local sawmill at Cooper Creek.
Dena Beardon, whose husband George worked at the Meadow Creek Cedar mill for more than 30 years before retiring, witnessed flames more than 200 feet in the air and heard explosions coming from fuel storage tanks.
"I woke up to check the thermometer around 2 a.m. and saw an orange glow and flames and sparks coming from the mill," explained Beardon, who lives across the road from the mill approximately 1,000 feet away.
"The fire burned until about 4 a.m. and smoked well into the afternoon," Beardon added. "It burnt the main building to the ground."
Beardon, who heard several explosions during the fire, said the water lines were frozen so people could only watch.
"There is no fire protection here," Beardon said. "The nearest fire hall is Kaslo."
Kaslo RCMP Corporal Shaun Begg said that the mill is outside of the Fire Protection District, and, that when RCMP arrived around 2:40 a.m. the mill was fully engulfed.
The fire, which continued for several hours, fully destroyed the mill.
"There was a rudimentary fire suppression system on site, but that its effectiveness was inhibited by the effects of the cold weather, and, that despite the efforts of mill workers, there was no effective way to suppress the flames," Cpl. Begg said in a media release.
The Meadow Creek Cedar mill employs approximately a dozen workers. The company had restarted the mill after a three-year shutdown.
Cpl. Begg says that investigators will be returning to the site later today when the scene cools down to attempt to determine the origin of the fire.