Kootenay gains split with Vancouver Fusion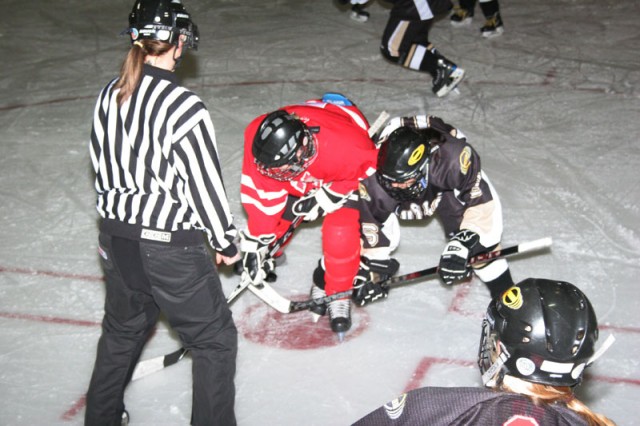 By Bruce Fuhr,
The Nelson Daily Sports
Early penalty troubles proved to be too much for the Kootenay Wildcats to overcome.
Vancouver Fusion scored three times on the power play to dump the Wildcats 5-1 in B.C. Female AAA Hockey League action Sunday at the NDCC Arena.
The Wildcats managed to pull off the weekend split by rallying for a 5-4 win Saturday over the Fusion at the Civic Centre Arena.
"Fusion jumped out to a 3-0 first-period lead when (we) got into penalty trouble," Kootenay coach Mario DiBella explained.
Kiana Strand managed to pull Kootenay a little closer with a second period marker.
However, that would be as close as the home side would get as, with the net empty for an extra attacker, Vancouver scored and insurance marker. The final tally came after a defensive miscue by Kootenay.
Saturday, Kootenay kept the fans on the edge of their seats as the Cats staged a second-period rally before holding on to register the one-goal win.
Daley Oddy opened the scoring for Kootenay, converting her own rebound to give the Cats a 1-0 lead after one period. Vancouver scored twice in the second to take a 2-1 advantage into the final period.
However, Kootenay out scored the Lower Mainland squad 4-2 in the third to register the one-goal victory.
"Veteran leadership was key to this win with (Shannon) Hall, (Kiana) Strand and (Shea) Weighill leading the way," said DiBella.
Hailey McLean, Strand, Oddy, with her second of the game, and Shea Weighill into an empty net, scored for the Cats. Captain Shannon Hall and Aimee DiBella each had two assists. Brianne Burns and Kayla Keraiff split the netminder duties.
Kootenay, 3-1 in league play, plays host to the five-team B.C. Female AAA Hockey League tournament beginning Friday in Nelson. Other teams include Okanagan Rockets, Prince George Cougars and Fraser Valley Phantom.
The tournament begins Friday at 10:45 a.m. in the Civic Centre Arena with Prince George Cougars meeting the Okanagan Rockets. Wildcats first game is at 5:30 p.m. in the Civic Centre Arena against Vancouver Fusion.

The Cats meet Okanagan Rockets at 8 a.m. Saturday in the NDCC Arena before battling Prince George Cougars at 2 p.m. in the Civic Centre Arena. Kootenay concludes the tournament Sunday with a game at 10:45 p.m. against Fraser Valley Phantom.
OVERTIME: Daly Oddy and Shannon Hall sit in second and third spots, respectively, in league scoring behind leader Rachel Dong of Fraser Valley. Oddy has three goals on the season. Kootenay Aimee DiBella and Lee Jordyn are tied for fourth spot.
sports@thenelsondaily.com