City Soccer swings into fall season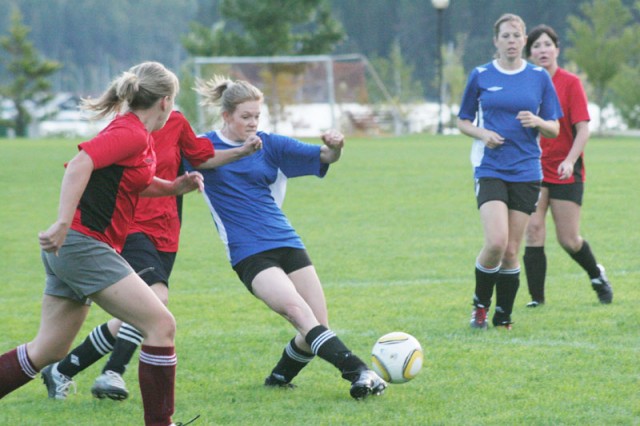 The second half of the Nelson City Soccer League is now in full swing with three of the four leagues gearing up for playoffs later this month.
The only league not up and running during the fall season is the Women's Open League.
Second place Crushers upset regular season champion Hot Kickers to claim the Women's Open title.
Meanwhile the other three leagues — Men's Open, Men's Over 35 and Women's Over 30 League — kicked off the second half following the Labour Day holiday weekend.
The Women's Open League goes Monday's with the Men's Open set for Tuesday evening.
The Men's Over 35 League runs Thursday.
Due to the shortness of evenings in September, all three leagues will switch to Sunday afternoons beginning Sunday, September 19.
All games are at the Lakeside Pitch.
City rivals, Nelson Innkeepers and Kootenay Co-op have the early lead in the Men's Open League after one week of play.
The co-leaders meet tonight in one of two games. U18 Rep meets Vikings in the other match.
In the Men's Over 35, Real Nelson leads the six-team league with a 2-0 record.
Bia Boro and Ted Allen's Jewellery sit tied for second at 1-0-1 with Red Dog third with three points.
Jackson's Hole, first half winner, and Club Inter are winless in two starts.
In action Thursday, Club Inter meets Bia Boro, Ted Allen's plays Real Nelson and Jackson's Hole goes up against Red Dog.
In the Women's Over 30 league, Spring winner Dirty Dozen sit tied for top spot with 4-Play after one week.
Red Dog and Finley's Jiggers are winless heading into week two.
All leagues begin playoffs later this month with the overall champ being decided in early October.