Cats, Bombers off to compete in Crowe Volleyball Tournament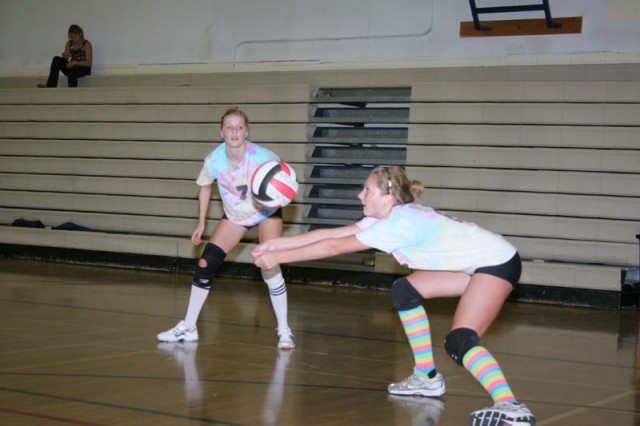 The new Apple iPad has barely seen 20 hours of use and already the first tournament of the 2010-11 High School athletic season is on the horizon.
The 38th annual High School Senior Girl's Invitational Volleyball Tournament is capturing center stage beginning Friday at the J. Lloyd Crowe gymnasium in Trail.
The five-team event has two teams from the Nelson area to help tip off the season — Mount Sentinel Wildcats and L.V. Rogers Bombers.
"This is our first event and we are quite curious with what to expect," said longtime Mount Sentinel skipper Joe Moreira on the eve of what many believe is his final season of coaching at the high school level.
"This year's team has a very different look from past years (there are) no super stars (like Katie Wayling on last year's team); just a bunch of girls that are very committed and work very hard."
The Wildcats are led by senior Jessica Paulson, the player with the most experience on the team having played beach volleyball at the 2010 B.C. Summer Games in Langley.
The bulk of the squad comes from the rookie level as Mount Sentinel boasts six Grade 10s on the team.
The Bombers, coached by Jennifer Kidd, has a team consisting mostly of Grade 11 players eager to build on last season.
Golden Eagles, early favourite Selkirk Storm of Kimberley and host J, Lloyd Crowe Hawks join the Bombers and Wildcats for the two-day tournament.
LVR meets the Hawks at 2 p.m. to open the tournament while Mount Sentinel meets Golden at 5 p.m.
The round robin draw continues through Saturday with the playoffs starting at 2:20 p.m. with medal games.
The top two teams square off to determine the champion while the third and fourth-place clubs battle for the bronze medal.
Mount Sentinel finished fifth at the 2009 B.C. High School Girl's Single-A Volleyball championships in Kelowna.
The goal this season is to first get back to the championships and to improve on that finish.
"We are going to be challenged to compete with the best teams in the province," said Moreira of his Single-A team, "but it will be fun to try."
SIDE OUT: The Mount Sentinel boy's travel to Creston Friday to participate in the Prince Charles Comets Volleyball Tournament. It's also the first action of the season for teams entered. In 2009 Mount Sentinel finished 10th overall at the 16-team B.C. High School AA Boy's Volleyball Championships in Kelowna.