Bomber boys begin season in at Best of Best Soccer Tournament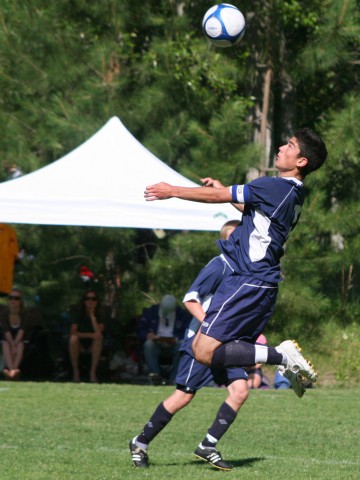 After experiencing the joy of winning a B.C. Soccer Provincial B title during the summer with the Nelson U18 Selects, head coach Keith Williams is preparing to dial it back a little as skipper of the L.V. Rogers Bombers.
Williams, with a few of the same crew that won the provincial crown, travels to the Fraser Valley today to compete in the 16-team Best of the Best High School Boy's Soccer Tournament in Chilliwack.
"It's definitely going to be a rebuilding year," Williams said Tuesday when asked about the team heading into the 2010 high school boy's soccer season.
"It's probably the smallest team I've had in terms of physical stature I've had in years," added Williams, who took the Bombers to a disappointing 12th place finish with almost the same team that rebounded to win the 2010 Provincial B Cup.
LVR returns just seven players from last year's squad. Along with several graduating seniors, the Bombers are missing the Chopin boys, Jules and Titoun. The Chopin boys decided to move to the Lower Mainland to pursue their soccer careers playing the in Metro League.
Heading up the roster is midfielders Luke Mori and Erik Norberg. Other returning players include striker Danny Santano, midfielder Simon Sheppard and defenders John Whelan, Kevin Lewis and Sean Hickson.
The Bombers open the tournament Thursday morning against Valleyview of Kamloops. The team completes the opening day round robin draw against G.W. Graham of Chilliwack and Vancouver's Handsworth Royals.
Other teams in the tournament are from Northern B.C., the Fraser Valley, Okanagan and Vancouver regions.
The round robin record determines where teams advance into the playoff round.
The final is set for 2:15 p.m. Friday.
The date of the Chilliwack tournament hit the radar screen much earlier than in previous years, forcing Williams to take a different approach entering the event.
"I'm just getting to know a lot of the player's names so I really don't now what to expect," he explained.
Andrew Woodward and Bruno Munro, the latter an exchange student for Mexico, have the tough task to replace graduating senior Kean Silverthorn in goal.