Penner, Randall Isaac
(September 2nd, 2021)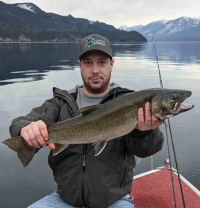 Randall was loved by so many people. Do you know how some people just make you feel loved and accepted for exactly who you are? Who would drop everything to help you with moving, spend time with you when you are down, and just make sure that you are OK? That was Randall. His heart was giant, and he was generous with everyone he ever met. It's impossible that his smile will never light up a room again.
It is with broken hearts that the family of Randall is sharing the news of his unexpected & tragic passing on August 24, 2021. Randall is survived by his parents, Diane and Wally Penner, his sister Kerry (Sean) and brother Justin (Britney).
Randall was born on September 28, 1985, in Nelson, and has lived here for most of his life. The summer that Randall was born was one of the worst fire seasons that B.C. had seen to date – his Dad, Wally, spent that summer fighting fires near Invermere nearly missing Randall's birth. Throughout his life Randall worked many different jobs in the Kootenays and spent the last summer of his life fighting wildfires with Debri Resources. He was a very hard worker, a natural leader, and always tried his best. He was very proud of the work he did protecting people & communities.
Randall came into this world full of opinions. Even as a toddler he had opinions on exactly how his socks should fit. Randall was raised on an acreage in Blewett and spent his summers at the family cabin in Renata. Both places were home to him. His childhood was full of adventures in the forest & on the lake with his brother and sister, learning to hunt and fish with his dad, and riding his mountain bike, motor bike, and skateboard. Randall's love of fishing never diminished – he could often be found trolling on the Kootenay Lake or Arrow Lake. One of the ways Randall showed his love for others was through cooking and sharing amazing food. His ribs & apple crisp with lemon sauce were not to be missed. Much to the delight of everyone who partook, in the last year Randall dedicated his spare time to creating the perfect smoked sausage. Throughout his life Randall loved animals, especially his little dogs Hunter & Cash.
Randall will live forever in the hearts and minds of his family and friends.
The family would like to thank everyone who has reached out and shared their quirky and special stories of how Randall touched their lives. Please continue to share your stories and memories of Randall with us. We are so grateful for your support and knowing that you are here with us makes the pain a little more bearable.
Due to Covid-19 there will be a celebration of life planned for a later date where those who knew & loved Randall will have the opportunity to share memories & stories and grieve in community. The family deeply regrets that this celebration cannot happen now.