Nelson town hall meeting on Public Pharmacare Now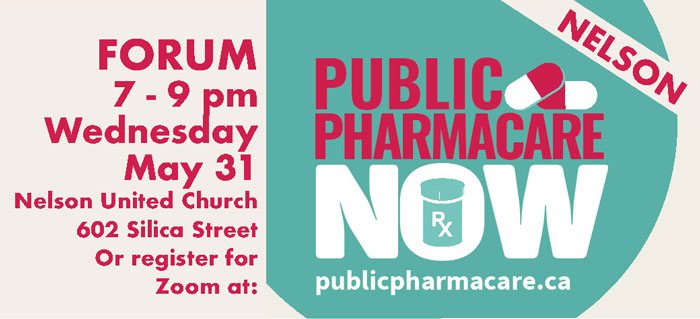 Sky-high drug prices are forcing millions of people to choose between paying rent, buying food, or getting their medications.
And Big Pharma greed is siphoning billions of dollars from our crumbling public health care system. 
 
And yet, despite its promise to enact a public pharmacare plan by the end of 2023, the Trudeau government is moving at a snail's pace.
To raise the issue here in Nelson, the Nelson/West Kootenay Council of Canadians is hosting a townhall forum on Wednesday, May 31.
Three expert speakers will be joining the event via Zoom, which will be livestreamed on a big screen on location at the Nelson United Church.
The presentations will followed by questions and discussion with the local and online audience.
"One in ten Canadians don't take their medicines as prescribed because of cost," says Steve Morgan, UBC professor and expert on public health policy, one of the featured speakers at the Nelson forum.
"Asking people with chronic health needs to pay a percentage of their drug costs amounts to putting a tax on illness." he says.
"As a Canadian with Type 1 diabetes I'm dismayed by the way pharmaceutical companies have driven up insulin prices, created a global oligarchy and increased the burden on those who need this life-giving medicine," says speaker Colleen Fuller, a Canadian researcher and author of several books on health policy.
The third speaker at the forum is pharmacist Afshin Jaberi, who has worked at REACH Community Health Centre, in East Vancouver, since 1996. He has direct experience with people struggling to fill the prescriptions they need.
Five separate national commissions have recommended that medically necessary prescription drugs be included in Canada's universal, public health insurance system. They all recommended such a program because it is the most equitable and affordable way to ensure universal access to necessary medicines in Canada.
The Nelson town hall is one of a series of forums being organized across the country by the Council of Canadians to put pressure on the Liberal government to keep their pharmacare promises.