Family, friends, colleagues gather to remember Nelson Police Const. Wade Tittemore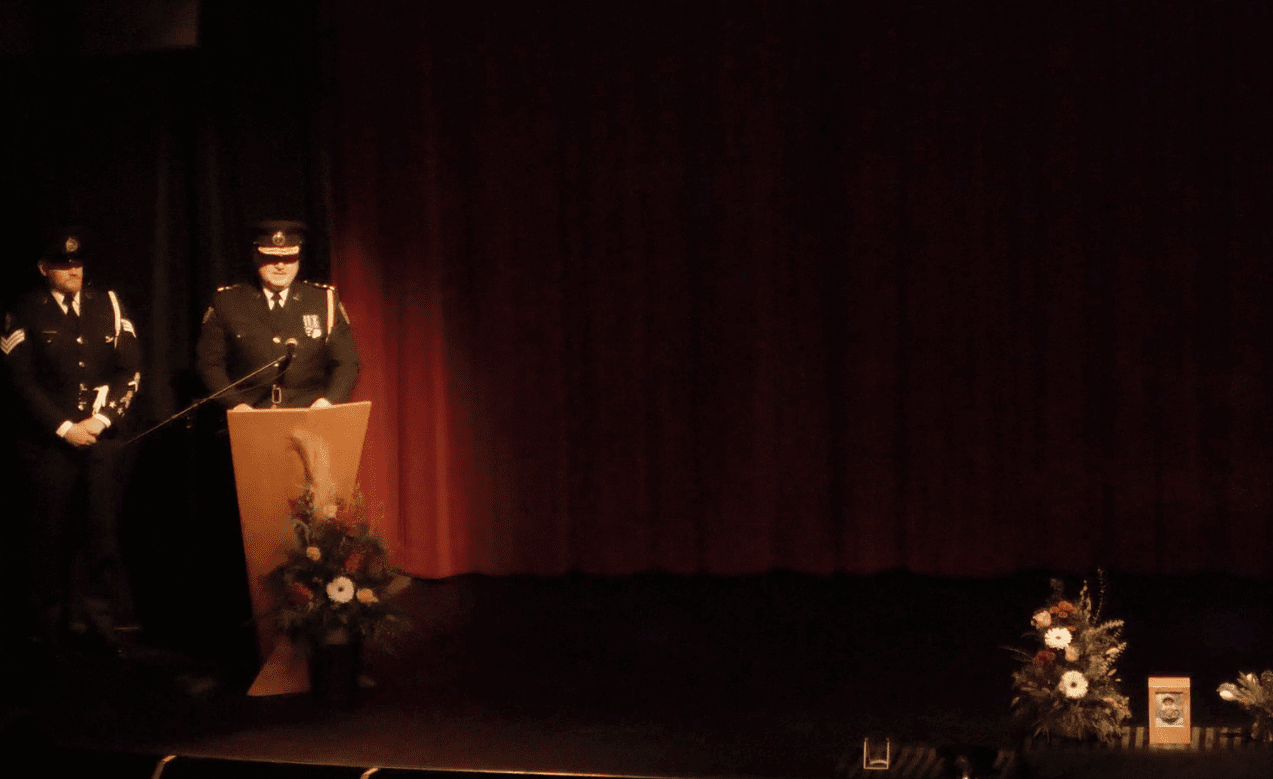 Family, friends and colleagues of Nelson Police Department Const. Wade Tittemore gathered Wednesday at the Capitol Theatre in Nelson to celebrate the life of the police officer.
Const. Tittemore was killed in an avalanche Monday, January 9, located in the mountains near Goat Range Provincial Park, northwest of Kaslo.
Const. Tittemore, 43, was backcountry skiing with fellow Const. Mathieu Nolet at the time of the avalanche.
"It was very true to Wade's spirit," said Nelson police chief Donovan Fisher, after a piper played for the participants exiting the venue on Wednesday afternoon, many of them active first responders in ceremonial uniform.
"Obviously it is a sad occasion, a lot of respect and sad, touching moments, but there was a lot of levity to it, too."
The 400-seat Capitol Theatre was filled with people who knew the 15-year police veteran, who leaves behind his wife, Cheryl Lowe, and his sons Seth, 10, and Devon, 8.
Family, including Const. Tittemore's sister Nicole and sister-in-law Shannon spoke of Tittemore's love for family, his dry, unique sense of humour as well as his love for the outdoors.
Also speaking was Nelson Police Sergeant Nate Holt, head of Const. Tittemore's platoon.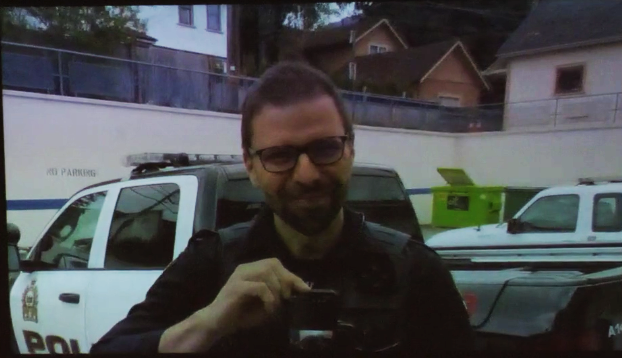 Nelson Police Const. Wade Tittemore was remembered as a family man with unique sense of humour and a love for the outdoors. — Screenshot photo
Fisher, who came to Nelson Police in 2021, said Const. Tittemore was a skilled officer, but also known as the office prankster, who kept those around him going with humour.
On the stage during the ceremony stood a guitar, which was one of Tittemore's passions outside work.
"He played in the office a lot of afternoons and evenings, and with his sons as well," Fisher said. "So it was a nice, touching sentiment to have there."
Before his death, Fisher said that Const. Tittemore was one of those next in line to be promoted to detective with the Nelson Police investigative unit.
He was presented the rank posthumously during the Celebration of Life.
"He worked hard at that," said Fisher, "so it was only fitting we were able to promote him to the rank of detective and present that to his family."
Nelson Mayor Janice Morrison said the Nelson police officer made an impact far beyond his years in the service.
"The theatre was full to capacity. I think this is a reflection on what this young man, Wade, meant to so many people in the communities he worked."
The 20-person police department in Nelson had received support from RCMP since the incident, but will now begin covering its ordinary shifts.
Const. Nolet sustained serious injuries from the avalanche, and remains in intensive care at a local hospital.
A GoFundMe-campaign for the two officers had raised more than $72,000 on Wednesday.
— With files from John Rune, Kootenay Co-op Radio