Avalanche Canada issues Special Public Avalanche Warning for BC Interior backcountry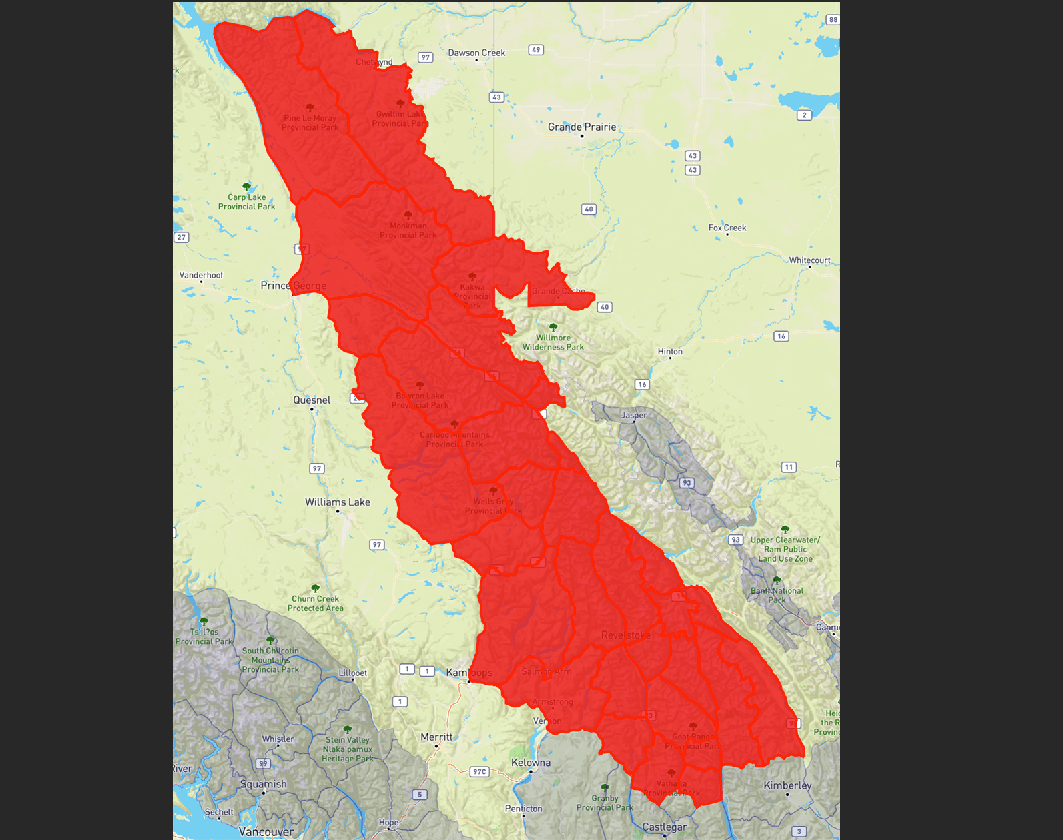 Avalanche Canada, in partnership with Parks Canada, is issuing a Special Public Avalanche Warning (SPAW) for recreational backcountry users in the BC Interior.
This special warning is in effect immediately and will apply through the end of Monday, January 2.
The SPAW region includes most of BC's Columbia Mountains, Glacier and Mount Revelstoke National Parks, as well as the Northern Rockies.
The SPAW extends from the southern boundaries of the Purcell Wilderness Conservancy and Kokanee and Valhalla Provincial Parks to Williston Lake north of Pine Pass and Mackenzie.
A prolonged cold and dry start to the winter created a number of persistent weak layers in the snowpack across the interior ranges of BC.
The recent storm and warming temperatures have now destabilized that weak snowpack, making large, human-triggered avalanches likely.
"The snowpack is currently in a precarious state," explains Simon Horton, senior forecaster for Avalanche Canada.
"The storm cycles that hit western Canada over the past weekend added significant snow on top of an exceptionally weak lower snowpack. This has brought the conditions to a tipping point where dangerous avalanches are likely."
"While avalanche danger ratings may start to decrease as the weather improves, there will still be a chance of triggering a large avalanche," adds Horton. Making conservative terrain choices can help manage this risk.
Sticking to lower angle slopes and choosing smaller objectives that minimize the consequences of an avalanche are examples of how to reduce the risk.
Backcountry users should always check the avalanche forecast at www.avalanche.ca.
Everyone in a backcountry party needs the essential rescue gear — transceiver, probe, and shovel — and the training to use it.
Getting there
On Thursday, Dec. 29 Avalanche Canada's J. Percival noted that people heading out should "keep it simple for now," with patience urged while the warm and wet snowpack cooled and bonded.
He said backcountry users should make conservative terrain choices to mitigate the risk.
"Seek simple terrain to assess the snowpack prior to beginning your journey into more challenging zones," he wrote.
Percival suggested sticking to lower angle slopes and choosing smaller objectives that minimize the consequences of an avalanche. 
Avalanche summary
Many professional operations were reporting that a natural avalanche cycle was occurring, Percival wrote, with both persistent and storm slab avalanche were reported as large to very large (size 2.5 to 3).
On Dec. 28 "numerous skier remotely triggered, skier controlled and explosives controlled avalanches have been reported from small to very large (size 1 to 2.5). The continued testing with significant results provides evidence that the snowpack continues to be reactive to light traffic such as skiers.
"Further evidence of cracking and settling of the warm and moist upper snowpack provided good evidence of the new storm snow instability."
Earlier this week explosive work was conducted and created some large (size 2) avalanches that gained mass with the available moist snow, Percival reported.
Snowpack summary
"Tuesday and Wednesday storm snow totals of 16-20 cm continued to bury a thin melt freeze crust that formed and it can now be found down 40 cm.
"Wind and storm slabs have accumulated over layers of either facets, surface hoar or a crust. Strong westerly winds have been redistributing snow into wind loaded features in treeline and alpine terrain.
"The snowpack is complex with several deeper instabilities that may persist through the season, and sustained past cold temperatures that had continued to facet (weaken) the snowpack."
Layers of concern in this snowpack:
• A melt freeze buried Dec. 26 that is suspected to be found on all aspects and elevations below 2000 m. This layer can be found down 40 cm;
• An early December layer of surface hoar in sheltered areas and a thin sun crust in open south-facing terrain is buried approximately 60-75 cm deep. This layer has recently produced surprising avalanches in upper treeline and lower alpine terrain features;
• The most concerning layer buried in mid-November is made up of large surface hoar crystals, facets, and a melt-freeze crust and can be found up to 70-120 cm deep. This layer has been reactive at treeline between 1700 to 2200 m, on all aspects.
Source: Avalanche Canada