Nelson runner claims four medals at BC Track and Field Championships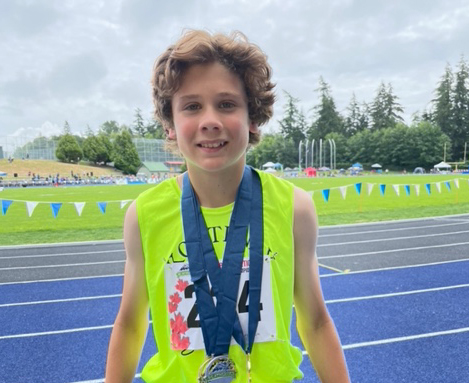 Dawson Abraham of Nelson recently returned from the BC Track and Field Championships in Surrey as a double gold medal winner.
The Kootenay Chaos runner finished the provincial meet this past weekend in the Fraser Valley with four medals — two gold, a silver and a bronze.
Abraham, who has been competing for the past three years with the Kootenay Chaos Club, won the U14 800 meters — two minutes, 20.04 seconds — and the U14 1200 meters — 4:45.75.
The Blewett resident also won a silver medal in the 80-meter hurdles — 12.78 — and 200-meter hurdles — 29.03.
Abraham, who attends Trafalgar Middle School in Nelson, finished second in his age class at the BC Cross Country Championships earlier this year in Victoria.
The Kootenay Chaos Track and Field club is a locally organized team coached by long time running enthusiast Alex Ulaszonek.