Nelson Mother Spearheads Autism Educational Series
April is Autism month, and local mother of a child with Autism, Kiomi Tucker, hopes to spread awareness and understanding about Autism.
She is excited that the series of workshops happening in Nelson with the goal to disseminate information and understanding about Autism.
"I wanted to bring Canuck's Autism Network (CAN) in to educate people in the community who often come across Autistic individuals in hopes that these individuals' needs can be better met and destigmatize Autism," says Tucker.
CAN provides programs to individuals on the Autism spectrum and their families while promoting acceptance and inclusion through community engagement and training initiatives across BC and beyond.
There is a lot of misinformation out there about Autism. While people usually aren't coming from a bad place with their intentions, Tucker says she and her family are affected by people who are not well informed regularly.
"What I see the most is somebody knows an Autistic person or somebody has a cousin that's Autistic, and they think that that's what all Autistic people are like. There's a saying in the Autistic community that 'if you know one Autistic person, then you know one Autistic person.' Meaning Autistic people don't fit into a box. They're not all the same."
Another prominent misconception is that Autism presents the same across genders.
"Autism was studied mainly from a male perspective for so many years. So common traits that typically stick out in male Autistics, cause people to think that's Autism. Girls and boys are definitely different," says Tucker.
One thing Tucker hopes is that workshop participants will gain an understanding of the diverse daily lived realities of Autistic people.
"A lot of Autistic kids go to therapies to learn how to navigate a neurotypical world that was not set up for neurodivergent children to succeed, and every day they have challenges, whether it be navigating social situations or dealing with Autistic burnout. Neurotypical people can meet them halfway," Tucker says.
Autistic burnout is a common experience for Autistic people, Tucker explains.
"Having to navigate this world that's not set up for them, (Autistic people) can go through a burnout period."
Tucker emphasizes the importance of using identity-first language. For example, saying 'Autistic person' instead of 'person with Autism.'
"This is because the vast majority of self-advocating Autistic adults prefer this language," says Tucker.
The workshops are specific to targeted professions. In some jobs like health or education, people are given a brief overview of Autism in their education, barely scratching the surface of the varying experiences.
"That's why having workshops like this is important. Autism is continually changing; they are studying it all the time, and things are constantly evolving: the language we use and the approach. This was my reasoning for bringing in CAN, to get everybody up to speed on the latest," says Tucker.
Everyone who participates in a workshop will get a certificate from CAN, and anyone is welcome to attend any of the workshops.
The workshops will run on April 30th & May 1st.
Tucker hopes for a good turnout at the workshops and hopes to see some positive changes locally:
"These workshops aren't to teach us about Autism; it's more about how we can make our clinics, schools, associations, and sports organizations more inclusive."
The events are running on the following days for specific sectors:
Educators/ECE's/AE's April 30th 9 a.m.-12 p.m.
First Responders April 30th, 2 p.m. – 4 p.m.
Sports & Recreation May 1st 9 a.m. – 11 a.m.
Healthcare May 1st, 1 p.m. -3 p.m.
Here are the Eventbrite links for event registration:
Here is the Facebook link:
Kaya scans the checklist before going biking.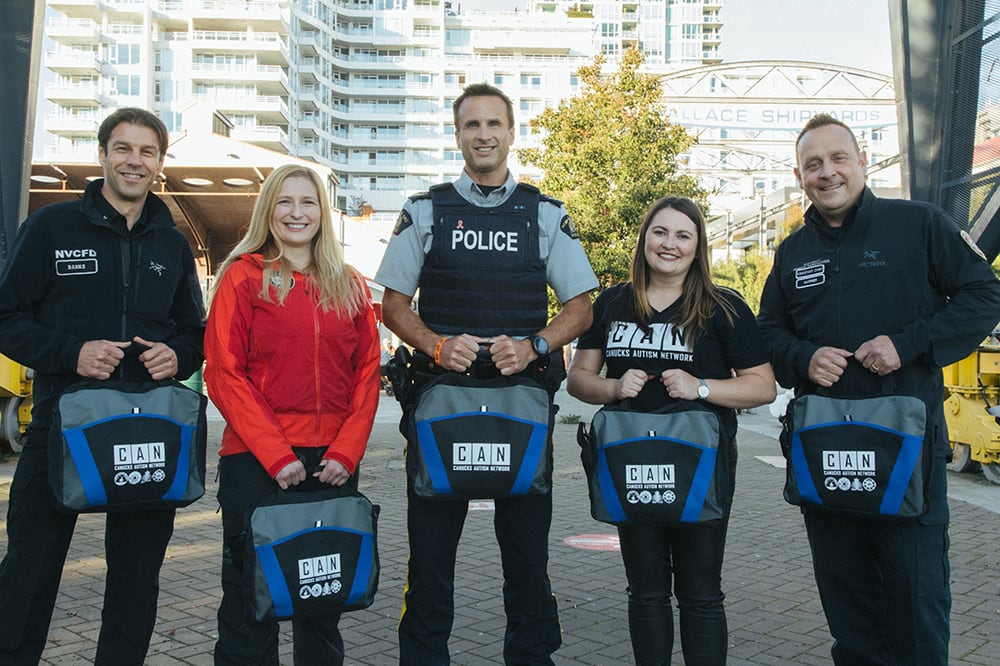 First Responders are part of the recipients of the education provided by the Canuck's Autism Network (CAN)to people in the community who often come across Autistic individuals.