Trucker Freedom Convoy rolls through West Kootenay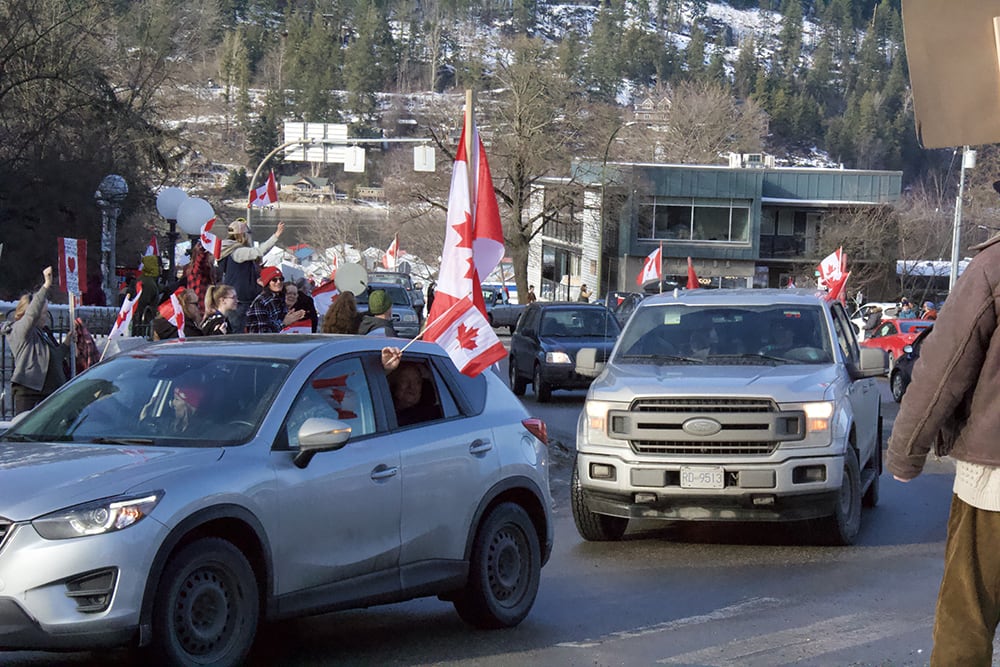 The so-called Freedom Convoy rolled through the West Kootenay Sunday afternoon, making appearances in Ymir, Salmo, Fruitvale, Trail and Castlegar before landing in Nelson as people protested COVID-19 vaccine mandates and restrictions that have been in place in one form or another for the past two years.
More than 100 logging trucks, pickups and cars paraded through Nelson, honking horns to cheering crowds on both sides of Highway 3A at Ward and Vernon Streets.
The West Kootenay parade was to back the nine days of protests in front of the Parliament Buildings in Ottawa.
As vehicles snaked through Nelson, many sporting upside down Canadian flags, hundreds of supporters, carrying signs and waving flags, cheered the honking of horns, fist pumps, thumbs-up signs and blasting of air horns from larger logging trucks.
The line of traffic slowed vehicles entering Nelson from the west on the Highway 3A/6 overpass.
"Where There Is Risk There Must Be Choice", "Body Autonomy", "Stop The Mandates" and a very negative message referencing BC Provincial Health Officer, Dr. Bonnie Henry, were some of the signs carried by protesters.
Not everyone attending the rally were in support of the end of vaccine mandates.
A few people carried signs in support of the government decision, carrying signs reading, "Stand with doctors and nurses", "Thank You Science & Health Care Workers" and "With Freedom Comes Responsibility . . . I AM FREE".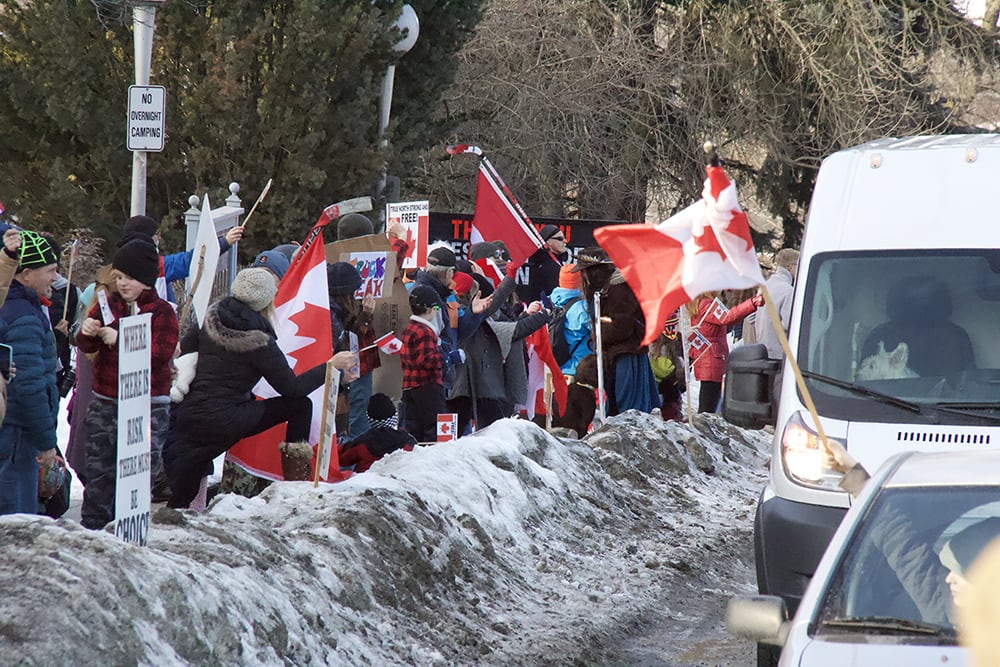 Crowds lined both sides of Highway 3A on Ward Street to cheer the West Kootenay Freedom Convoy.
This is the second Freedom Convoy rally held in Nelson.
Last week, a similar-sized crowd lined the sidewalks outside the Provincial Courthouse to support the Freedom Convoy in Ottawa and protest vaccine mandates and restrictions imposed by provincial and federal governments in Canada.
The RCMP issued a public warning regarding Sunday's West Kootenay Freedom Convoy Saturday, suggesting the public be prepared for temporary traffic disruptions and noise.
Friday, the BC Ministry of Health released its latest COVID-19 data, reporting 1,799 new cases in the province — 531 in Interior Health of an active count of 7,976.
Of the active cases, 946 COVID-positive individuals were currently in hospital with 139 in intensive care.
The remaining people are recovering at home in self-isolation.
During the week of January 23 to 29, 2022, BC Centre of Disease Control Geographic Distribution of COVID-19 by Local Health Area of Case Residence numbers for West Kootenay showed Nelson with 144 cases recorded during that period.
Trail registered 124, Castlegar 61, Grand Forks 17 and Kettle Valley, Kootenay Lake and Arrow Lakes, nine, three and two, respectively.
Cranbrook was tops in the Kootenays with 208 new COVID-19 cases.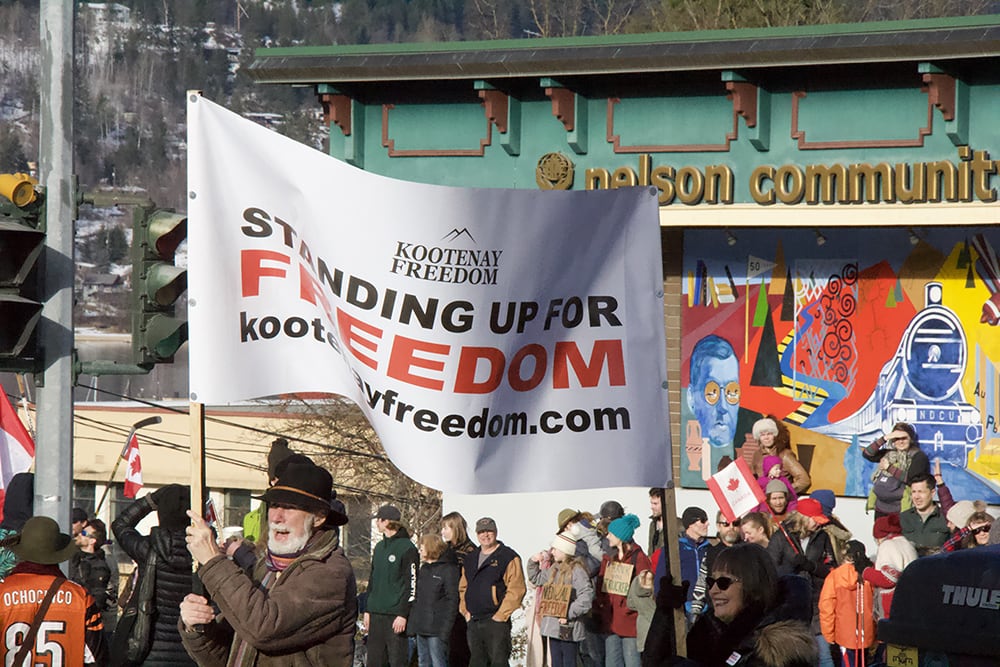 Freedom of choice is the message from Kootenay Freedom.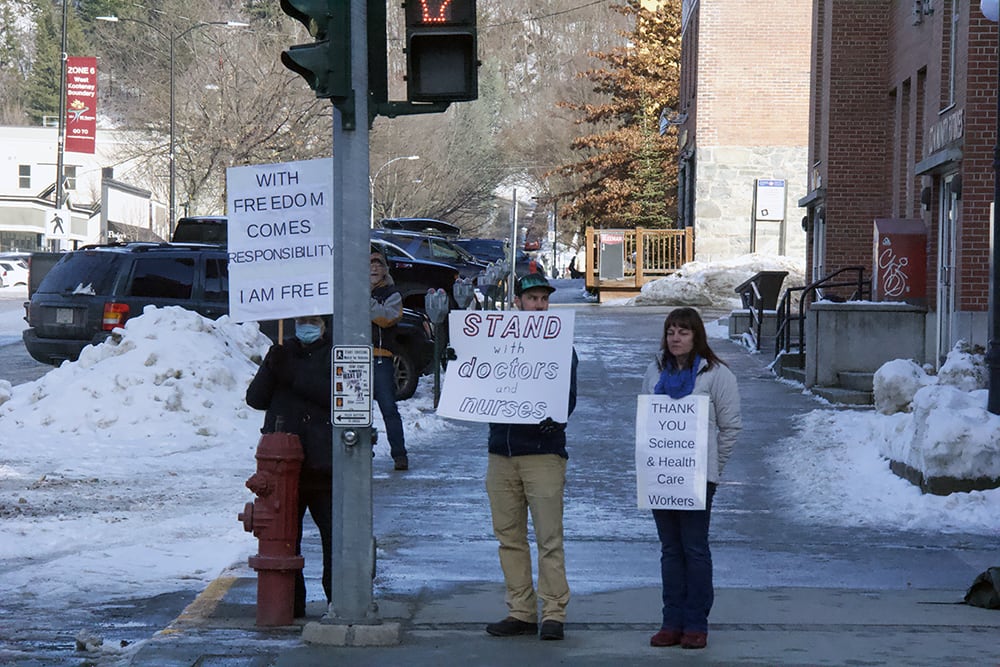 A group attended to make a stand for science and send a message to doctor and nurses who have been on the front lines since the pandemic arrived two years ago.
The crowds cheered logging trucks decked with Canadian Flags.
The line of traffic was seen backed up entering Nelson on the Highway 3A/6 overpass.