Ceremony recognizes National Day of Remembrance and Action on Violence Against Women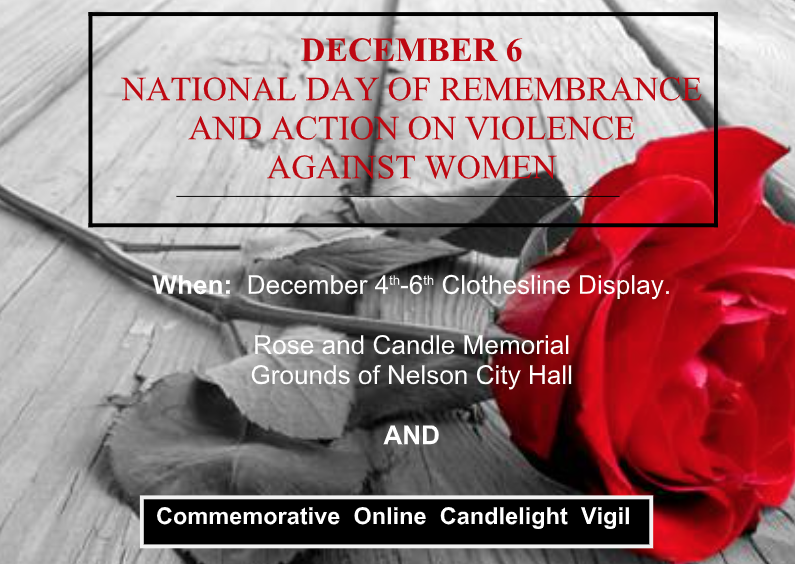 The Nelson Violence Against Women in Relationships (VAWIR) Committee invites the public to join in a virtual candlelight vigil to mark the National Day of Remembrance and Action on Violence Against Women on Monday, December 6.
The ceremony on December 6th, marks the anniversary of Montreal's Ecole Polytechnique massacre when 14 women were murdered, because they were women.
COVID restrictions continue to limit the public from gathering as a community, but on this important day, the committee hopes people will join for online candlelight vigil.
The lighting of a candle marks the memory of the 14 women who died that day and also to honour any woman who's life has been impacted by violence.
The committee also encourages people to light a candle at home and email a picture that can be posted on the Facebook page. 
The public is invited to visit the courtyard of Nelson City Hall between December 4-6th, where 14 roses will be laid to honour the women who died in Montreal on December 6th.
There will be other roses available for anyone wishing to lay a rose for a woman they'd like to honour or remember. There will also be a Clothesline on the grounds of City Hall and in front of the Courthouse, an interactive display to honour women who've experienced violence.
Please vist the Facebook page again prior to December 6th for updates on the event, for links to resources and to visit the virtual candle lighting.