Opposition to mandatory vaccination rally draws huge crowd in Nelson
Hundreds of people against what some believe are heavy-handed steps taken by BC government to deal with the COVID-19 pandemic took to the streets of Nelson as part of a provincial-wide rally.
The "We Must Stand Together" rally in Nelson was organized by local healthcare workers to protest against mandatory vaccinations for some staff in BC, as well as the recent announcement of a Healthcare Pass by the provincial government to require proof of vaccination to access some non-essential services and activities.
Protestors, which packed the 600 block of Vernon Street in the early afternoon and caused traffic gridlock on the highway through Heritage City near the Provincial Courthouse, carried signs reading, "The cure should not be worse than the sickness" and "No Medical Workplace Harassment" and "Medical Freedom".
People gathered on the sidewalk outside the Nelson Post Office, stood on the planted median in the middle of the street and on the sidewalk near the Nelson and District Credit Union before organizers led a march into the crosswalks at the Vernon/Ward Street intersection, causing through traffic to grind to a halt.
Nelson Police officers closed the 600 block of Vernon Street to through traffic at Josephine Street.

Crowds lined the streets intersecting Vernon and Ward Wednesday afternoon to protest mandatory vaccinations for healthcare workers in BC. — The Nelson Daily photo
The march, which appeared to be in excess of 600, comes after many Nelson and Kootenay businesses joined a BC Businesses Against Health Pass Facebook Page opposed to recent decision by the Provincial Government to require vaccination passes in a few weeks.
The government program, expected to begin September 13th, requires people to produce vaccination proof for some non-essential activities — including dining out, no matter if the customer is indoors to eating on a patio.
The Nelson Chamber of Commerce, which represents more than 500 businesses that employ thousands in the Nelson and area, recently sent a letter to Health Minister Adrian Dix to express concerns over the new Health Pass Program.
"(The Chamber) have differing views on how and when it should be implemented," the letter said.
"While this can be viewed as an important step in helping businesses keep employees, customers, and patrons safe while rebuilding consumer confidence and restoring business, how the program works in practice must be carefully decided."
"We believe there are still questions that need answers that have not been provided."
The Chamber said it agrees with vaccine passports for international travel, and large events such as concerts and sporting events where social distancing is challenging.
The Chamber said in fact, many private sector businesses, concert promoters, and sports organizations had already started to implement those requirements prior to the PHO.
"Those businesses or events have the front-end ticket taking infrastructure and staffing already in place to effectively handle a passport," the Chamber letter said.
"That is not the same for small business restaurants, bars, and gyms."
Other events requiring proof of vaccination include indoor ticket activities like concerts, movie theatres, sporting events, casinos, nightclubs, fitness centres and gyms or organized indoor events such as weddings and conferences.
The new rules do not apply to retail or essential services like going to the grocery store or health services.
Heritage City businesses joining the Facebook group in range from restaurants to guest and vacation rentals to spa, real estate, and home inspection companies.
At last count, Nelson has the most businesses that have signed up with 35.
Castlegar has eight and Trail nine. There are four businesses in Grand Forks.
In the East Kootenay, Cranbrook has 24 businesses while Fernie has 13, Kimberley and Invermere, both with 11.
Protestors marched through crosswalks at the intersection of Ward and Vernon Streets during the "We Must Stand Together" rally in Nelson. — The Nelson Daily photo
"Burdening sector specific small businesses and frontline employees with enforcement of a vaccine verification public health order is not appropriate without further consultation on enforcement and must be handled in a more informed way and with all stakeholders in mind," the Chamber letter said.
"Business organizations like the Chamber are here to provide greater insight from business, and we invite government to work with us on these details to ensure a fair program is achieved, without burdening small business."
The Nelson Chamber of Commerce said it is supportive of the health and safety provisions that have been put in place by government during the past 17 plus months to curb transmission of COVID 19.
The Chamber said local businesses have complied with the many rules to assist in curbing the spread of COVID-19.
However, all these conditions have had a tremendous impact on owners and employees, both financially and emotionally.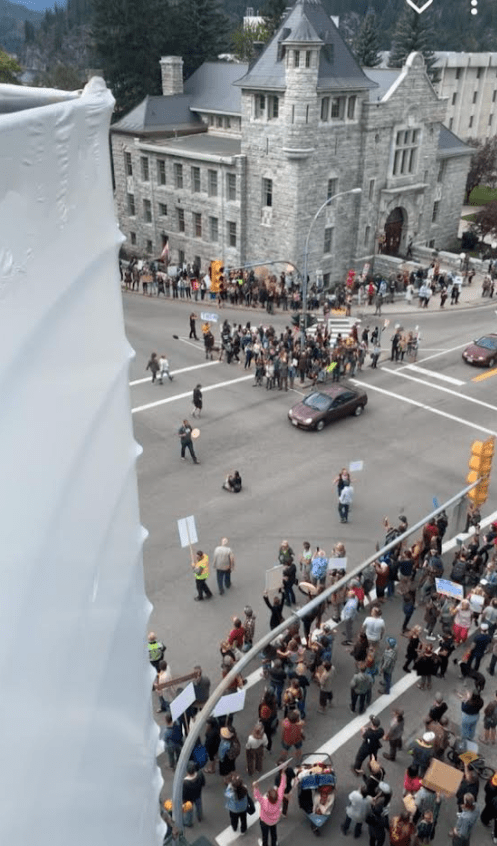 A photo of Wednesday's rally taken from Touchstones Museum. — Submitted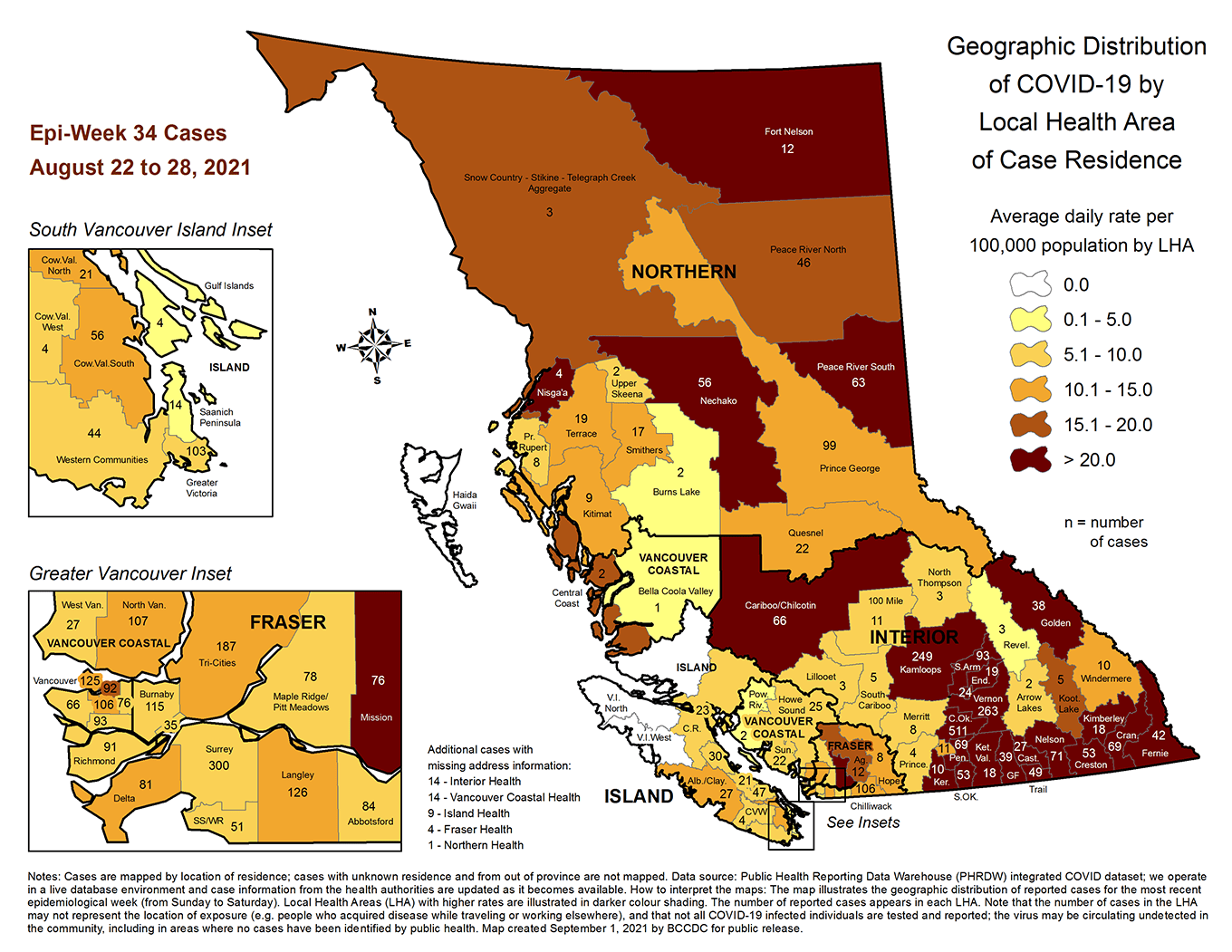 The latest date released Wednesday by the BC Centre of Disease Control documenting the new COVID-19 cases from August 22-28, 2021 in Local Health Areas in BC. — BCCDC graphic