Last Stand West Kootenays stages rally in Nelson to keep up fight against old-growth logging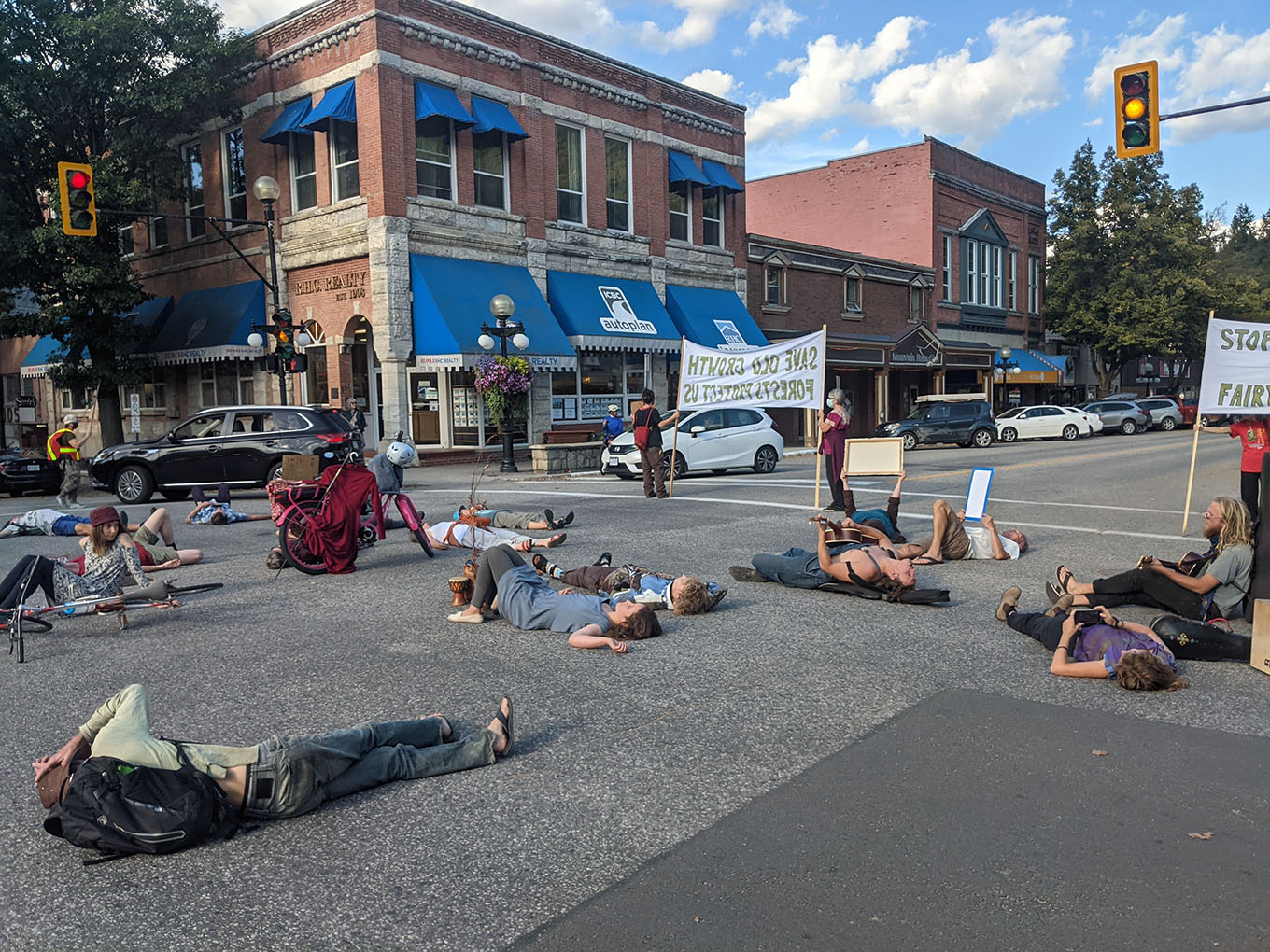 Monday afternoon in Nelson, the grassroots group Last Stand West Kootenays kept up its fight against the logging of old-growth forests in the province with a non-violent protest outside the office of MLA for Nelson-Creston, Brittny Anderson.
The protest was one of several organized across the province, including in Nanaimo and Vancouver, in solidarity with the nearly one thousand people arrested in Fairy Creek blockades on Vancouver Island.
The event started with live music followed by speeches from the organizers and other protestors who spoke about their experience at Fairy Creek.
Following speeches, more than 50 people then walked along Baker Street before temporarily blocking traffic at the intersection of Josephine and Baker Street with members of the Nelson Police Department on scene monitoring the rally.
"Old growth forests play an integral ecological role in the health of our ecosystems, being one of the most valuable climate mitigation and resiliency assets in terms of carbon storage, protection against wildfires, storage of water, and preservation of biological diversity," Malin Christensson, one of the protestors attending the rally, said in an emailed statement.
Miguel Pastor, a 16-year-old arrested this summer at Fairy Creek this summer, called for the RCMP to "stand down" at Fairy Creek blockades.
Pastor said this following what he believes is police brutality targeting indigenous people and the RCMP's disregard for Justice Thompson's court ruling calling the police actions "unlawful.
"We are seeing video evidence and first-hand accounts of sexual assault by male police officers against female citizens," Pastor explained.
"We are seeing punching, pepper spraying, stealing of personal property, and arrest of media and journalists, all by RCMP officers."
Pastor said a 17-year-old from Meadow Creek area had his tree tripod cut down by police and fell 20 feet to the ground.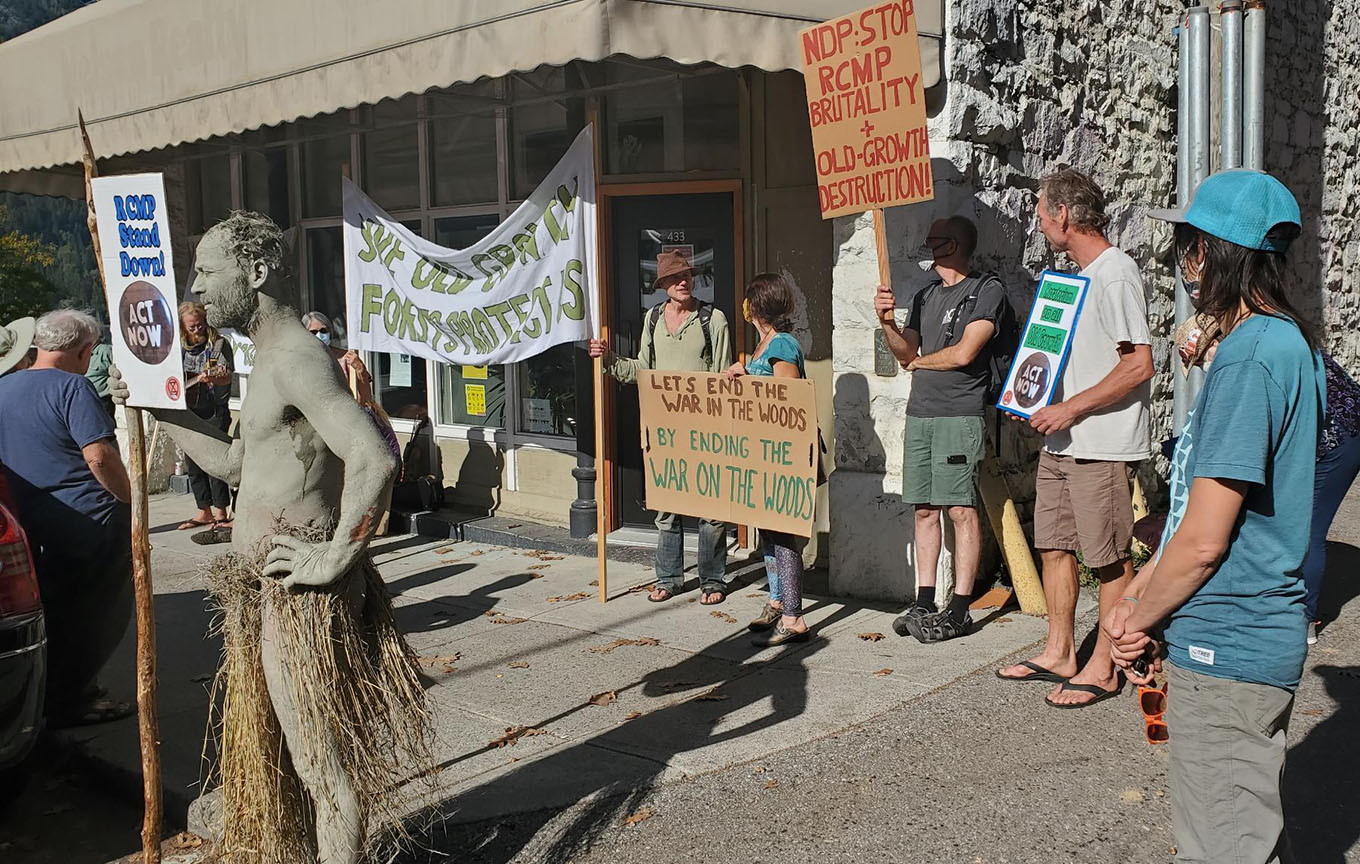 The protest started outside the office of Nelson-Creston Brittny Anderson on Josephine Street in Nelson. — Submitted photo
In a media release Monday, RCMP said enforcement of the BC Supreme Court injunction order in the Fairy Creek Watershed area continued Sunday, September 12, and Monday September 13, 2021, with ongoing efforts to keep the Granite Mainline Forest Service Road and other corridors free from any obstructions, devices and open for industry access.
RCMP said there were no arrests Sunday, however, on Monday, three individuals were arrested for breaching the injunction (contempt of court).
RCMP said all were processed and released after signing release conditions.
RCMP said since enforcement began, police have arrested 992 individuals; 110 of whom were previously arrested with a combined total of 261 times.
RCMP said of the total arrested, 771 were for breaching the injunction (contempt of court), 188 were for obstruction, 16 were for mischief, six were for breaching their release conditions, six were for assaulting a police officer, two were for failing to comply with a court order, one for counselling to resist arrest, one for causing a disturbance, and one Immigration Act.
Last Stand West Kootenays requests an immediate moratorium on logging of old growth primary forests in BC and that the RCMP halt attacks on people at Fairy Creek.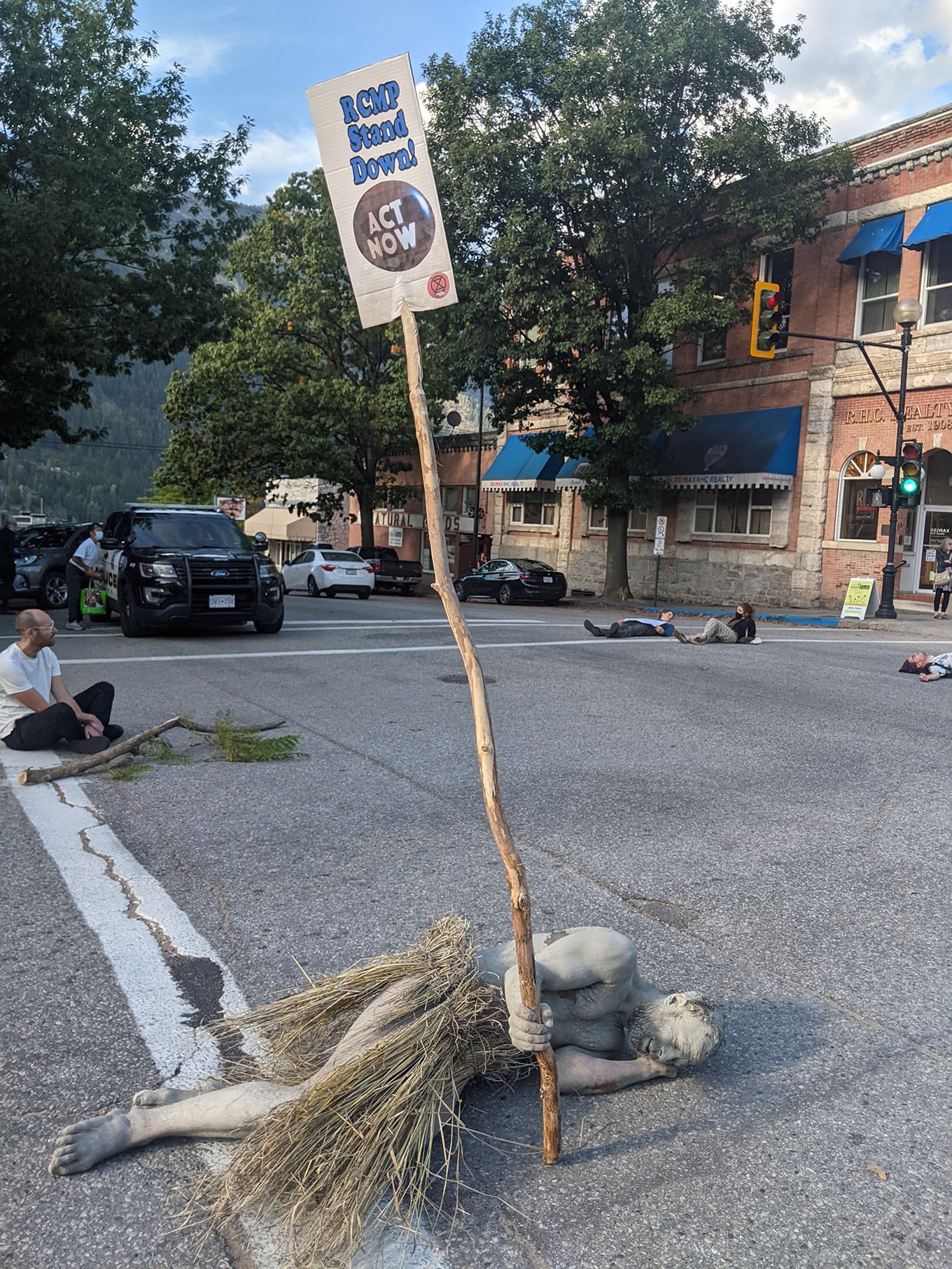 Protestors staged a sitdown at the intersection of Baker and Josephine Streets. — Submitted photo