L.V. Rogers Grad awarded Beedie Luminaries Scholarship
Most high school graduates spend their final Grade 12 year applying for scholarships to cushion the financial burden associated with post-secondary studies.
L.V. Rogers senior Avie Waterfall can relax a little.
The Nelson Grad was one of more than a hundred B.C. Grade 12 students to receive a scholarship through the Beedie Luminaries Foundation.
Ryan Beedie, through his foundation, Beedie Luminaries, awarded $5.1 million in scholarships to 112 B.C. Grade 12 students as well as 15 single parents looking to pursue further education.
"The day that I received the phone call informing me that I was a Beedie Luminary, was one I will never forget," Avie Waterfall told The Nelson Daily.
"I was shaking with disbelief and not exactly sure what to do," Waterfall added.
"What soon became clear to me was the fact that I no longer had to worry about the serious financial burden of post-secondary."
The Beedie Luminaries program seeks out students who have not only demonstrated strong academic readiness, but who are also engaged in the world around them and have taken on life challenges and adversity with determination and optimism.
These scholarships recognize students' resilience and resolve while easing the financial pressure associated with post-secondary studies.
"Over the past three years, I have been blown away by the students who we have met through our program and can't wait to see the impact that they will make in the world," says Ryan Beedie in a media release.
"In getting to know their families, and recognizing the barriers single parents face, we saw the potential to expand our program to also include single parents looking to upgrade their education.
"I am delighted to welcome our first cohort of 15 adult learners to the Beedie Luminaries community along with 112 recent high school graduates."
Waterfall becomes the second student from the Kootenay Lake School District to earn a Beedie Luminaries scholarship.
In 2020, Mount Sentinel Grad Freya Emery earned the scholarship to pursue studies in design and visual commutations at Capilano University in North Vancouver.
This year's Grade 12 recipients come from 65 high schools in 26 communities, with 35 per cent being the first in their immediate family to pursue post-secondary education and 75 per cent coming from single-parent or legal guardian families.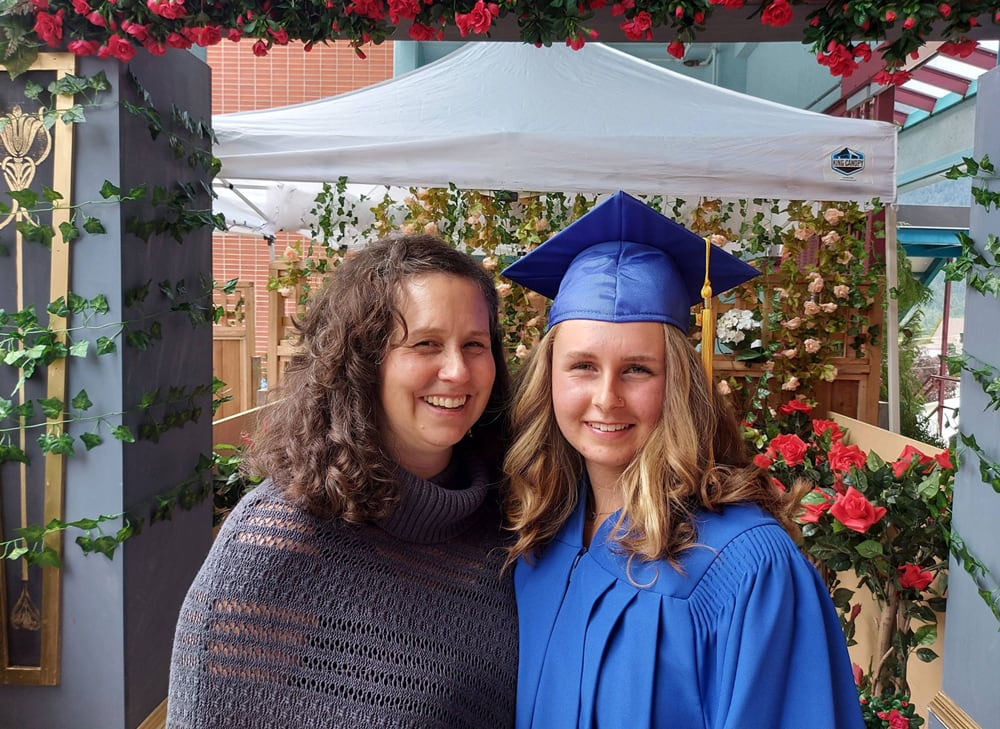 Avie Waterfall has a chance to snap a photo with her mother Candice Mead during last weekend's Graduation Ceremonies at L.V. Rogers High School in Nelson. — Submitted
Waterfall, who began schooling at Starseed and Wildflower before completing studies at Trafalgar Middle School and LVR, said receiving the news from the Beedie people was a little crazy.
Waterfall was climbing with her class at Slocan City, where cell service is spotty at best.
She noticed a missed call from a Vancouver area code, and remembered her heart starting to race after realizing the possibilities of that dropped call.
"I called back and Martina, the executive director of Beedie Luminaries was on the other end," Waterfall explained.
"I could barely hear her due to the poor service, however what really stood out and what I will always remember is when she told me that she had "good news" and was excited to welcome me into the third cohort of Beedie Luminaries."
"I thanked her profusely before quickly going out of service," Waterfall added.
"Once I got off the phone, I screamed, and my friends and I began to celebrate."
Waterfall plans on attending the University of Victoria in the fall and entering the faculty of social sciences.
"It is my dream to go on and attend law school and major in criminal law," Waterfall said.
"Victoria is a lovely city, and I am so excited to start the next chapter of my life there as a Beedie Luminary."
In addition to financial assistance of up to $40,000 per student, recipients are also paired with mentors, and offered paid work opportunities, Stay on Track student support, invitations to special events and access to the Beedie Luminaries online community.
Now that post-secondary finances are taken care of, Waterfall can concentrate on studies and future endeavours.
"I have come to understand the importance of using personal experiences as a steppingstone to address larger issues and to give back to my community," Waterfall said.
"In the future, I hope to pursue a career in criminal law and incorporate restorative justice into my practice. This will allow me to take a less traditional approach and explore my passion for law while better addressing the basic needs of my clients.
"By taking the time to learn about their personal needs and circumstances, I will be able to understand what realistic goals need to be established to guide them in finding true closure in legal situations."
Waterfall is humbled by the award and looks for the opportunity to return the favour in the future.
"This opportunity has opened so many doors for me and in the future, I hope to one day give back to the program and to continue to support students as they pursue higher education," Waterfall said.
Incoming Grade 12 students and single parents who are interested in applying to be part of next year's cohort are encouraged to follow Beedie Luminaries on social media or visit beedieluminaries.ca. The application period for the 2022 cohort will open in fall 2021.
About Beedie Luminaries:
Beedie Luminaries is a registered foundation and a non-profit society that is working to create brighter futures for bright minds. The foundation's mission is built on the premise that education can enhance future career opportunities, and fundamentally create positive societal outcomes. The program offers financial support to students applying to British Columbia public post-secondary institutions, including universities, colleges and trade schools. www.beedieluminaries.ca