New provincial measures aimed at slowing spread of COVID-19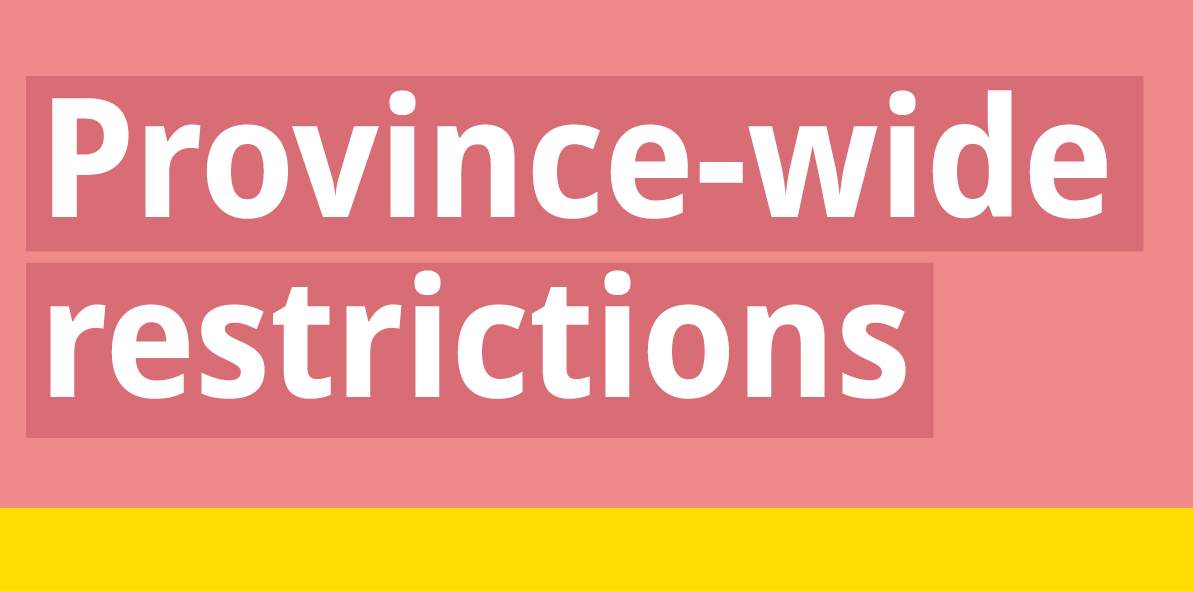 B.C.'s provincial health officer issued a host of new orders as the province looks to bring the novel coronavirus (COVID-19) following days of record new cases.
In a media release Thursday, Dr. Bonnie Henry, B.C.'s provincial health officer, announced sweeping new measures to control COVID-19, including mandatory masks in indoor public and retail spaces and restricting social gathering to household members only for everyone in the province.
The new orders come after BC reported 538 new cases of COVID-19, including nine epi-linked cases, for a total of 24,960 cases in British Columbia.
"We are now expanding and amending these provincial health officer orders across the province, " Dr Henry said.
"As was the case for the previous regional orders, the new provincewide orders focus on three areas: social gatherings, workplaces and group physical activities."
Interior Health region reported 28 new cases Thursday, for a total of 1,172. There are 223 cases active or on isolation with two people in hospital and one in ICU.
Interior Health said the total number of deaths remains at three.
Thursday, Interior Health also released an update on the spike in new COVID-19 cases in the Village of Salmo.
During Thursday's briefing, Dr. Henry announced a laundry list of new orders and recommendations that will severely limit how British Columbians interact socially and as well as how the public participates in recreational activities in an attempt to slow down the increased case numbers, hospitalizations and, especially, the spike in deaths due to the virus.
Dr. Henry is extending earlier orders reserved for the Fraser Health and Vancouver Coastal Health regions until December 7, making those now applicable province wide.
"Our focus is to slow the spread over the next one to two incubation periods and protect those who are most at risk," Dr. Henry said.
"The coming weeks will be the most difficult in our pandemic, but hope is on the horizon. We can protect the ones we love and keep our hospitals, schools and workplaces open if we remain focused on reducing our in-person interactions for now."
Dr. Henry said to support comprehensive workplace COVID-19 safety plans, active inspections will be increased across the province.
"Businesses that do not comply will be subject to fines and/or ordered to close. Environmental health officers will focus on workplaces in the Vancouver Coastal and Fraser Health regions to ensure full compliance and enable rapid response and action," Dr. Henry explained.
Dr. Henry is also reversing course on her resistance to public mask mandates, requesting the Public Safety Minister to implement a requirement for workers and members of the public to wear face coverings in all retail environments, restaurants and indoor public spaces, including common areas of workplaces, except when eating or drinking.

"As we approach the winter solstice, the darkest day of the year, we should remind each other that it is also the day that we begin to turn back toward the light," Dr. Henry said.
"By pulling together now we can overcome the challenges before us."
A list of new provincial orders include:
Social Gatherings
All indoor or outdoor events as defined in our Gathering and Events order are prohibited. This includes religious, cultural or community events, with the exception of baptisms, funerals and weddings. These may proceed with up to 10 people including an officiant if a COVID-19 safety plan is in place. There are to be no associated receptions of any kind in any venue.
There are to be no social gatherings at residences with anyone other than those who reside there. People who live alone must host no gatherings, but can continue to see one or two of the same members of their core pandemic bubble at home.
Group physical activities
Businesses, recreation centres or other venues that organize or operate indoor group spin classes, hot yoga and high-intensity interval training will stop for the fall and winter.
Guidance on other physical activities done with a group indoors will need to follow updated guidance that is being developed. 
Sports activities can continue, but there is to be no travel outside of communities for games or competitions, and no spectators are allowed. League organizers should continue planning for 2021 with today's modifications in mind.
Workplace safety
All businesses and worksites must conduct active daily screening of all on-site workers using their COVID-19 safety plans.
Workers and customers must wear masks in indoor public and retail spaces (except when eating or drinking), and in workplace common areas, including elevators, hallways, group or break rooms, kitchens and customer counters.
Office-based employers should temporarily suspend their efforts to safely get employees back to their workplace and support work-from-home options wherever possible.
Travel
All non-essential travel outside of one's community is strongly discouraged. People travelling to stay with immediate family members should ensure they do not host or participate in any social gatherings.