Riondel residents rally to protest location of proposed TELUS cell tower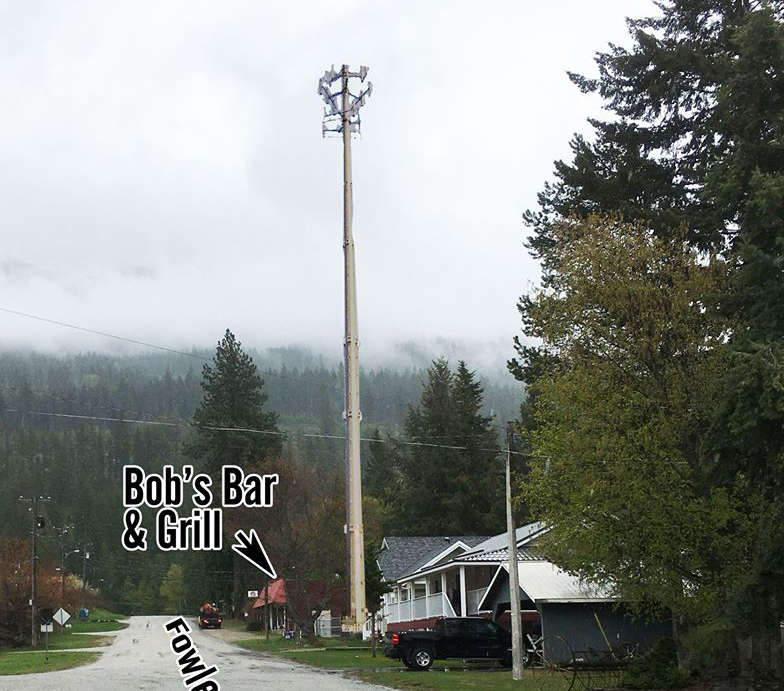 Residents of Riondel have planned a demonstration Friday in the East Shore town to protest a cell tower proposed for the center of the community.
The protest, scheduled for 12:30 p.m. Friday, May 15th, will be next door to Bob's Bar and Grill near the TELUS property in Riondel.
"A significant number of residents here are very concerned about a 100-foot cell tower Telus wants to erect within the next few weeks," Harreson Tanner, part of the Riondel Cell Tower Urgent Relocation Group, told The Nelson Daily in an emailed statement.
"Our primary concern is the location which is presently in the middle of town," Tanner added.
"It's an incredible eye-sore that could very well affect propertyvalues, not to mention the fallout from EMF (electric and magnetic fields) radiation."
TELUS Communications Manager Doug Self said for years the community, including citizens, regional elected officials as well as the local MP has lobbies for expanded wireless services in the Kootenay region.
Self said by leveraging and enhancing existing infrastructure at TELUS' Central Office in Riondel, TELUS was able to engineer a solution that will bring greater connectivity to the residents of the community.
"As it relates to consulting the public about the wireless site, TELUS followed Innovation, Science and Economic Development Canada's (ISED) process and obligations for new antenna builds (here, for reference)," Self explained.
"As part of this process, TELUS notified 48 residents in the direct vicinity of the tower, ran an advertisement in the local paper, and hosted an open house meeting in the town to communicate directly with residents, receive feedback, and answer questions. TELUS completed the consultation and obtained all approvals from the relevant authorities to proceed with the wireless installation on Sept 19, 2019."
Tanner said the Riondel Cell Tower Urgent Relocation Group understands the importance of better cell coverage on the East Shore for residents, lake users and Kootenay Lake Ferry.
However, the group has proposed another location east of the community on top of a mountain on Teck property.
The Riondel Cell Tower Urgent Relocation Group has been in contact with both TELUS and Teck, the latter company regarding another potential site for the cell tower.
The Riondel Cell Tower Urgent Relocation Group said TELUS has also received numerous emails with information as well as 400 signatures protesting the site location.
Riondel, with a population of approximately 250 citizens, is located on the eastern shore of Kootenay Lake, 10 kilometers north of Kootenay Bay terminal for the Kootenay Lake Ferry. Riondel is a one-hour drive on Highway 3A from Creston and 90 minutes from Nelson, with travelers using the scenic Kootenay Lake Ferry to access.
(This story has been updated to include comments from TELUS.)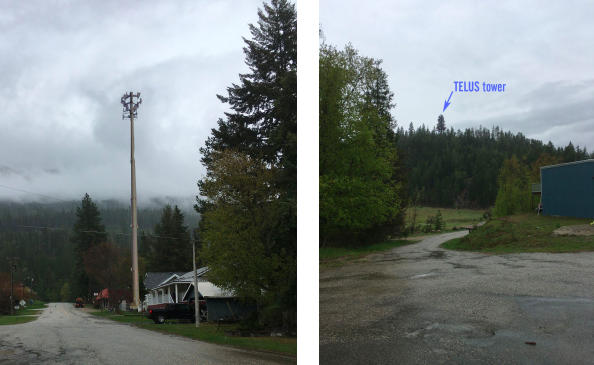 Left, the proposed site of the cell tower by TELUS. Right, where residents of Riondel would like to see the new cell tower. — Submitted photos