Evacuation orders in rural Grand Forks downgraded to alerts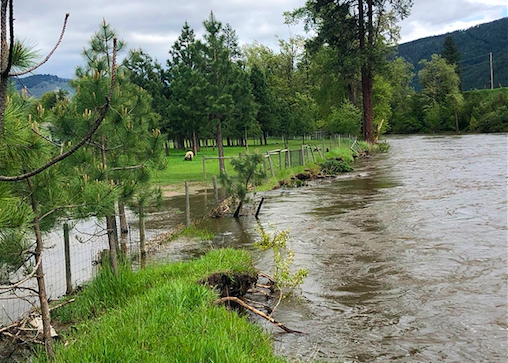 The Regional District of Kootenay Boundary Emergency Operations Centre (EOC) continues to monitor the flood situation in Johnson Flats near Grand Forks, and has made the decision residents can return to their homes.
In a media release Friday, the RDKB EOC said residents will remain on evacuation alert and must be ready to leave again at any time if the river rises through Sunday causing more flooding in the area.
The RDKB issued evacuation orders to six properties on Beatrice Street in the early hours of May 19 when the Kettle River breached an historic, unregulated berm, flooding two homes and cutting off access to four more.
The RDKB said a Ministry of Transportation and Infrastructure contract crew repaired water damage to Beatrice Street on May 21, and staff has provided residents with a home re-entry package that includes information about best practices following an evacuation, and information about possible flood impacts to their homes or properties from the event.
The RDKB will work with homeowners to assess damage to their homes or property and will follow up with homeowners to assist in recovery.
The RDKB said a total of 14 properties are on evacuation alert in the Boundary: seven in Johnson Flats and seven in Manly Meadows, all of which are in Electoral Area D / Rural Grand Forks. All properties will remain on alert until the threat of flooding has passed.
"An evacuation alert means residents must be prepared to leave at any time, and all those on evacuation alert have received instructions on how to prepare including getting grab-and-go bags ready (which should include several days of clothing, toiletries and medications), reviewing their emergency plan, gathering copies of important documents and mementos, and arranging for alternate accommodation," the RDKB release said.
The RDKB said current river forecasts show the Kettle River remaining at a one- to two-year return level, or typical freshet flows with another river peak possible on Sunday, May 24. Unsettled weather is expected to continue through the weekend giving way to clearer weather and warmer temperatures for the week of May 25.
Low-lying areas will remain vulnerable to flooding if rainfall is high, and warming temperatures will further drive snowmelt at high elevations next week.
The RDKB continues to monitor all creeks and rivers and track BC River Forecast Centre model is maintaining its Emergency Operations Centre at a Level 2 in preparation for any emergency response that may be required.
The Regional District of Kootenay Boundary (RDKB) encourages residents to monitor low-lying areas for potential impacts from rising groundwater with some flooding as we move into the weekend.
The High Streamflow Advisory issued by BC River Forecast Centre on May 6 remains in effect for the Boundary Region including the Kettle River, West Kettle River, Granby River and tributaries.
Sandbags and sand are currently available for residents in the following locations free of charge:
• Beaverdell behind the Fire Hall
• Westbridge Hall
• Riverside Centre in Rock Creek
• Grand Forks Arena
Residents must bring their own tools and equipment (shovels, transportation) and respect a physical distance of two metres (six feet) between workers as they fill sandbags.
Residents in the Boundary who are most at risk of flooding should stay informed about local freshet conditions and ensure they have considered plans for moving valuable items, livestock or other items to safe locations if required. The RDKB also asks everyone to stay well away from the edges of creeks and rivers as banks become unstable during high water.
For more information about snow and river levels as well as how to prepare for the 2020 freshet, visit emergency.rdkb.com.
To register for the RDKB Emergency Alerting System go to https://ca.voyent-alert.com/vras/user-registration.html. The RDKB warns everyone to stay away from the edges of watercourses and report any erosion or flooding to the Provincial Emergency Coordination Centre at 1-800-663-3456.
The RDKB will continue to update the public as new information is available.