Nelson's Ian Walgren wins four medals at Special Olympics Canada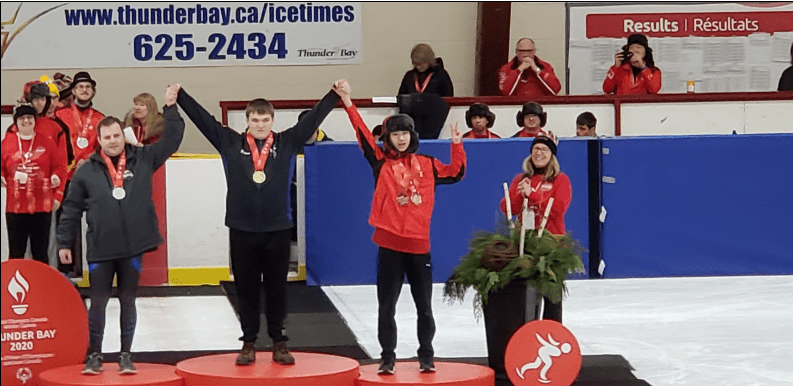 Ian Walgren did not let the bright lights of the National Special Olympics bother the Nelson speedskater.
Walgren captured not one, but, four medals in speedskating at Special Olympics Canada last week in Thunder Bay, Ont.
The Team BC skater captured gold in the Men's 333-meter race, achieving a personal best of 28.47 seconds.
"(Ian) showed what he was capable of as he exploded off the start line with his powerful legs, to take the lead and maintained the lead for the entire race holding off a couple of late challenges to capture his first ever Gold Medal," said father, and coach, Bruce Walgren.
Ian Walgren then scored silver and two bronze in the 222-meter, 500-meter and 777-meter races also posting personal best times.
Walgren was part of the more than 1,200 delegation of participants from Canada's ten provinces and two of three territories in Thunder Bay, creating an outstanding display of sport and sportsmanship in eight sports.
The sports include 5-pin bowling, alpine skiing, cross country skiing, curling, figure skating, floor hockey, snowshoeing, and speed skating. This is the first time 5-pin bowling will be part of National Winter Games, having previously been part of the summer sport cycle.
Comprised of 143 athletes with intellectual disabilities, 42 volunteer coaches, and 13 mission staff from 42 communities around the province, Special Olympics Team BC 2020 was able to shine on the national stage while showcasing their abilities.
"Ian would like to thank everyone who sent him words of inspiration and especially Shannon May and Mr. McComb on helping him with is training, and his West Kootenay speed skating teammate Ashton Kincad," Bruce Walgren said.
Team BC speed skaters captured a total of 41 medal and posted 31 personal best times.
The Special Olympics Games cycle operates on a four-year cycle for both summer and winter sports. Athletes compete in regional events and then Provincial Games to advance to National Games, and Special Olympics Canada Games are the qualifiers for international Special Olympics competition.
Ian Walgren of Nelson was all smiles after winning four medals during the recent Special Olympics Canada last week in Thunder Bay, Ont. —Submitted photo