Johnny McCuaig and the Arcana Kings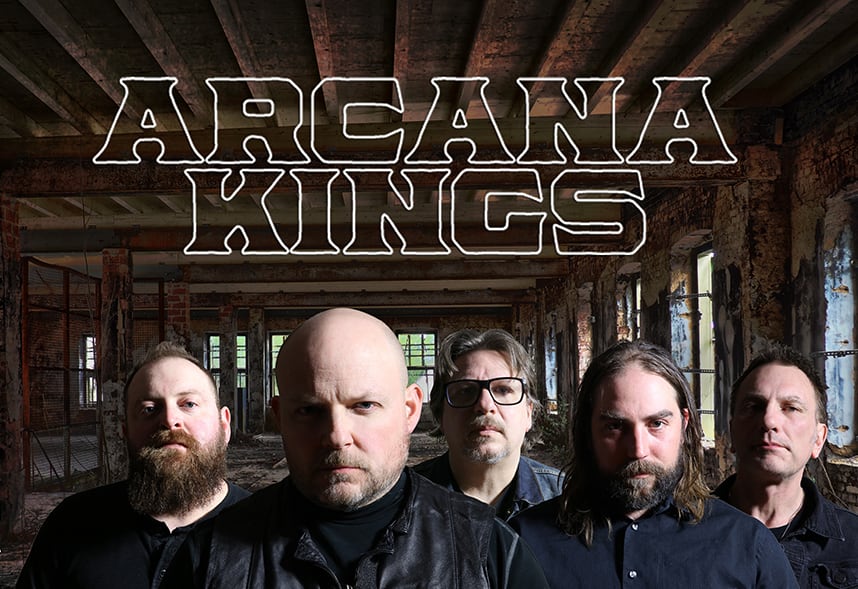 It's by no accident that Nelson native Johnny McCuaig was born to rock and roll, and with an intensity that rises from his soul.
Like any young lad growing up with Scottish grandparents, Johnny began playing the bagpipes with the Nelson Kootenay Kiltie Pipe Band at a very young age, learning long established, time honoured and traditional forms of Scottish folk music. 
By age 11 he was already touring other schools in the area, playing guitar with his classmates, as they put on a musical production that saw the kids perform classic rock and country songs they learned from their teachers. After graduating high school, Johnny joined his mother's classic country band as first a drummer, then a guitar player, which was a springboard that led him into a bass player role with rocker Carson Cole.
As the accomplished multi-instrumentalist that he had become through these formative years, it wasn't until one day while playing in Yellowknife Johnny happened to have his bagpipes with him and began to play with the band. The crowd's response made such an impression on him that he knew it was time to pursue an original minded career. 
As such, McCuaig was born, which eventually led to The Johnny McCuaig band, and now officially rebranded as 'Arcana Kings', the band recently released their debut album Lions As Ravens in 2019.
And in true form Johnny is the lead singer, bagpipe player and rhythm guitarist for Arcana Kings, and is accompanied lead guitarist and virtuoso James Picton, rhythm guitarist and vocals Allan Morrison, Kevin Kyle on bass, and drummer Graham Templeman.
The latest result is a tour de force and gripping, climaxing explosion of ancient and current sounds that lifts you off your seat and guarantees to make you move.
They create a high octane blend of Rock, Pop and Punk that's so pumping that The Canadian Football League's Saskatchewan Roughriders use the bands single, 'Here We Go', (Lions As Ravens) as they take to the field at the start of every home game in Mosaic Stadium, and as such, has quickly become a sports anthem with CFL and NHL teams to fire up athletes and their fans.
And while it's no mystery that Johnny's musical roots may be seeped in more common Scottish folk elements and examinations, his intuition of learning to celebrate a more modern traditional approach and interpretation of classic time-honoured sounds and ancestral lore that he so fondly grew up around, may be Arcana Kings secret to success.
In this edition of The Daily Dose, Editor Jeff Sawyer sits down with Johnny McCuaig and discovers that the rock gathers no moss for Nelson's premier touring group Arcana Kings as the group prepares for its mini-BC tour, starting Saturday, February 22 at the Spirit Bar in Nelson. Show time, 9 p.m.
You began playing music at a very young age honing your craft on the bagpipes with the Nelson Kootenay Kiltie Pipe Band, how did those traditional elements influence your musical style today? 
Growing up in Nelson and playing with the Nelson Kootenay Kiltie Pipe Band was an amazing experience for me.  I learned so much about music, performance and comradery and what it was like to be a part of something special.  Practice was essential and learning traditional music has helped me with my writing.  In those days I would sit down for at least a half hour a day, and learn a new song or practice one I would've been working on.  I would always hear little licks or lines in the music that would remind me of a song on mainstream radio.  Soon I would find myself playing along to sections of rock songs and jamming alongside some of the more popular tunes on the radio at the time.  This really helped me in my writing process and I learned how to incorporate bagpipes into rock music. Truth be told, I am still learning.
Growing up in Nelson with your classmates in school, as kids you would perform classic rock and country songs you learned from your teachers, what impression and legacy did this create for you?
Again, musically I was in a very supportive and opportunistic atmosphere due to the teachers I had growing up. I really owe them a lot! My elementary teachers Wayne Prentice, Leroy Mowery, Warren Ward and Leah Grey were so supportive in my younger years and gave me so much encouragement and a lot of their time.  By the time I was in grade 6/7 I was already touring other elementary schools, learning about setting up P.A. systems, performing, and putting on lunch hour shows.  We would have access to the music room at South Nelson where we had guitars, bass, drums, and keyboards for us to use if we wanted to.  I spent a lot of time playing and learning different instruments there.  
I look back on those days with some very fond memories and realize how special that was for us.  I remember one time we were performing in Grand Forks at one of the school's there, and the kids came up to us after the performance and asked us for our autograph.  I remember feeling so proud and how cool it was to be playing music.  You don't see that kind of thing very often these days. Those teachers were incredible.   
My luck continued going to Trafalgar as Leroy Mowery also took a job teaching there at the same time, I was going into Grade 8. He started a Pop music program and since I had a lot of experience, I became a kind of teacher's aid.  
I helped teach older students about performance, setting up and putting on shows.  Again, I was able to take full advantage of the music room before and after school hours.  He would basically say "Lock up when you're done".  That's when my first real bands started, and I have not looked back since.
When it was time for high school, we had continued on with spending our time in the music room.  Bruce Hunter was the music teacher back then, and he was also very supportive by letting us use the room after school, and even sometimes on weekends.  He also helped us out with some performances at lunch hour for the entire school. He would let us use school equipment and he even cleared our performances with the principal.  We felt like rock stars lol!  It really built up my confidence and helped shape the beginnings of my career.  Looking back on those days, I really owe my teachers a lot!  Without their support, patience and guidance I'm not sure where I would be. 
What does it feel like to be one of Nelson's most celebrated musicians now? What does your music represent to you, especially blending traditional elements like the bagpipes into your anthems?
I'm not so sure about being celebrated lol, but it is always nice to have fellow musicians and friends ask me questions about music or the business, and genuinely want to know how things are going and what we are up to. It keeps me grounded and I'm proud of where I'm from.  
To me music is a way of life. I can tell my stories and connect with people on a personal level if it's right.  It's nice to cut through the BS of today's world and have a choice if you want to connect or not.  Some people are not interested in rock music while others don't see the point in a DJ.  That's the beauty of music.  You don't have to follow people; you follow that feeling that helps you get through the day and music does that for me.
When I wrote 'Here We Go' I was looking for a pump me up vibe. Kind of like getting ready to go do something special or getting ready for the big night out on the town.  When the bagpipes were added, it put it over the top for me.  Like the call into battle, this is about to go off!  I feel that every time we hit the stage and play that song.  I'm always searching for that feeling and when you find it, it all comes into place.
What is your creative process for song writing and composing music? How do you formulate your musical stories and lyrics around your sounds?
I usually start with the music.  I'll play with some chord groupings or possibly a riff and work it for a while until it makes sense.  Then I find a good rhythm or beat.  Once I have a general idea of what I'm writing, then I will listen to the music and see what kind of mood or feel I get from it.  That usually helps me determine the lyrics as well. If it's punchy or a little more rock, I lean the lyrics that way.  If its more mellow or little less intense I'm going with that kind of message or story.  I like to base my songs on personal experiences that I have gone through, or a friend has gone through.  I find it keeps me honest to what I'm trying to write.  Lyrics for me are the hardest part of song writing.  You really want to tell people how you feel or what is involved with the story and it can be very personal, some times its hard for me to relate and translate.
Your musical journey has evolved in many formative ways throughout the years', take us back on along this journey. What was it like to grow and evolve as a solo artist to becoming the musical director and front man for your new band Arcana Kings?
As I mentioned before I was pretty lucky being exposed to music throughout my younger years.  I had some confidence in music after I graduated and began to follow that path.  After a short stint at the Selkirk Music program, I began as a drummer playing in my mother's band with my cousin and stepdad.  We played in legions and dicey honky tonk bars and a couple of rodeos. 
After that I started another group with my brother playing rhythm guitar and lead singing.  We toured on and off for about 6 months in B.C. and Alberta playing country music.  That's the first time I played in a band with James Picton.  As one door closes another opens.  After coming home from playing with my brother I settled down for a while and took a job at Overwaitea foods.  I was only 23 and quickly realized I wasn't going to be happy doing that for long, so I watched for another opportunity to arise.  And boy did it happen. 
At that time I had posted a "bass player for hire " in Eddy's Music.  I loved playing bass and thought I would take a stab at it.  My ad was answered into what would be an eventual life-changing event for me.  Carson Cole.  Carson was playing with Shaun, Saff, and Earl who would eventually become Wide Mouth Mason.  He invited me out to his show that night in Castlegar at the Hi Arrow, and I remember watching these guys and thinking that's what I want to do.  After his show we sat and talked about what he was up to and what he wanted to do with his career.  He needed a bass player and wanted to know if I was interested.  Hell ya!!  I was.  So off I went to Coronation Alberta to follow the life of a musician. 
Carson was very knowledgeable about touring, booking and performance. He showed me the ropes when it came to crowd control, picking the proper set list and dealing with agents and booking your own shows.  There were some real hard lessons to learn there and some valuable takeaways.   While I wasn't playing with Carson, I would end up doing some shows with Shaun Verreault of Wide Mouth Mason.  This was before the group had their success.  Shaun and I were part of Carson's company Brown Sound and we would gig with each other at times.  I would also help Carson with P.A. rental and doing sound for different cover bands that needed the help.  Carson and I would play quite a bit in Alberta and Saskatchewan.  It was common to travel 8 hours one way to a show and still is. 
After four years of playing bass guitar with Carson it was time to take the leap. That's when "McCuaig" was born. One night while playing in Yellowknife, I happen to have my bagpipes with me.  Carson gave me the look like "grab them pipes and let em rip".  So I did.  The crowd went nuts!  After the show we sat around and talked about what we had witnessed and how the crowd reacted.  "That's your Shtick" That's what is going to set you apart from any other band.  I had just figured out what my thing was going to be in music.  All I had to do now was figure out how to incorporate the bagpipes into music that I loved.  So I began to write and played with different ideas. 
To this day I am still coming up with new ideas and new sounds. It's a very tricky instrument, very humbling. Once I had enough tunes to put a show together, I started to surround myself with guys that were open to the music and who wanted to travel and put the work into creating a career.  To this day I have played with 4 different versions of "McCuaig" and "the Johnny McCuaig Band".  Some guys can hack the lifestyle and some cannot.  It's a tough life and the travel can be overwhelming.  It is very difficult to keep everyone happy at times.  We are artists with various creative back rounds and values and those don't always line up.  There was a time when we had played 256 nights a year for a couple of years.  It was intense! And it took its toll on us.  I ended up taking a five-year break and needed to re-energize.  I really had to learn to separate my music from my home life to keep myself focused on the things that are important to me.  That's when I met Stacy.   My wife (Stacy) is my sanity and lifeline.  She has the biggest shoulders and is one of the most caring people I know.  I really could not have this life without her.  She is amazing.  
To get back into the music scene after a five year break, I had to have a team of people who were really into doing the work behind the scenes.  Kevin Kyle who at the time was bartending in Regina and who had also played bass in several local cover bands, had asked me a few times about where I was at, and when I would be playing full time again.  I have to admit that at that time I was on the fence.  I would tell him "do you know how much work goes into this, are you willing to put the time into making a career in the music business?"  I guess I wanted him to know that playing in a weekend cover band is one thing but playing in an original indie rock band is quite another.  There is a ton of sacrifice and once you start, you have to keep going to succeed.  There are no days off. You are about to enter the true meaning of the "grind".  Kevin just smiled and said, "I'm in, and I have a tone of ideas".  I figured if he was crazy enough to really go for it then I was ready to get back on the saddle and go for another ride.  And what a ride it has been.   
First up get a band together.  Enter guitar virtuoso and Nelson's very own James Picton.  At the time James was not playing much and still had the fire to do something in music.  Perfect fit!  There have been times where we have been playing live and I get caught up watching him rip on the guitar.  That guy can sure play.  In fact, it would not surprise me if he was among the top 5 players in all of Canada. 
To have a full sounding band I wanted another rhythm guitar player and singer.  Ladies and gentlemen meet Al Morrison.  Al lives in Saskatoon.  I say this because you will see what we are up against when it comes to where everyone lives.  Al brings the happy party to the show.  We have a great vibe on stage and his voice is uniquely suited to mine in our harmonies.  It is great to have a guy like him on stage.  Joining us as our drummer since Jan 2019 is Saskatoon's Graham Templeman.  Graham is the free spirit of the band and knows how to spin a yarn.  Lol.  He keeps us entertained on those long road trips with his many stories and he knows how to hit those drums.  All together Kevin, James, Al, Graham and I make up Arcana Kings.  It was a long decision to change the name of the band from the Johnny McCuaig Band to Arcana Kings but a positive one, and also one that is solidifies us as a band and not just a solo act. 
We all bring something to the table, and that's paying off.  You have got to be a team in order to move forward.  Kevin and I are the overseers of the day-to-day business, but when it comes down to the bigger decisions, we all have a meeting and voice what we are feeling and what our opinions are.  Since we all live in different area's it sometimes presents a bit of a challenge, so it is important to have a good sense of communication.  
Everything seems to have lined up for Arcana Kings since releasing your new album 'Lions as Ravens', and while you explore a similar vibe to The Johnny McCuaig Band, how has the group's style and tempo changed from a creative and musical perspective?
That's a great question Jeff. You know it's funny, the older I get the more I want to rock lol!  Most people turn to either a folk style of music or blues.  For me, well I guess I'm backwards.  I think things are getting more interesting and I love to put more energy in my songs and our new album reflects that.  It has been very exciting, and I guess I wanted to translate that into the music.
Arcana Kings perform live all the time, how do you find a balance between a live performance and a studio recording?
Playing live is a one-shot deal.  You have to get it right and give all the energy you have right then and there.  When we are in the studio we relax and play with ideas.  I love the creative recording process.  We always take the time to schedule when we are going to be in the studio, limit any distractions and make the most out of the experience. There can be some long hours in the studio, so I want to be totally immersed in the process and not feel rushed. I guess it's a mental switch that you prepare yourself for.  You learn to perform live and you prepare to record.
North by Northeast is an annual music and arts festival held each June in Toronto. The festival's main focus is live music, but it also includes a film festival, a comedy festival, art components, video game activities, and a digital interactive media conference. You signed a new record deal with a label in France called Bad Reputation after being invited to play at the conference last year. Did this come as a surprise? What were your expectations heading into the conference?
This was a total surprise! After we had been invited to the conference, we knew we had only one time slot to showcase.  Toronto is a long way to go to play one set, so we wanted to make the best of it.  I started to email every magazine, record label, A&R person we could think of.  Those types of conferences are easy to get lost in, as there are a ton of people that usually go to the bigger acts, and don't pay much attention to the smaller indie acts.  So, you really have to work for every inch. 
The day we got there we were getting settled at our hotel and I got a response to an email I sent out.  We had looked at what bands were touring and what bands might be in the area and decided to invite their labels to the show.  You never know right?  Turns out, and although Bad Reputation Records from France was not going to be at the conference, Eric Coubard the labels owner had read my email and was curious about the band and what we were up to.  I quickly responded to him and we started a dialogue.  He requested to listen to our new album, which at the time was just getting the final mastering touches done and not released to the public quite yet.  A couple of very long days of waiting later, we got his response.  He was in!  He really loved the album and was interested in us enough to send us a sub publishing and licensing deal for a European territory contract.  After our entertainment lawyer negotiated a few points and we were comfortable with the deal, we signed.  The whole process was pretty wild and something out of a movie.  That stuff doesn't always happen like that.    
I love the new artwork for the album, who did you collaborate with on the design?
Eric Coubard (Bad Reputation Records) was the one that hooked us up with English illustrator Mark Wilkinson.  Mark is known for working on album covers with Judas Priest (Ram it Down, Painkiller, Jugulator, Angel of Retribution, Nostradamus, Redeemer of Souls,) Iron Maiden (Live at Donington, Best of the B sides 2002, The Book of Souls), Fish (Vigil in a Wilderness of Mirrors, Internal Exile, Suits, Sunsets on Empire, Raingods with Zippos, Fellini Days, Field of Crows, 13th Star, A Feast of Consequences) and Marillion (Script for a Jesters Tear, Fugazi, Reel to Reel, Misplaced Childhood, Clutching at Straws, The thieving Magpie) as well as comic book covers for Judge Dredd Magazine (# 2.10, 2.15, 2.20, 2.27, 2.30, 2,32, 2.37, 2.48, 2.50, 2.63, 3.04) '1992-'95.  We were floored by what he did for us.  The album cover turned out amazing and we couldn't be happier.  
The Canadian Football League's Saskatchewan Roughriders plays, Here We Go, (Lions As Ravens) as they take to the field at the start of every home game in Mosaic Stadium.  'Here We Go' is quickly becoming a sports anthem with CFL and NHL teams to fire up athletes and their fans, how did this song get picked up? 
Again, timing and a little luck. 'Here We Go' was used for the Saskatchewan Rough Riders 2018 season. It was amazing for us.  At that time, Saskatchewan receiver Duron Carter made a comment about their run out on the field music, and how he thought they should make a change.  Carter mentioned that he thought that 'Bring Em Out' was "very played out, low key and corny". 
If you know anything about the CFL you will know that some of the most passionate fans of the game are in Saskatchewan. The media ran with this and the fans reacted…big time.  It sparked an opportunity for debate and consideration for other ideas for run out on the field music.  Then publicist Taron Cochrane of Taron Cochrane Media decided to take to social media and see what the people thought.  We watched the thread of conversations and decided to throw our song out there just for kicks.  We had been working with Taron at the time on other media releases and Taron really took the idea of local (I mentioned the other band members are from Saskatchewan) music being used.  We thought that would be the end of it.   I remember sitting at home going about my business when all of sudden during CFL preseason my phone lit up!  I thought there must have been an emergency or something bad had happened.  I looked down and saw I was getting video sent to me from friends on Facebook, Twitter, Instagram, texting me images of the Riders running out on the field and our music being played in the background.  I was in complete awe!  I started jumping up and down and I remember running out into the yard with the biggest smile on my face and showing Stacy.  She must have thought I was losing my mind.  What a feeling it was! As the season went on we never knew if they would continue to use the song, or if it was just a pre-season thing.  So every home game we started to post on our social media "will they or won't they play the song, tell us what your predictions are" It was a great social media campaign for a while.  At the end of this we ended up playing live at Mosaic Stadium for the Western Semi Final playoff game.  It truly was an amazing thing that happened for us.  
You have all this momentum right now, what are your tour plans this year?
There is a lot on the go for us this year.  We will be starting off with a quick B.C tour in Feb to kick off this years' schedule in Kamloops, Kelowna and Nelson.   I'm really looking forward to playing here in Nelson on February 22nd at the Spirit Bar.  Then we head to Saskatchewan in early March to finish off our Arts Council theatre shows.  After that we fly to Las Vegas for St Paddy's day performances, then off to Colorado and a Texas tour in April, Newfoundland's Live at Heart music festival in May, Japan, Korea and the Golden Melody awards in Taiwan in June, then comes Canadian festivals in the summer, and in the fall we head to Europe. It's going to be a wild year!
Johnny and the Arcana Kings are set to bring their high-octane blend of Rock, Pop and Punk to the Hume Hotel and Spa's Spirit Bar this weekend, cranking the heat up for the crowd for Whitewater Resort's Coldsmoke after party, opening act White Queen. 
Tickets $10 https://humehotel.tickit.ca/events/8371 Doors @ 9 p.m.