No medal, but great season for Mount Sentinel Wildcats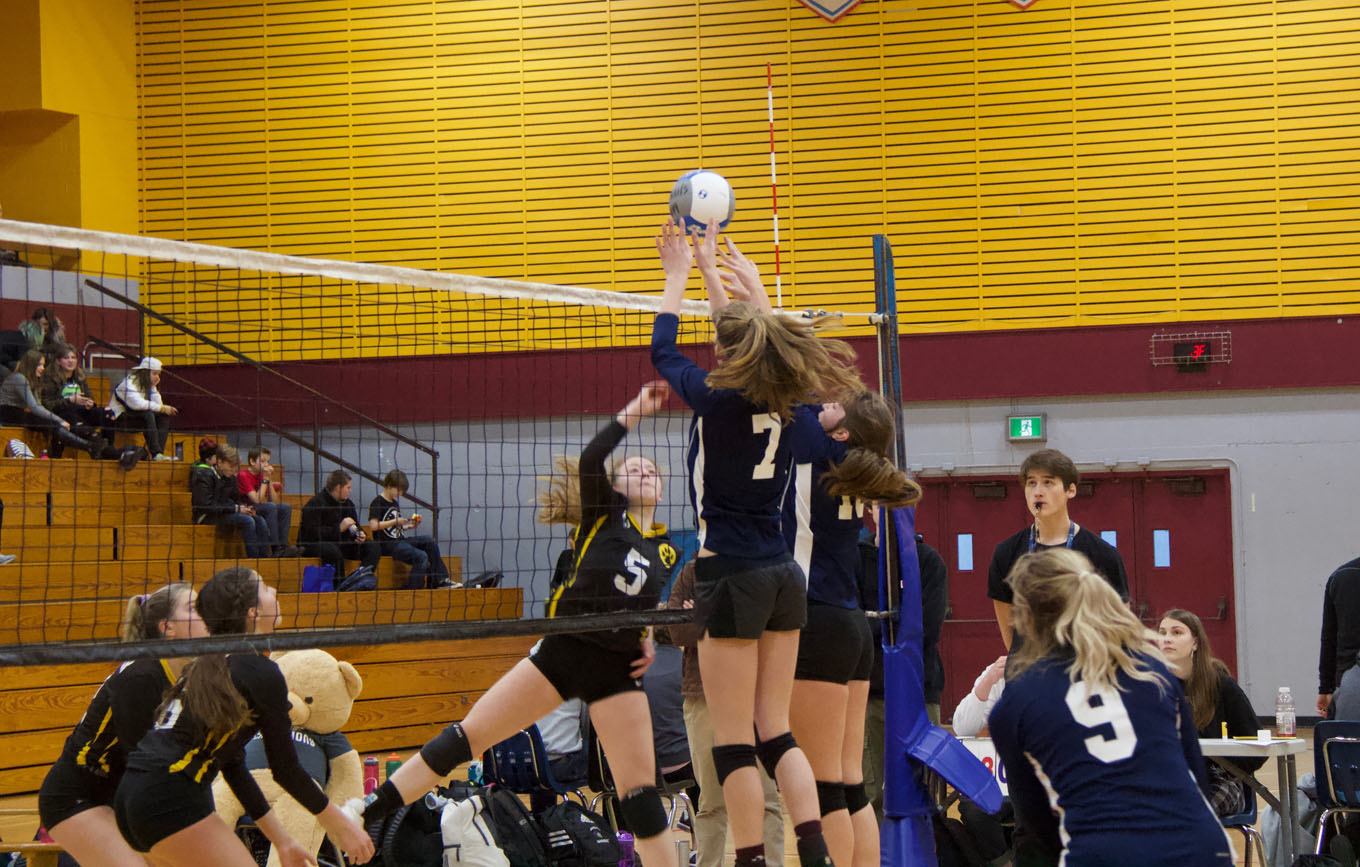 The Mount Sentinel Wildcats came ever so close to winning a medal at the BC. High School A Girls Volleyball Championships Saturday at Castlegar's Selkirk College Gymnasium.
The Cats dropped a heartbreaking three-set match 17-25, 25-18, 15-8, to Unity Christian of Chilliwack to finish fourth overall at the 16-team tournament.
Kelowna Christian defeated Fernie Falcons in straight games 25-19, 25-18, 25-19, to capture the BC Championship.
"The girls certainly are disappointed," said Mount Sentinel head coach Joe Moreira.
"I'm trying to be more reflective," Moreira added. "We are a very young team (no Grade 12s with the exception of Yana Woods who is graduating early), so I'm inclined to believe that our play on Saturday will sting a little now, but it will make us better next year."
The Wildcats came into Saturday's playoff round feeling pretty good after advancing to the semi-finals Friday with a win over Vernon Christian.
However, fans did not see the best of the Wildcats against Kootenay rival Fernie as Mount Sentinel lost the best-of-three semi-final.
"We have enjoyed a successful season, but it is was riddled with inconsistent play," Moreira explained. "This view pretty much describes our performance during the last three days. We played with confidence and energy in the quarterfinal against Vernon (Christian), and yet were so different in the semi-final with Fernie."
Mount Sentinel finished Day one of the tournament in third spot in pool play. The Wildcats defeated Unity Christian but lost to Fernie and Kelowna Christian.
The Wildcats then ran off two wins Friday to advance to the final four Saturday.
"Right now, fourth place has left us feeling that we didn't quite "get done"," Moreira said. "Every team advances to a provincial tournament hoping and expecting to compete and play at a level that reflects the season's play. In this respect, we did."
Saturday's closing ceremonies concludes a very hectic week at the South Slocan-based school.
Mount Sentinel tuned up for the Girl's Tournament by opening its doors to host the Single-A Boys event the previous week, giving the community a taste of elite volleyball action first hand. Mount Sentinel Boys also finished in fourth spot during the Single A BC Championships.
"Yes, this was a ton of work, but the work was shared among many groups," Moreira said. "We received so much support from our school and community that has personally left me with a sense of pride.
"In addition to the Mount Sentinel student and staff support, we are also so appreciative and thank you for the help we received from L.V. Rogers (High School in Nelson). Jenn Kid and her volleyball academy kids were there for us during both tournaments."
Immaculata of Kelowna, Vernon Christian, Southpointe Academy of Delta and Credo Christian of Langley rounded out the top eight teams. Fernie Academy, the other Kootenay School entered in the tournament, placed 13th.
Kylie Kampman of Unity Christian was named the Most Outstanding Player in the tournament. Jayden Rushton Mount Sentinel earned second team all-star accolades.
Despite the finish, the season was a success for the Wildcats, which finished tenth overall in 2018 and were ranked eighth in preseason polls.
"There has been so much growth during the season," said Moreira. "Now we need to augment the physical growth with mental and emotional maturity."
Wildcats Sara St. Goddard (2) powers the return back during opening round action of the BC High School A Girls Volleyball Championships.
Mount Sentinel Jaylen Rushton (4) earned second-team all star recognition at the BC High School A Girls Volleyball Championships.