Nelson Fire Rescue Chief Encourages Yard Waste Clean-Up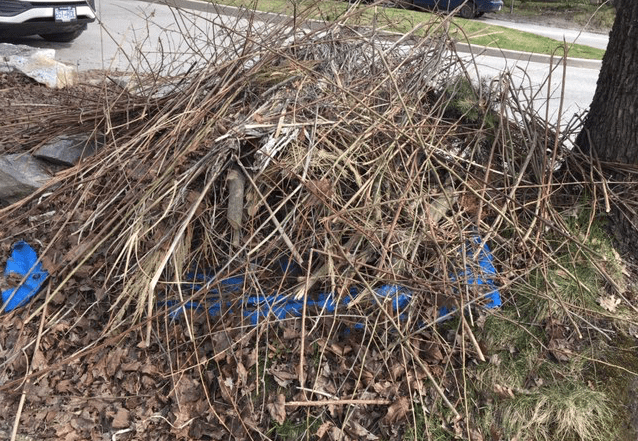 In a media release, Nelson Fire and Rescue Chief Len MacCharles said the department is urging the public to remove deadfall, woody debris and long grasses from around their homes to minimize the risk of fire from falling embers.
The announcement by MacCharles comes following the past few seasons of dry summers and serious wildfires in the region.
This is about being proactive and being 'FireSmart'," MacCharles explained in a media release.
"Now is the time of year to make a difference around your home and our community for the coming wildfire season. It doesn't matter if you live on the edge of town or near city centre – your home could be at risk.
"Together we can reduce the impact of wildfire in our community."
Nelson Fire Rescue said up to 90 percent of homes lost due to wildfires catch fire from falling hot embers from fires up to two kilometers away – not from the fire itself, but from hot embers from wildfires that can travel on wind currents and drop anywhere throughout our community.
"In addition to removing the dry woody debris from around your home, we strongly recommend removing decorative cedars, junipers, pines and tall grasses near your home," the release said.
"While we certainly understand that these plants look good, grow easily and are quite common, it is important to know that they ignite very easily from falling embers and once burning will start homes and other structures on fire. Removing these plants and other easily combustible materials such as straw, jute or coir mats from doorways is an easy, yet very important step to protecting your home during fire season."
"And refrain from stacking firewood against or near the home."
Actions homeowners can take to reduce risk:
Remove ground fuels on your property such as fallen branches, twigs and needles
Remove decorative cedars, junipers and pines against or near your home (can replace with more fire-resistive plants – go to firesmartcanada.ca)
Remove all debris piles and other combustible materials near your home
Clean out eave troughs
Remove straw, jute or coir mats from entryways during summer months
Move stored firewood away from buildings (ideally 10 metres away)
Trim conifer tree branches to 2 metres above the ground
Municipal government is offering a Free Yard Waste Drop Off for the month of May at the Grohman Transfer Station. The charge is normally $5 per load of yard wasted up to 2.5 cubic meters and $50 for large loads and $25 per ton if chipped.
MacCharles said residents burning of woody debris within city limits requires a permit and is subject to the following conditions (excerpt from Bylaw No. 3268, 2014):
MacCharles said permits, beginning Friday, April 12 to Monday, May 20, inclusive, must be acquired in person, at the Nelson Fire Department, located at 919 Ward Street for the $10 fee can that be paid by cash or cheque at the time of issuance and proof of fire insurance.
Residents are required to follow the Ministry of Environment's Venting Index guidelines (or call 1-888-281-2992) and only burn on days when venting is listed as "Good" on the day of burning to minimize any accumulation of smoke-caused air pollution.
Contravention of Bylaw No. 3268 may be met with suspension or revocation of the permit and/or a fee for service.
MacCharles said the Corporation of the City of Nelson Bylaw No. 3268 can be found via the City of Nelson Website.
For more information contact the Fire Hall at (250) 352-3103.