Nelson Councillors connect with Tech Industry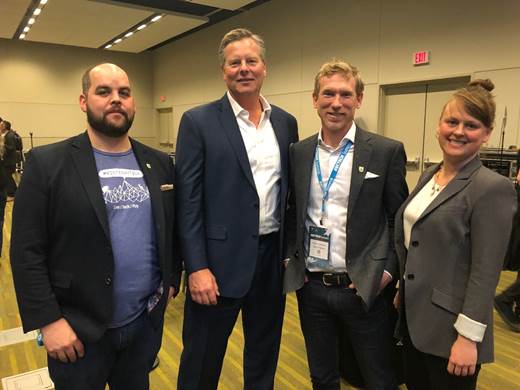 Three City of Nelson Councillors are in Vancouver recently to attend the annual BC Tech Summit. 
The Summit is the largest annual tech and innovation event in Western Canada, with over 9000 participants attending. Councillors Rik Logtenberg, Brittny Anderson and Keith Page are part of a larger Nelson contingency that includes representatives from the economic development and technology sectors.
Council recognizes that Nelson is a desirable community to re-locate to for its culture, scenery and rural appeal. It also offers other amenities such as high-speed internet connectivity and relatively affordable housing compared to larger cities such as Vancouver. Nelson is in a prime position to benefit from the burgeoning tech sector and with Council's added support, the tech community can continue to grow, thereby creating jobs and opportunities that have not previously existed. 
"Technology creates both challenges and opportunities for communities across the globe. I'm heading down to Vancouver to connect with stakeholders and Ministers to advocate for our region's needs," says Councillor Keith Page.
"I look forward to showcasing the talent of our people and bringing focus to the problems that threaten our way of life, such as housing and global warming."
The Rossland/Nelson corridor is recognized provincially as having unique set of assets and amenities that appeal to young entrepreneurs, both those that grew up in Nelson, such as brothers Greg Malpass Traction on Demand and Anders Malpass Drop Design, as well as relative newcomers such as Time.ly partner and City Councillor Rik Logtenberg.   
"As a Nelson City Councillor, I'm really concerned about the loss of good-paying manufacturing jobs at Pacific Insight and Can-Filters. I'm heading to the BC Tech Summit with my fellow Councilors to meet with software and hardware manufacturing companies who have a focus on green tech and encourage them to look to Nelson as an opportune place to set up shop," says Councillor Rik Logtenberg.
"I am also hoping to make connections and find new tenants for our partially empty fifth floor at City Hall. A strong new tenant would bring long-term income to the City in the form of commercial rent."