Nelson Police Foundation sponsors Officers Specialized Training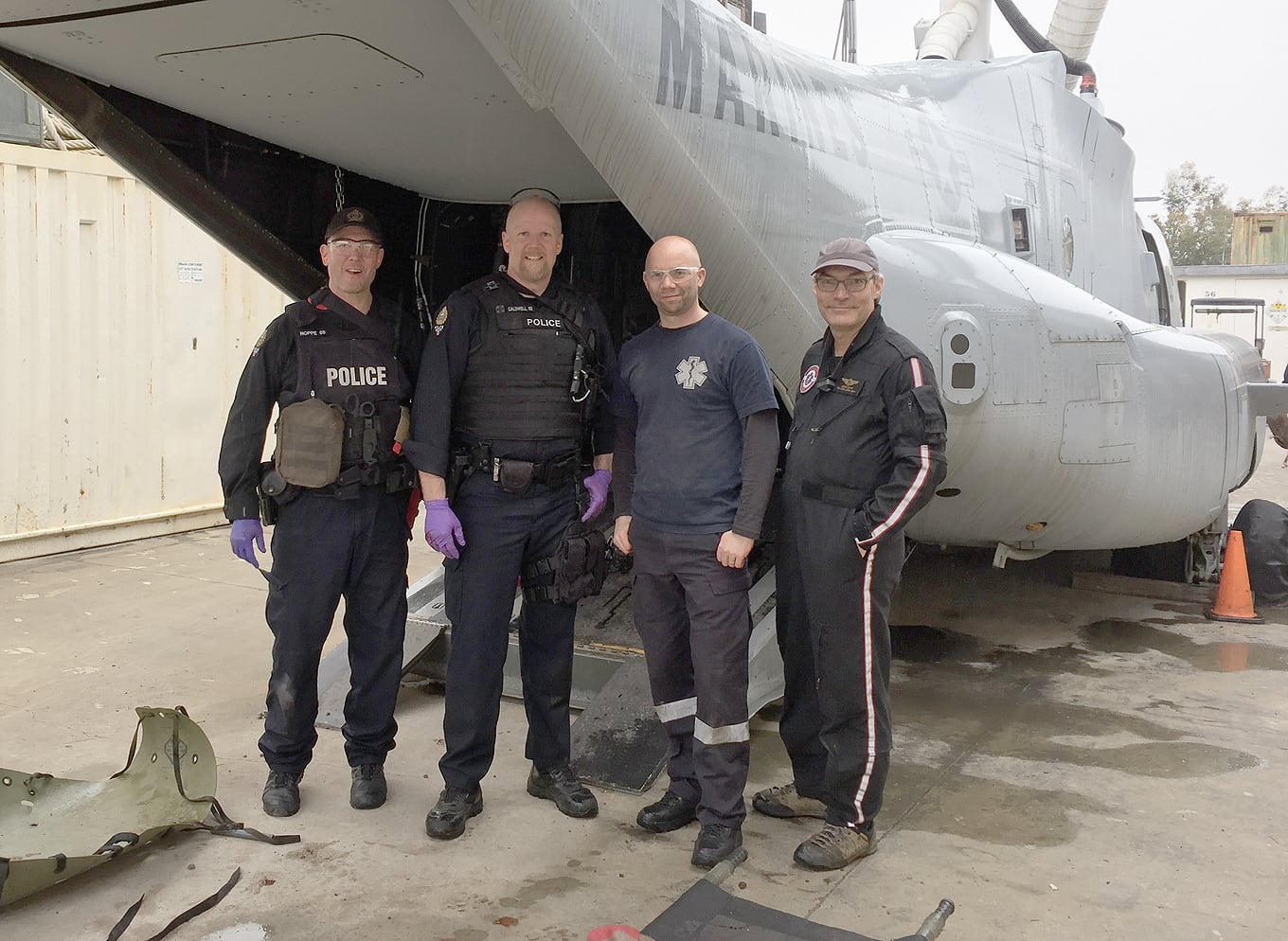 In a media release, the Nelson Police Department said officers were recently sent to San Diego, California, to attend a two-day intensive training course on Tactical Emergency Casualty Care (TECC).
Police Chief Paul Burkart said the two officers were Constables Jay Noppe and Matt Caldwell.
Burkart said Noppe and Caldwell were accompanied by a third police officer, Dr. Nic Sparrow of the Kootenay Emergency Response Physicians Association and Jason Lin, a Helicopter Emergency Medical Service nurse and Rescue Trauma and Casual Care instructor. 
""This is an excellent opportunity for our officers to attend the same TECC course with Dr. Sparrow and fellow first responders from the Kootenays," Burkart explained.
The TECC course teaches life-saving techniques and strategies for providing the best trauma and emergency care in a civilian tactical operation or other human threat emergencies.
Burkart said this is the first time that police officers and other allied medical professionals from the Kootenays have travelled together to undertaken this type of training.
"We have a lot to learn from Law Enforcement and EMS Agencies in the United States of America and that's why we are all going to California," Dr. Sparrow, a local emergency physician, said.
Burkart said the goal of this training is to help save lives in our community and improve the life-saving techniques and approaches in the event of civilian tactical operations or a human threat emergency. The information and lessons learned at the course will be shared with Law Enforcement and Emergency Medical Service Providers here in the Kootenays.
"The group will return to provide this training to other members of our department," Burkart said.
"In the future, when our members are out at a scene, and medical first responders have not arrived, or cannot enter the scene because of the risk involved, including when there is an armed suspect in the area, our members will be able to provide that immediate trauma care until medical first responders can attend safely."
Burkart said much of the training cost for the officers was covered by the Nelson Police Foundation, a non-profit fundraising group that provides funding for specialized equipment and training, as well as police youth programs that are normally not covered by the annual police budget.
"With our members receiving this training, with the attendance of Dr. Sparrow right to the scene of these incidents as a volunteer emergency physician, with us maintaining our own 911 service right at the Nelson Police Department and having both EHS and local fire attending medical calls, I believe Nelson residents will be receiving the best emergency medical response in the province," said Burkart.
Anyone wanting to support the Nelson Police Foundation can attend a Burger & Beverage Fundraiser March 7 from 5-7 p.m. at Finley's. All proceeds from the evening to toward the Nelson Police Foundation.