Snowpack staff issue plea to 'Kissy Bear' thieves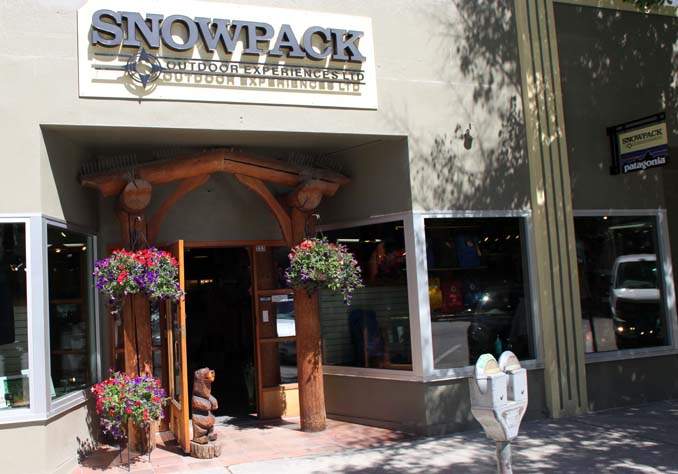 People are known to travel great distances to visit Nelson.
There is the picturesque scenery that attracts people from throughout the world to the Heritage City; the unique shops on Baker Street offering many different options to tourists looking for the special something; and to some, "Kissy Bear", a wooden bear sculpture normally sitting in front of Snowpack Outdoor Experience in the 300 Block of Baker Street.
The latter, however, went missing early Monday morning.
Which is why staff at Snowpack Outdoor Experience is issuing a plea to the two men to return the unique wooden sculpture of a bear to the local outdoor clothing store located in the heart of the Nelson Downtown.
The sculpture known as "Kissy Bear" was stolen by two men, caught on video, Monday (October 8) at 12:30 a.m. after staff forgot bring the bear into the store after closing.
"This bear, part of the purchase when the new owners took over the local store in 2006, has been a permanent fixture on Baker Street for years," said Snowpack owner Lori Comishin. "(Kissy Bear) has been out on Baker Street every day since then, with the exception of on a couple of days of the year when our store is not open."
Comishin said the bear has been very popular with children over the years, who stop to give Kissy Bear a hug, kiss or whisper something in his ear.
Since the theft, Comishin said there have had many people stop in and share their sadness that the statue is no longer guarding the entrance to the business.
Comishin said Snowpack staff are disappointed these two men have chosen this action and would simply like the thieves to return their bear.
"We along with our staff are very heartbroken at the loss of our Kissy Bear," Comishin said.
Nelson Police have been contacted and are continuing to review video of the late-night theft.
If anyone had any information, they are asked to contact Nelson Police Department at 250-354-3919 or Snowpack Outdoor Experience.