Mural Festival splashes new coat of paint across Nelson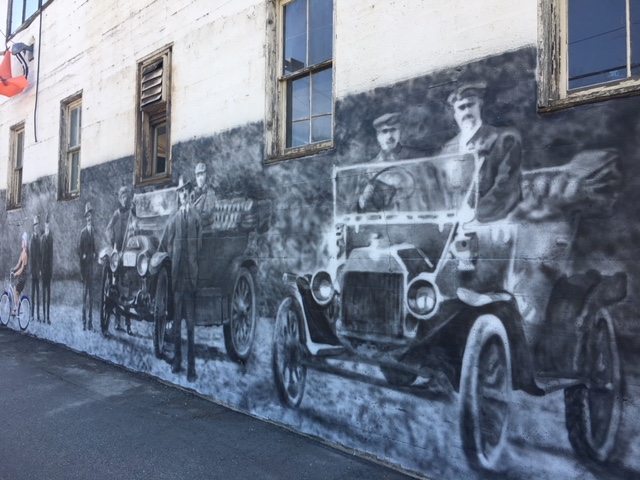 The Hall Street Plaza is the place to be Friday as the Nelson Mural Festival kicks off with opening ceremonies at 6 p.m.
The Festival runs from Friday through Sunday with numerous events, including workshops and performances.
The public is welcome to attend before strolling through the back alleys and parks to view the exhibits from artists including Andrew Tavukciyan of Vancouver, Katie Green and Barry Overn of Calgary, Colour Dreamers of Miami, Jerome Davenport of Western Australia and Tyler Toews, Stephanie Kellett and Kelly Shpeley of Nelson.
Throughout the summer months, artists have quietly created works of art that have shared their craft as well as beautify Nelson's alleys.
All supplies and equipment for muralists were provided by the festival. The walls used were both public and private. Muralists were chosen by quality of skills and techniques, and the ability to communicate a unique vision, overall professionalism and presentation of ideas, appropriateness of artwork to the community, experience, and potential to successfully complete the project within the required amount of time — approximately two to three weeks, depending on the project.
Some of the locations include the wall behind Tandoori Indian Grill and Lounge; the corner in the alley behind Outer Clove; the concrete wall opposition Nelson SPCA; the alley behind Capitol Theatre; the wall of the building behind Downtown Automotive and a small building in the alley behind Leaf Cross Society down from Outer Clove.
Nelson Mural Festival is sponsored by Nelson and District Arts Council.
Here's a map link of the new mural locations.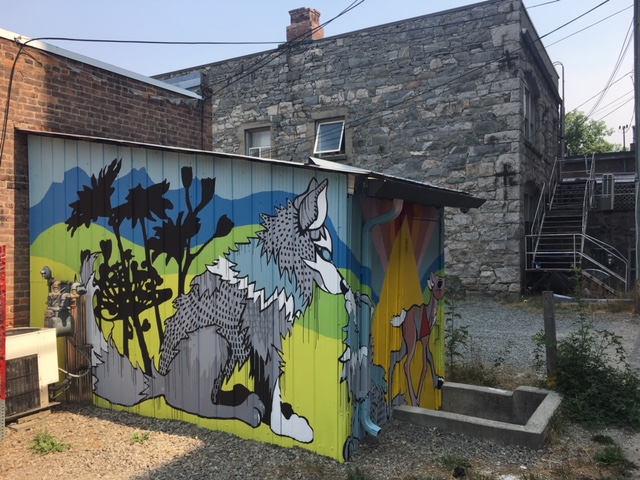 Local artist Stephanie Kellett painted her mural behind the Leaf Cross Society on 300 Block Herridge Lane down from Outer Clove.
Kate Green's imaginative mural was painted on a concrete wall opposite the Nelson SPCA.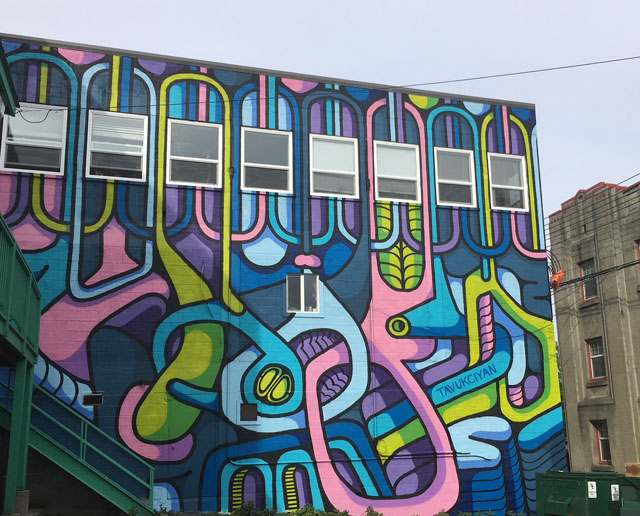 Andrew Tayukciyan, 24, from Vancouver, BC. Andrew is a graduate of the Emily Carr University of Art and Design, and brought the building behind Tandoori Grill to life.