Hundreds of Nelsonites flock to Cenotaph to honour Remembrance Day veterans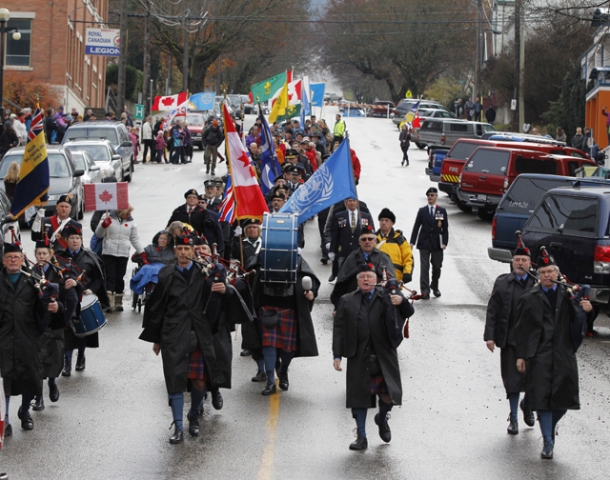 It's a ceremony that just doesn't get old.
Hundreds of people packed the City of Nelson Courtyard to listen and pay tribute to veterans who fought for peace during 2015 Remembrance Day Ceremonies Wednesday at the Cenotaph in front of City Hall.
Thanks to Mother Nature who put a halt to the rain, instead allowing the sun to peer out from the clouds, spectators lined Ward street, sidewalks and lawn surrounding the Cenotaph to catch a few words from speakers at the traditional ceremony that included the playing the Last Post, two-minutes of silence, a flyover by Nelson Pilots Association and speakers praising veterans of yesteryear.
War Veteran Doug Wood led the ceremony that included words from Rev. Jeff Donnelly of St Saviours Pro-Cathedral in Nelson, Nelson Mayor Deb Kozak and 96 year old war veteran, Lionel Binnett.
Kozak touched on the contributions of local war heroes from Nelson during the First World War.
Nelson City Band was on hand also to lead the crowd in O' Canada and God Save the Queen.
A highlight of the ceremony was Binnett reciting the war poem, In Flanders Field.