City gives letter of support to SHARE housing initiative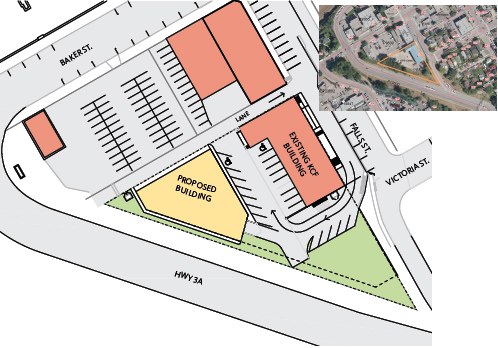 A proposed affordable housing project perched on the edge of the city's downtown has received city council support, at least in writing.
The SHARE Housing Initiative received a letter of support in principle for its project proposed for 520 Falls St. by city council Monday night during its regular meeting.
Jim Reimer of Kootenay Christian Fellowship and Robert Stacey with COVER Architectural Collaborative Inc. presented a vision of the 40-unit SHARE Housing Initiative at 520 Falls Street — just off of Baker Street behind the bowling alley — to city council at their committee of the whole meeting last month.
Reimer noted that the "location is prime, the views are incredible and the opportunity is now. And the opportunity is real," when he pitched the idea of the housing initiative.
He has had some "very positive discussions" with Columbia Basin Trust and other funding partners — and BC Housing has given verbal confirmation regarding project financing — but all were waiting for a major player like the city to commit its support.
And now it has.
The letter in principle of support for the project from the city will allow the SHARE Initiative proponents to begin lining up funding partners, and nailing down grants.
The $6.5-million project will consist of a three-storey structure with two or three commercial rental units on the first floor and 40 rental units on the second and third floors.
The goal of the initiative is to provide minimum or low wage earners quality housing in the downtown core that falls into the Canada Mortgage and Housing Corporation's (CMHC) 30 per cent (or less) range of gross income affordability.
Reimer said two of the greatest perceived housing needs in Nelson are 'at risk' youth and young adults (18-22 year old age group,) seniors and single adults at risk of homelessness because their income is below affordable rental rates in Nelson.
Reimer said Kootenay Christian Fellowship (KCF) would own the property and all units — a mix of bachelor and one-bedroom units — will be managed by a subsidiary of KCF. All units are to be self contained and will carry monthly rents ranging from $600 to $800.
According to preliminary financial modelling estimates, annual cash flow from rents is expected to be approximately just over $500,000.
Based on the project's cash flow, the SHARE Housing Initiative (SHI) will determine the amount of debt finance that can be accessed, and then apply for grant funding and no-interest or low-interest loans for the balance.
After a preliminary meeting with the city in August, a fall meeting will carry a detailed request from the SHI regarding the project.