RDCK advises evacuation alert remains as Sitkum Creek wildfired continues to burn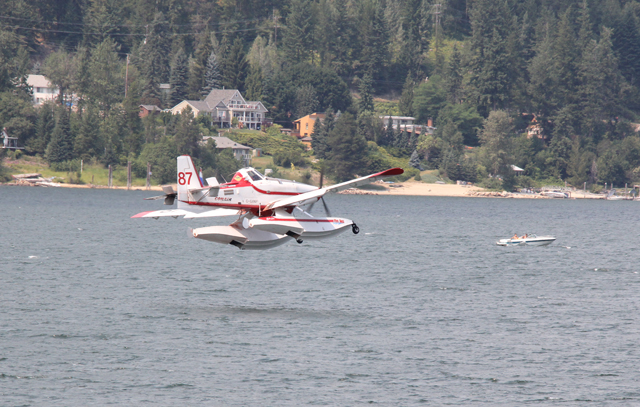 The Regional District of Central Kootenay in a media release said residents of the Duhamel and Sitkum Creek area are still on evacuation alert as a wildfire continues to burn.
"Weather conditions are forecast to be better tonight as crews continue to attack the (now 300) hectare blaze on both the ground and from the air," the release said.
"Crews will be onsite throughout the night. Currently, there is no immediate threat to structures."
The RDCK said approximately 350 residences are in the affected area.
"The evacuation alert will be in effect until further notice. Such a measure alerts residents and visitors within the impacted area to be prepared to evacuate if ordered to do so by emergency officials."
 
Prepare for an evacuation order by:
 Staying calm.
Turning off appliances (stove, lights, air conditioners and heaters)
Not using more vehicles than you require.
Not using the telephone unless you need emergency services
Locating all family members or co-workers and designate a safe meeting place in the event that an evacuation order is called
Gathering essential items such as medications, eyeglasses, valuable papers (i.e. insurance),
immediate care needs for dependants and, if you choose, keepsakes (photographs, etc.). Have these items readily available for a quick departure.
Consider moving any disabled persons and/or children to a safe area.
Moving pets and livestock to a safe area.
Arranging to transport household members or co-workers in the event of an evacuation order.
Arranging accommodation for your family if possible. In the event of an evacuation, emergency
accommodation will be provided if required.
Monitoring media (RDCK website at www.rdck.ca, RDCK Facebook page, and local media).   
The RDCK also want people using Kootenay Lake for boating, swimming or other recreational activities to be advised aircraft scooping water out of the lake for firefighting efforts. 
The RDCK will continue to update the public as information becomes available.
Please check our website at www.rdck.ca and our Facebook page .
Questions, please call the EOC at 1-866-522-7701.