Nelsonites pay tribute to lost workers at Day of Mourning ceremony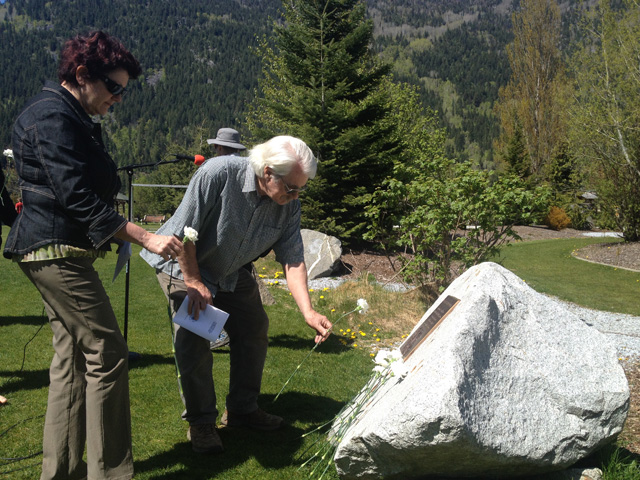 Tuesday at noon, more than 30 people gathered at Lakeside playing fields next to the Tyler Lake Memorial Fieldhouse to mark the annual International Day of Mourning, a day to commemorate those workers and their families who have been affected by workplace tragedy — and strive to work together to ensure we all go home safely at the end of the day.
"Today is for the families . . . and families have a right to have peace on this day," said Pam St. Thomas of the West Kootenay Labour Council.
The West Kootenay Labour Council organized Nelson's 20th annual Day of Mourning.
Speakers included Faye Spilker of WorkSafe BC, reps from the West Kootenay Labour Council, a few locals who lost family members in workplace accidents and a song by Bob the Postman.
The Day of Mourning was initiated by the Canadian Union of Public Employees in 1984, adopted by the Canadian Labour Congress in 1985.
In 1987 the B.C. Government recognized the Day of Mourning and in February 1991, Bill C-223, was passed and received royal assent to mark April 28th to pay respect to all the killed or injured in the work place.
In 2014, over 173 workers in BC lost their lives, including four younger workers under the age of 24.
Seventy-five died as a result of workplace accidents and another 98 death are a result of occupational diseases such as asbestosis and mesothelioma.
"This day is to recognize those who have died or have become cataclysmically injured on the job," said St. Thomas.
The Day of Mourning is not a celebration but an acknowledgement of workers who went out to work in their jobs and never came home some from the very jobs in our own communities said a representative from the West Kootenay Labour Council.
The rep added work should never kill anyone on the job and it's the hope saluting those who have lost their lives at work will raise awareness.
Day of Mourning ceremonies, set for April 28th every year, were held throughout the province and Canada, including Trail, where workers paraded through downtown, and Castlegar.