Leafs defenceman Darnel St. Pierre commits to SFU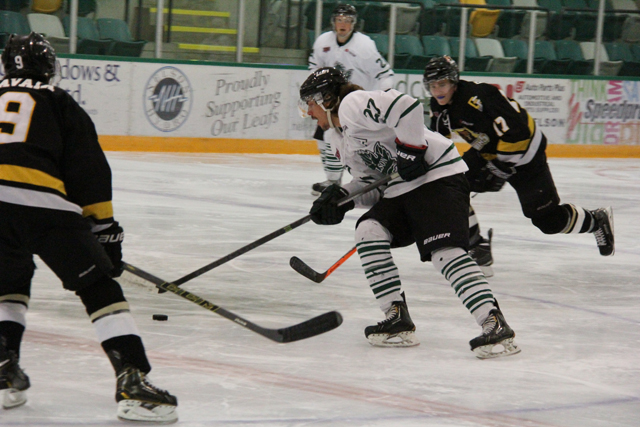 The defence of the Simon Fraser University Men's Hockey team just got a whole lot tougher after the Clan announced that former Nelson Leaf defenceman Darnel St. Pierre has committed for the 2015-16 BC Intercollegiate Hockey League season.
"Darnel is a much needed addition to the back end of our hockey team," said SFU Men's Hockey Head Coach Mark Coletta after the Clan finished second to three-time BCIHL winner Selkirk Saints.
"We only return three defensemen next season and are looking to stock up on d-men who play a two-way game and bring some toughness."
"Darnel adds those types of attributes to our team in spades," Coletta added.
"Having Darnel come from the same junior program in Nelson as Robson Cramer – who we recruited earlier this year – is a bonus. With them both at SFU, Darnel's transition to the classroom and university hockey should be smooth."
The 20-year-old is a veteran of 184 Kootenay International Junior Hockey League games with Nelson, Revelstoke, and North Okanagan.
St. Pierre, who is listed at 5'11" and 165 pounds and from Kelowna, had 13 goals and 31 assists for 44 points in 48 games for Nelson in 2014-15.
He was second among defensemen on the Leafs in scoring, behind fellow SFU recruit Cramer.
St. Pierre is no stranger to playing a tough game, as his 146 penalty minutes this past season was second in the league, just one minute behind the leader.
"I'm excited to join SFU because the hockey program is second to none while the school itself is in a class of its own," explained St. Pierre.
"What people can expect from me each night is a hardworking, gritty, two-way effort. I like to think I'm responsible in the defensive zone and will jump up in the play to help create offense, while trying to be as physical as possible."
A graduate of Kelowna Minor Hockey in the Okanagan-Mainline Amateur Hockey Association, St. Pierre started his junior hockey career in 2011-12 with Revelstoke, finishing the season with 11 goals and 24 assists in 40 games as a 17-year-old.
He served as captain for the Grizzlies in 2012-13 and was traded to Nelson prior to the start of the 2013-14 season.
St. Pierre's KIJHL career totals include 43 goals and 100 assists for 143 points along with 453 penalty minutes in 184 games. He also has two goals and six assists in 31 career KIJHL playoff games.
"My goals for the coming season are to help the team work toward a championship while growing my own personal game at the collegiate level," said St. Pierre.
SFU Men's Hockey was re-established in 2004 and competes in the British Columbia Intercollegiate Hockey League.
SFU lost in two games in the final of the BCIHL to Selkirk Saints of Castlegar.
The program focuses on competition, academics, and community service as its core values. For more information about the SFU Hockey program please visit www.sfuhockey.com