2015 season opens March 15 by making reservation at Discover Camping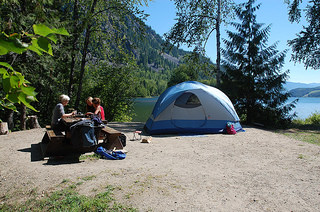 It's camping season.
And for campers wanting that prime spot in BC provincial parks, be advised the reservation desk opened for business at 9 a.m. Sunday (March 15, 2015).
There are two ways to make those reservations to frontcountry campsite in many provincial parks, up to three months in advance — on the Discover Camping website (www.DiscoverCamping.ca) or calling 1-800-689-9025.
"With over 5,200 easily accessible campsites to choose from throughout the province, I encourage families to visit the website now and familiarize themselves before the reservation system opens on March 15," said Mary Polak, Environment Minister.
Up to three reservations can be made in one easy transaction for those avid explorers looking to book more than one camping excursion.
New for the 2015 camping season, families can now reserve campsites in Summit Lake, Juniper Lake, Whiskers Point and Kootenay Lake provincial parks. More campsites are also available in Mount Robson and Kentucky Alleyne provincial parks.
This year, Haynes Point and Okanagan Falls provincial parks are being managed by the Osoyoos Indian Band (OIB). Campers to these Interior parks can expect the same recreational opportunities enjoyed previously.
The Province and OIB are working to have both parks open April 1, 2015, for the camping season, and for Haynes Point to be on the Discover Camping system. The campground at Okanagan Falls remains first-come, first-serve.
The interactive reservation website transports campers to their desired campground displaying the availability, layout and amenities at 115 easily accessible (frontcountry) campgrounds in 99 provincial parks.
Campers can also make bookings on the go through their smartphones. This mobile platform is simpler and easier to access when the Discover Camping website is in high demand, accessible from any Internet device.
Quick Facts:
Some campgrounds on the reservation system are 100% reservable, while others offer first-come, first-served sites
Bookings for group sites are available up to 12 months in advance of the arrival date.
In 2014, more than 133,000 reservations were made through Discover Camping – an increase of almost 10% from 2013. 75% of bookings made in 2014 were placed by British Columbians.
The non-refundable reservation charge is $6 per night, up to a maximum of $18 (plus tax) per party, per campsite.
Reservations can be made through the call centre at 1 800 689-9025 for a surcharge of $5 (plus tax).
Parking is free in all provincial parks making them more accessible to families.