RDCK announces renovations to NDCC pool starting in May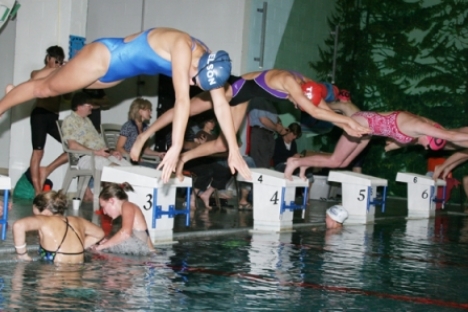 The worst possible news for pool users in Nelson is happening (Friday) May 1 when the Nelson and District Aquatic Centre closes for renovations.
"While we had originally planned to begin renovating in April instead of May, the newly elected RDCK board and recreation commission required additional time to properly review and approve plans and budgets before the project could start," said Joe Chirico, community services manager for the RDCK.
The RDCK said the facility is expected to remain closed for eight months until construction is completed.
In a media release (see NDCC Pool Renovation Quick Facts) the RDCK said the commission and board have now approved a $4.92 million budget with borrowing not to exceed $4.5 million for all renovations.
The RDCK is now preparing to release tender documents for contractor bids by mid-February and will select a contractor by early April. 
All renovations are scheduled to be done by the end of 2015 so residents can enjoy the renewed facility in early 2016.  
Fixes will include new mechanical systems, electrical panels and equipment, a relocated lifeguard station, new sauna, pool decks, tiles and new water proofing membranes.
Renovations will extend the life of the facility by at least another 40 years.
"I'm relieved that construction is going ahead this spring," said Nelson and District recreation commission chair and Area E director Ramona Faust.
"And like many area residents, I'm not looking forward to having the pool area closed for eight months, but I know this means we'll all get to enjoy an improved aquatic centre for the next forty years."
The Nelson and District Aquatic Centre was built in 1975, mainly through fundraising and walk-a-thons from Balfour to Nelson by the community and for many years was the only indoor pool in the West Kootenay.
The facility was renovated in 1985 and expanded 1994 when the kids pool was built.
In January of 2013, the pool was closed after ceiling tiles fell during operation.
The pool was closed until mid-summer for repairs.
During this round of renovations, the NDCC arena, fitness area, meeting rooms and offices will remain open.
Facility pass holders who have already purchased a pass that expires after May 1, 2015 will have the option to receive a pro-rated credit or refund while the aquatic centre is closed.
The RDCK is in discussions with pool user groups to explore alternatives to the aquatic centre while renovations take place.  
The RDCK will continue to provide regular updates over the coming months.