Nelson's Bantam House Leafs capture West Kootenay Title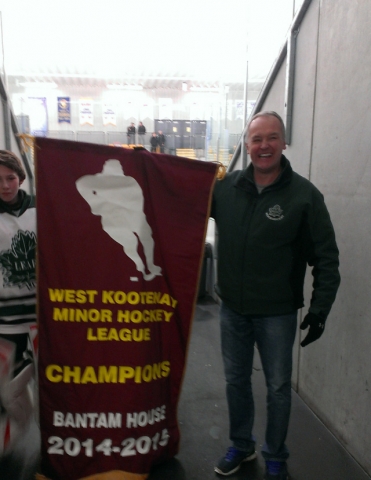 Bradey Sookero scored the winning goal late in the third period to power the Nelson Bantam House Leafs to the West Kootenay Championship with a 4-3 victory over Trail Sunday at the NDCC Arena.
"There are quite a few players on this team who have been on teams that have played in the final game of the playoffs a number of times, but this is the first time they have been on the winning side of that game for all of them," said head coach Dave Zarikoff following the win.
"House hockey doesn't usually get a lot of accolades, but these kids simply love to play and did so this season with a lot of effort and heart.  We are all very proud of their efforts."
Nelson finished first in the regular season with a 11-2-1 record.
In the seven-team tournament, Nelson received a bye in the first round.
Nelson opened the tournament with a 3-1 win over Trail Smoke Eaters.
Saturday, against the Castlegar Rockies, and Nelson doubled the Sunflower City team 8-4 to give the host side 6 points in the playoff series.  
The North Kootenay Lake Falcons (Kaslo/Nakusp) surprised everyone in the playoffs by winning all three games to finish second in the playoff series.  
Trail (third) and Castlegar (fourth) rounded out the final four.
Nelson met the Castlegar in the semi final, played at the NDCC at 6:30 am on Sunday morning.  It was a great game, but Nelson won the semi with a score of 5-2 against Castlegar, sending them to the final.
The North Kootenay Lake Falcons met the Trail Smokies in the second semi, and it was a great game, which went in to a 3-3 overtime period, when the Trail team scored the winning goal in the five minute overtime to move on to the final game against Nelson.