Nelson Commons officially breaks ground on $26 Million project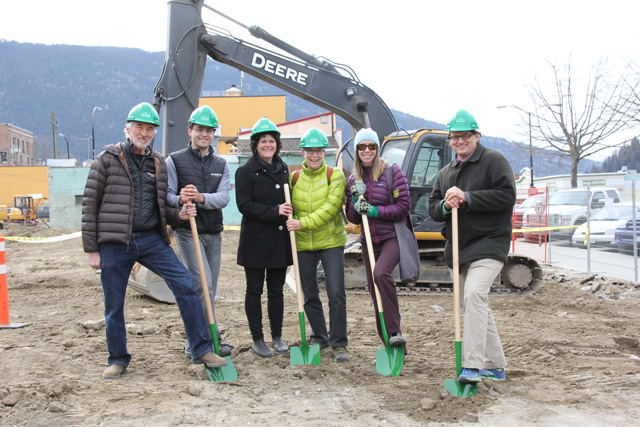 It wasn't that long ago the naysayers were lining up on soapboxes telling all who would listen the $26 Million Nelson Commons project would never happen.
Well, those naysayers are now in hiding as the former Extra Food Store has been demolished and that non-existent project is well underway.
Thursday, more than 40 people, including former Nelson Mayor John Dooley, current City Councillor Michael Dailly,ITC Construction Group staff, Kootenay Co-op General Manager, Deirdrie Lang (KC General Manager/Nelson Commons team, Russell Precious, Nelson Commons Project Manager), board members, Co-op staff members and Kootenay Co-op Board President Jon Steinman were at the corner of Vernon and Hendryx Street for the official sod, ere, gravel, turning ceremony Thursday afternoon.
"I think we're there," Kootenay Co-op Board president Jon Steinman told The Nelson Daily after addressing the audience.
"This is the beginning of a process that is going to become quite streamlined. To get to this point has taken eight-and-a-half years from the moment we said we need a new space . . . which would be eons in the grocery world but in the co-op world I think that's pretty good."
"As a store owned by its members it is a process that takes a bit longer to do something of this scale and this is significant," Steinman added.
"This is something food co-ops have been doing for decades so we've had the resources and the support to know how to do it but in Nelson's case this is quite unique.
"And I think we're there."
The project, huge by Nelson standards, is headed by the Kootenay Country Store Cooperative, which includes a larger Co-op store, 54 residential units, additional commercial spaces, underground and street level parking and a community green space in a prime location in the downtown core.
The site was purchased in 2012 but the green light wasn't given until November 2014 when enough residential spaces were sold to begin construction.
This is definitely a day I thought might not happen," confessed project manager Russell Precious.
"These projects are extraordinary complex, and for the Co-op because we had no track record as a developer, we had to bring in a strong team of people so the bank could look at us and say, they may not be developers but they have a team who know what they're doing."
Demolition of the former Extra Foods Store began in February. Systematically, crews dismantled the store, removing its beams from the site last week.
Now crews are excavating contaminated soil and trucking it to landfill at Ootischenia near Castlegar.
Useable soil will be trucked to a site in Nelson.
ITC Construction Group is the main contractor with Precious saying almost 75 percent of sub trades being given to local contractors.
"That was always our request to ITC," Precious said.  "Because of their local connections it was easy to make that a reality."
According to Precious, the hard part is over and the easy part of the project is watching project get built.
"Biggest challenge, and we knew it was from the start, was pulling together the funding," Precious explained.
"We don't have the track record and there's no comparable projects going on on a regular basis where funders could see this is just another one of those that was successful projects."
Currently the Kootenay Co-op has 12,000 members and a staff of 90 running the Baker Street store, which is definitely too small for the traffic.
However, there were those detractors in the community who said this Co-op board is in way over their head.
For them Steinman has a simple answer — thank you.
"I say "thank you" to the members and people in this community who have been challenged by some of the decisions we've made around this project has helped inform how we operate and how we've decided to shift some of our approach," he said.
"Ultimately, without that it wouldn't be fun if everybody had one vision of how it should be.
"I thank everybody who actually voiced their opinion on whether it's the design of the building or getting too big too fast. It's been a real important part of the democratic organization to have that dialogue and I'm grateful for it."
Resident occupancy is expected to begin in the summer of 2016 with the Co-op store opening a few months later.
"I look forward to the opening day ceremony of the new store," Precious said.
"That will really be something to celebrate."