New Nelson mayor and council sworn in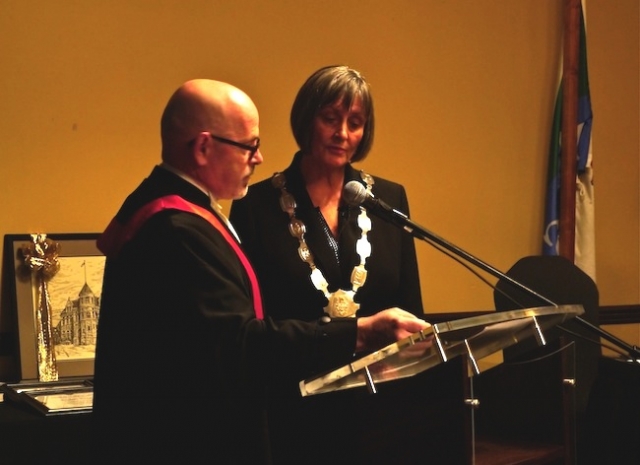 About two hundred people attended the inaugural meeting of Nelson's new city council last night at the Prestige Inn.
Mayor Deb Kozak and returning councillors Bob Adams and Robin Cherbo, along with newly elected councillors Valerie Warmington, Michael Dailly, and Anna Purcell, took the oath of office. Councillor-elect Janice Morrison was not present.
"It is no small thing to be the first woman elected mayor in 117 years," said Kozak in her inaugural address, and she then invoked the memory of Nelson city councillor Annie Garland Foster, who ran unsuccessfully for mayor in 1922.
Kozak said her style will be relationship-building and inclusiveness, both within Nelson and outside of it, and she cited her work with the Columbia Basin Treaty and her role as chair of the Association of Kootenay Boundary Local Governments. 
But she said it will also include having "the difficult conversations. If we cannot have the tough conversations around small issues we face, how can we move forward on the larger issues we will be facing?"
She said there are issues in Nelson that citizens want council to have second look at, including water and sewer rates, the Hall Street project, housing affordability, and the dog bylaw.
And she said there are innovative projects she wants to see council tackle, such as composting, a centralized depot for recycling, and the possibility of an enhanced role for Nelson Hydro.
"We have the opportunity to grow Nelson Hydro as a leader in green energy and innovation. Think about a future where Nelson can produce all of its own power. It just makes sense for our community."
To close her speech, Kozak said she had invited all past mayors and council members to this inaugural council meeting.
"I am very proud that you have come," she said. "I would like all of you who have served on council in the past to please rise and be recognized."
About 15 former mayors and councillors, scattered throughout the audience, stood and were applauded.
RDCK and recreation commission appointments
There were several items of official business at the meeting, including nominations and voting for city representatives on two important governance boards.
Kozak was voted the city's representative at the Regional District of Central Kootenay, with Councillor Dailly as her alternate. Councillors Warmington and Morrison were named to the recreation commission.
Cultural ambassador and sustainability awards 
Singer, musician, and actor Bessie Wapp was named Nelson's 2015 cultural ambassador.
The first annual sustainability awards—gold, silver, and bronze respectively—were presented to the West Kootenay Ecosociety, architect Lukas Armstrong, and food activist and journalist Jon Steinman.