Saturday is voting day in 2014 Municipal Elections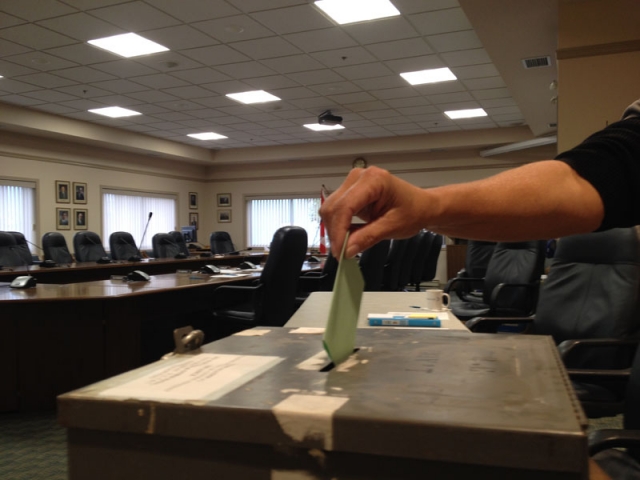 Ready, set . . . vote.
The 2014 Municipal Elections are happening Saturday (November 15) to elect regional district boards, school trustees and city councils for the next four years.
And after a few weeks of campaigning, media questions and forums, all of the candidates are ready to see who will form the next governments cities, regional districts and school boards across the province of BC.
City of Nelson polling station is at the former Central School gymnasium on Stanley Street.
Meanwhile, Regional District of Central Kootenay residents can vote at a variety of polling stations within the respective areas as well as for trustees in the Kootenay Lake School Board.
In Nelson, incumbent mayor John Dooley has been pushed to the wall by the two challengers, current councilor Deb Kozak, and retired police sergeant Pat Severyn, in one of the most hotly contested races in Heritage City history.
The council race has been equally interesting as only two incumbents — Robin Cherbo and Bob Adams have returned to the race.
Challenging the two incumbents are Michael Dailly, Charles Jeanes, John Paolozzi, Jason Peil, Anna Purcell, Brian Shields, and Valerie Warmington, former councillor Janice Morrison, Justin Pelant and Jeff Shecter.
In the Regional District of Central Kootenay, retired Nelson and District Teachers' Association president Tom Newell and Kevin LePape are in a tight race to replace former Area F after Ron Mickel.
In Area E, incumbent Ramona Faust is getting a push from Rick Marken while longtime director and former chair Hans Cunningham will face off again against Werner Kraus in Area G (Salmo). 
In 2011 Cunningham defeated Kraus.
Rounding out the RDCK, Garry Jackman, in Area A (East Shore) and Larry Binks in Area C (Rural Creston) are both is getting free passes, while Tanya Wall and Jared LeBlanc battle it out to replace former chair John Kettle in Area B (Creston).
In Area D (Kaslo), Donna Cormie and Aimee Watson are in the running to replace retired Andy Shadrack.
In Area H (Slocan Valley) and Area I (rural Castlegar), Walter Popoff and Andy Davidoff, respectively, will be acclaimed as no one decided to run against them.
In Area J (Lower Arrow-Columbia), Rick Smith and Gordon Zaitsoff have squared off while Deborah McAulay and Paul Peterson are running in Area K (Arrow Lakes).
School Board candidates for Nelson has Bob Abrahams, Curtis Bendig and Bill Maslechko in the running for the Heritage City seats.
Current trustee Bob Wright decided not to run again in Nelson, but has been acclaimed as the new trustee for Salmo, Taghum & Blewett.
Wright is unopposed.
Voting is from 8 a.m. to 8 p.m.