Large crowd brave cool temperatures to honour Remembrance Day vets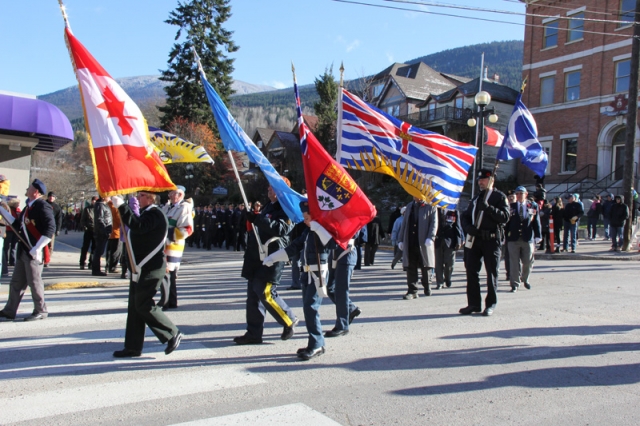 One of the largest crowds on record braved cool temperatures to pay tribute to veterans who fought for peace during 2014 Remembrance Day Ceremonies Tuesday at the Cenotaph in front of City Hall.
Despite a thermometer registering in the minus digits for the first time this winter, spectators lined the streets, sidewalks and lawn surrounding the Cenotaph to listen to the ceremony that included the playing the Last Post, two-minutes of silence, a flyover by Nelson Pilots Association and speakers praising veterans of yesteryear.
Led by War Veteran Doug Wood, the ceremony featured Major Robin Burrows of the Nelson Salvation Army, Nelson Mayor John Dooley and 90-plus year-old war veteran Lionel Binnett.
Burrows took time to praise the remarkable contributions of Canadians who fought in the first two World Wars along with asking those present to think about the recent deaths of military men in Quebec and Ottawa.
Dooley spoke of a recent trip to France where he walked on the same ground as Canadians who fought so that Canada could remain free.
"Your grandfathers and great grandfathers who left their homes in Canada to stand up for the very principles we believe in . . . the principles that we work on in local government in that building right in front of us," Dooley said.
Dooley also paid tribute to the men and women who protect the public every day and thanked the many people who give up time on a stat holiday attend Remembrance Day Ceremonies.
"Ladies and gentlemen, my heard bursts with pride in this courtyard on November 11th," he said.
"It bursts with pride because you come out to remember these people. You come out to remember the sons and daughters."
"Ladies and Gentlemen, my heart is full of pride," Dooley adds. "It was full of pride standing under the Canadian Flag in Juno Beach, remembering . . . remembering . . . remembering."
Nelson City Band was on hand also to lead the crowd in O' Canada and God Save the Queen.
A highlight of the ceremony was Binnett reciting the war poem, In Flanders Field.