'Speed candi-dating' kicks off Nelson pre-election forums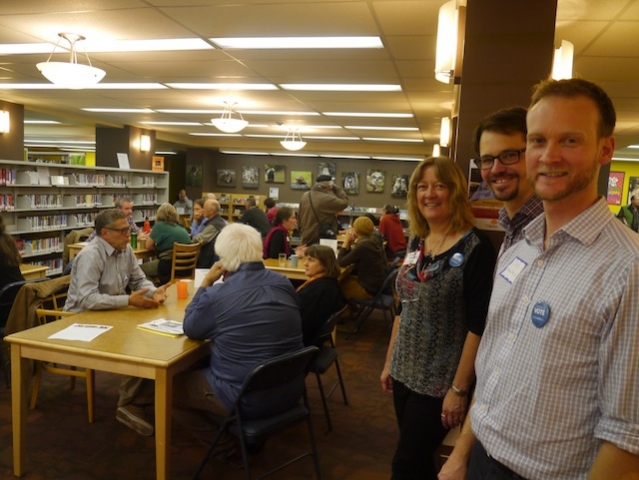 About 100 people went on a series of eighteen dates in Nelson last night. In the public library. For three minutes each. And they seemed happy to talk with their dates about nothing but politics.
Speed Candi-dating is modeled after speed dating, a formalized matchmaking process designed to help people meet large numbers of new people in a short time.
Candidates for mayor, council, and school board sat at stations around the library. Citizens circulated for short one-on-one conversations with each, orchestrated by the stopwatch, warning bell, and resounding voice of the Eco-society's David Reid:
"Time's up! Time to switch! Move on to your next date please!"
Between getting familiar with Reid's system and talking to candidates one on one in a series of fast encounters, the voters were definitely engaged. The structure of the event made it impossible to just sit back and observe.
"I think it is absolutely great," said Nelson resident Michael Chapman. "Three minutes is not a long time, but if you think about what you want to ask, a lot can happen in three minutes. I just had some very candid answers to what I thought were good questions and I have come away with a much better sense of who these people are, and that will help me vote."
Ann Remnant agreed. "I am glad I came," she said. "I definitely know more than I did when I came in. There are a lot of new faces coming on. Even if you only do small talk you get a sense of what their priorities are."
The Nelson Daily asked the three mayoral candidates what they thought of the event.
Mayor John Dooley: "Excellent. You get to talk to a lot of people, and in a hurry. I have enjoyed all the questions so far. There has been a variety, and they are all thoughtful. I have been able to answer all of them, and that's always a good thing!"
Deb Kozak: "I like it. It is kind of similar to door-knocking. People ask about various things. I have been asked about should we keep Red Sands clothing optional, about the transfer station on the waterfront, people wondering about a green city within ten years and being a model municipality. It is very energetic, I feel energized."
Pat Severyn: "It's awesome. It's nice to be able to sit down and hear all sides of the questions, right from chickens to Hall street development, and everything in between. You get issues that I never would have thought of myself."
More upcoming election events
There are three more public pre-election events coming up before the November 15 election.
Reverse forum, Wednesday, November 5
At a  "reverse forum" at the Best Western, the public will speak and the candidates will listen. The event, sponsored by the Social Planning Action Network (SPAN), will focus on social issues such as housing, health, childcare, and seniors' services.
All candidates meeting, Monday, November 10
The all-candidates forum held at Central School, sponsored by the Nelson University Women's League, has become the mainstay pre-election event in Nelson. All candidates will take questions from a panel and from the public. Moderated by Deb Zeeben, the forum starts at 7pm.
Mayoral candidate forum Wednesday, November 12
The final event before the election is a forum with just the mayoral candidates at the Prestige, hosted by the Chamber of Commerce and moderated by radio news reporter Glenn Hicks of Juice FM, with questions from the Chamber and the media. 
Click on the photos below to enlarge them.