City council candidate Jason Peil: 'Council should do more asking and listening.'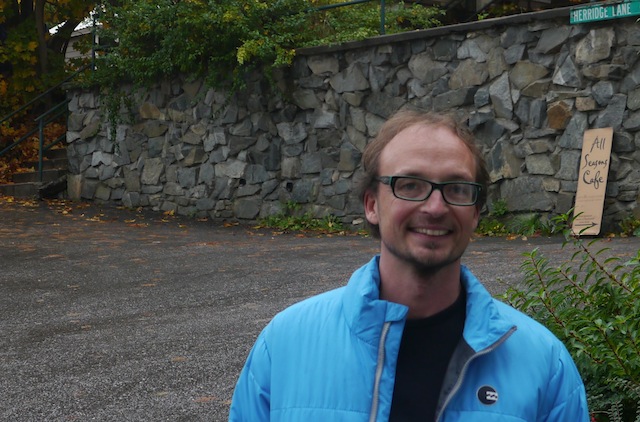 This Q&A session with council candidate Jason Peil is the seventh in a Nelson Daily series with candidates for Nelson City Council in the November 15 municipal election. Previous articles have featured council candidates Anna Purcell, Charles Jeanes, John Paolozzi, Michael Dailly, Valerie Warmington, and Brian Shields.
Others running for the six seats on council are Janice Morrison, Jeff Shecter, and Justin Pelant along with incumbent councillors Bob Adams and Robin Cherbo.
Jason Peil has lived in the Nelson area all his life and works here as a survey draftsman. He's a past president of Kootenay Pride and past vice-president of the Nelson Riding Club. He's been involved in the regional district recycling committee, the Selkirk College board as a student member, and he was a student ombudsman at Selkirk.
Why are you running for council?
Some people asked me to run because they felt my views on politics were unique and multi-faceted and interesting, rather than one-sided. They thought Nelson needs cooperative people on council.
What are the main issues for you?
I want to see us develop some concrete solutions in social housing that alleviate the poverty issues that lead to homelessness. Alleviating homelessness would reinvigorate Baker Street so we can see small businesses thrive. Our economic engine is the small businesses so we really need to concentrate on making sure it is possible to earn a living in Nelson or afford the rents in Nelson to continue to live here and be happy here.
Having a vibrant small business community helps out low-income people—it gives them jobs. Having low income housing helps support those same people to be able to afford to work in town.  We have a disconnect between the affordability in Nelson and the wages that are offered here. I want us to work on that with a multi-pronged approach. You have to invest in Baker to have those businesses succeed, in order for there to be jobs, which have to pay enough so people can afford rent, and the rent has to be low enough so they can continue to work here.
We are a small town but it is an urbane community. We have urban problems and small town problems, and challenges and solutions are all combined. When you do one thing it affects all the other pillars of society.
Do you have specific ideas about what to do about homelessness?
There are a number of band-aid solutions like food banks and the idea of a campground for homeless people. These are positive things but they come with some unintended side effects. Enabling addicts and enabling people to remain homeless is part of the problem. We don't have a concerted effort to help people with mental health issues. There has been a lot of progress made on that front but we need to carry through more. We need a city council that remains positive about getting a mental health car (for the police), and we need a city that actually wants to address the province, a brave city council that will speak for us there.
Also we need to do something about social housing issues. We really do lack low rent affordability spaces.
How could a city council help create social housing?
Currently we have a proposition on the table from the Kootenay Christian Fellowship to develop the old Savoy property into something that is not an enabling structure but would enable social workers to access people and help them out. I have not seen a lot of action from the city with regard to that. That proposal is still serious and still on the back burner. I don't think city council did wrong but we have priorities in local government to try to enable development, such as doing a $400,000 traffic study, which may redirect traffic and harm some local businesses at the Chrysler end of Baker Street.  
And also the Co-op has yet to finish its development and much of that traffic study will be irrelevant once that building goes in. I am concerned we are spending a lot of money on studies when we could have given a concrete grant for bricks and mortar to create social housing that would have done a lot more for local businesses in terms of helping clean up Baker Street.
The CBT and the Osprey Foundation, the province, and then the feds could match Nelson's grant. If we had a more positive attitude toward the social housing issue we would reinvigorate Baker Street by making it a more pleasant place to be. By helping those people we help the businesses and we help ourselves by making the city a safer cleaner and more pleasant environment.
How should city council help small businesses?
In the Hall Street corridor project, for instance, there were numerous public consultation sessions. But some businesses did not feel that they had been listened to, and that the proposals have more to do with traffic changes and less to do with redeveloping the street.
That is an opportunity wasted, in terms of trying to make the Hall Street corridor more attractive. There could have been ways generated out of the public consultation process. For instance, what if we offered the businesses partial incentives to do façade upgrades all the way down the street so there is a more interesting street. You can't just tell businesses what to do, you need to help them out with that somehow. What I am talking about is asking and actually listening. The asking has been done but the listening has been lacking.
Overall in our downtown core there is one economic driver, the Baker Street corridor. It has not seen a lot of improvement in the last 30 years. We used to have a cohesive plan. Whether that plan is still relevant 30 years later is still a debatable subject and I see the issue being raised on both sides. Some say the heritage theme is a great theme and we should not drop it. Other people say we need innovation and we need to continue to grow and move on and not let the street become a cliché of itself.
We need to ask the businesses themselves what they want to see happen and that includes the side streets and the surrounding neighbourhoods, about how they envision the downtown core, how could we encourage them to reinvest in themselves as businesses and as landlords. It is certainly a lot cheaper than paying external consultants to tell us what to do.
What do you think of the dog bylaw?
When I grew up here in the area, and when I would come into Nelson, I remember packs of dogs and feral people, but I think society has changed a lot. The people that were causing the problem are no longer here. Its time to move on from that.
Some Baker Street businesses, with the exception of two that I have talked to, have told me they wanted the bylaw gone.
My proposition is simple: that we enforce a strict leash bylaw that says if you tie up your dog to a post we impound it and you will not get it back unless you have a fixed address. Also, businesses should be given an opportunity to sort this out themselves with a decal program where you put decals on the businesses with green paw for dog friendly business, and possibly a red paw for no dogs in the store. Simple displays, some dog poo bag dispensers and some drop boxes for those, and it needs to be backed up with enforcement, so you must be carrying a dog bag with you at all times and if the bylaw officer catches you without one you get a ticket.  And he hands you a dog bag. Simple.
What has the current city council done well?
The council has been very pro-development which is not a bad thing and I think the council has brought in some innovative projects. They are trying hard to encourage business in Nelson to grow and thrive. The concept of the Hall Street corridor is a good one, but there are drawbacks
What does council need to do better?
There are some transparency issues. When a developer initiates a plan, there is an opportunity for pre-development discussion, but a lot of that happens behind the scenes currently and I think a lot of that should be happening out in the public. The behind the scenes approach has led to public conflicts regarding development, which could have been avoided simply by following the Official Community Plan. 
I can point to a couple of good examples. Nelson Landing had initially proposed to eliminate public access to Red Sands. I cannot imagine the developers wanted as much ire as they got. There was not an open and transparent discussion prior to the development application. Had there been, they would have known right from the start that they needed a public walking trail, they needed road access, needed to stay back from the beach. And now after years of renegotiation and emotional debate, after having spent million, they are finally starting to break ground.
Another example: I want to be clear that I support the Co-op as a member and its democratic decision to purchase the Extra Foods property and develop it. It is positive overall. Again a lot of the debate has been poorly informed, and that comes from a lack of transparency, and had we had more of the opening discussions out in public we could deal with these situations and the Co-op would have enjoyed a smoother ride.
Another issue is that arranging to have an event, like Kootenay Pride, for example, is really difficult in Nelson, to get it off the ground within the requirements of the city.
When you go into the city hall as an event organizer, you get your paperwork one day, have to work on that, take it back, go upstairs, downstairs, over to the regional district office, going around and around, it takes days, and if you are volunteer taking time off work… So I would like us to facilitate event planning.
What are your thoughts on how council communicates with the public?
Council needs to do a lot more asking. We don't know everything. None of us does. In fact most of the councillors are community minded people who only have the best interest of Nelson at heart. They care and love this town. But we don't know all of the answers, none of us are experts on sewers, on electrical transmission, on garbage collection, zoning. Yet they are expected to be the buck-stops-here city council. So I think we need to do more asking and public consultation, it is a cheaper than asking experts from outside. These so called expert don't necessarily know anything more about our city than we do. Our city is full of experts.
There are people at city hall who might tell you, "Well, we do a public consultation, and we get the same small handful of people every time."
That may be true. But maybe we need to be more innovative about how we invite people. Maybe there needs to be public consultation sessions that are really fun to be at. These things tend to be really boring.
City politics is often as exciting as watching snails race. We could do a better job of engaging the public through community-building discussions, town hall style, not to make concrete proposals, but ask people for their ideas.
I'm hearing from some businesses that more public art opportunities would be appreciated, and that the heritage theme has been holding some of that back. There is an opportunity to engage local artists and add some colour to Baker Street in new and innovative ways. The public needs to have a big talk about that. A lot of it is about our attitude, how do we talk with each other.
Premier Clark recently said publicly that municipalities in B.C. are spending too much on salaries and benefits. What do you think?
She is speaking with a forked tongue. In most cases provincial bureaucrats have a small portfolio and there are many bureaucrats. In cities the bureaucracy is very lean compared to what the province has, and to compare our wages on a per person basis you might assume the wages are too high, but compare the workload of one of our city managers with a provincial manager of, say Interior Health, where they have 20 underlings to help them out and we have one person to do it all.  Our managers are cost effective.
To compare apples and kumquats is a poor comparison basis, and even comparisons between two different cities, Nelson and Castlegar for instance, are very different communities. Nelson has its own hydro and it has a steep land base, so you cannot compare the snow clearing needs of Nelson to Castlegar, you can't compare the city management's job in Nelson dealing with a city with 120 year old architecture and infrastructure to Castlegar where it is 50 years old. Waste management is a huge one for some communities, but for others it is done by the regional district. There are so many different variables.
What are your thoughts on cars, transit, walking and biking?
It is unfortunate that we have had to cut back on our transit and it is an issue that is related to how the province has dealt us a bad set of cards. We used to have buses that were more efficient on fuel, although they were getting worn out. I think the new buses, although really lovely, don't even fit on our streets. I think that us having to cut back the bus system is really backwards when we are trying to be a clean society, asking people to leave their car at home. How can you tell some senior who lives at the top of Nelson that they are expected to walk down the hills to the nearest bus stop which may nor may not have a bus coming by in a reasonable time frame.
As far as biking, as part of the reinvestment in Baker we might consider bike lanes. It's complicated; any time you talk about changing the structure of Baker it will be a big deal. We could definitely fit a bike lane on Vernon Street.  It takes structural changes to make these things happen.
What do you like most about Nelson?
I love Nelson's vibrancy, the creativity of the cultural life. Nelson is to the point of feeling like Montreal or Vancouver, a microcosm of a metro city, we have people from so many different cultures here. Most of us are involved in creative pursuits, most of us live an active lifestyle, there is so much to do and see and many of the activaties we have here are free, so we have the best of both worlds.