Anna Purcell, city council candidate, wants to 'make an already great city even better'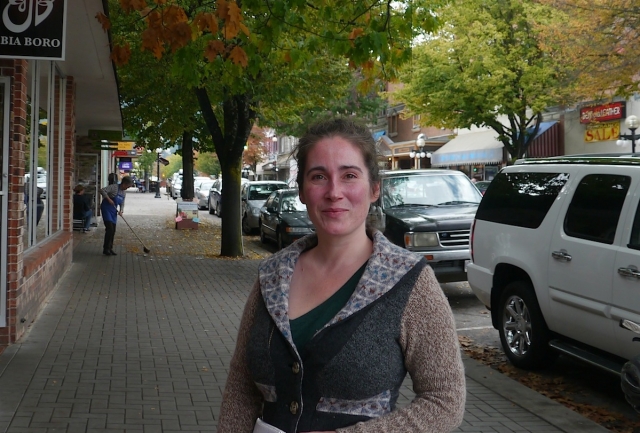 This Q&A session with council candidate Anna Purcell is the fourth in a series with candidates for Nelson city council in the November 15 municipal election. Previous articles in this series have profiled council candidates Charles Jeanes, John Paolozzi, and Michael Dailly.
Others running for the six seats on council (so far) are Valerie Warmington and Jason Peil, along with incumbent councillors Bob Adams and Robin Cherbo.
Anna Purcell moved to Nelson from Vancouver in 1998. She has degrees in theatre and women's studies, and she describes herself as "artsy and social justice oriented" and "insatiably curious." She currently works at Maplerose in Nelson and has been the volunteer coordinator for the Nelson Civic Theatre throughout its development over the past few years.
Why did you decide to run?
I am interested in doing the work. I have been coming to council meetings since the spring and find it really interesting. I like knowing how things work. I like meeting people. I like working with others. I really like understanding things and researching things to come up with clarity around an idea, and I find even the nuts and bolts issues around infrastructure interesting. So I am going to give it a go.
I went to a couple of events when Nelson hosted the Federation of Canadian Municipalities a few years ago, and I was struck by how all the mayors, councillors and staff that I met there, from all over the country, lacked cynicism around their position and their effectiveness. Sure some were frustrated by how long it can take to change anything, but there was a real sense of enthusiasm and belief in their ability to affect tangible positive change in their communities.
This was so different from how I felt, personally, as a voter, about our federal and provincial system, that it started me looking into the power of municipalities, and I noticed that cities are pretty non-partisan solutions-based entities. Fifty percent of the world lives in cities today, and 80% of Canadians do. Cities are at the forefront of a lot of innovation around many issues, like the environment and transportation for example. There's even talk of convening an annual parliament of mayors. The largest cities in the world have budgets that exceed that of some nations, but even on a smaller scale, taken as part of a group, small cities like ours have the potential to create changes with a broad impact. When enough municipalities make the same decision, provinces and states listen. I find this exciting, and heartening, really. 
You said you want to do the work. What is the work, in your view?
It means a lot of reading and research, it means meeting a lot of people and trying hard to understand what their issues are and what they mean when they talk about what they care about. Being responsive to the community, doing my homework, asking really good questions.
What are the main municipal issues for you, in Nelson?
I don't like to see things on an issue basis. Sure there are issues in Nelson, but I feel like Nelson as a city is already a great city and people live here because they love it.  One of the people I spoke to since declaring my candidacy was Tom Thomson at the Chamber of Commerce, who told me that 70% of the people move here because they visited once and loved it, so we are doing something right. I feel like part of the challenge is to keep doing the things we are doing well, and make things even better.
If I could have one wish in terms of world leaders it would be to take climate change seriously, and promote environmentally and socially sustainable development. Of course the economy is important and that reaches into every sector of life. Everything is business—socially and environmentally sustainable development, having an inclusive town that has a place for everybody, continuing to support a diverse economy. In B.C. we continue to think of ourselves as a resource extraction economy, but high tech in B.C. outstrips all of those as an employer, more than mining, forestry, oil/gas.
Could you elaborate on "everything is business?"
Live music is business, theatre and libraries are business, going to the movies is business, how the city plans its budget is business. It is not just shops on Baker Street, which are so important to the life of the town. We have 1300 business licenses here, which is extraordinary. We have a very entrepreneurial city.
The city's decision get into the broadband game is great. It is unusual that a city is part of that.  It is 2014, broadband is a utility, when you dig up the street it goes in the same tubes. People move here who have the types of jobs that can be done from anywhere. That is really important.
Another thing I would love to see us have is a free public wifi hot spot outside. That is a way of prosperity-sharing. You go to developing countries all over the world and increasingly they have public wifi.
What are your views on the rate of growth and development in Nelson?
Whether or not to grow is not interesting to me, but how we grow. Sustainable development takes the environment into account. There are studies that have been done about what kind of climate change is predictable for this area— longer, hotter, dryer summers and rainier winters—so issues around sewage, and making ourselves more prepared for more droughts and more fires, and how we develop the waterfront in terms of the ecology along there is important. Some communities are years ahead of us in incorporating shoreline studies into their building plans.
But these are all things I would need to learn more about before I could come out with a stance. I am nervous about backing myself into a corner. I feel like it is more important to be curious and investigative and ask questions and collaborate than to come out with guns blazing on one particular issue.
But I can tell you about development that encourages walking biking and public transit that is accessible for people with mobility issues. That is very democratizing and healthy on a lot of levels. I care about that, having a place for everybody, and that touches on affordable housing and also how we approach the community to get info around initiatives. This is a really diverse community and I have only just scraped the surface of that diversity.  It so easy for us to think that everyone agrees with us, such as when we are talking about the dog bylaw—nobody wants dogs on Baker, everybody wants dogs on Baker. If it were that simple there would not be this conflict, and so I want to acknowledge that diversity and work with it.
We need to make sure that growth happens in accordance with the values we've already outlined in our sustainability plan, for example, but I also think it's important not to just see growth as more people and more businesses, but also as continued and increased resilience, and cultural vibrancy, as continuing to be dynamic, rich and adaptable.  You know, qualitative rather than just quantitative growth. 
When we talk about growth it does not need to mean more people and more businesses, it can also mean continuing to change, we have a pretty small land base and lot of people outside of it that come in and add to the economic vibrancy of being here, spending money and shopping, but they also put a strain on our resources and infrastructure to some extent, so we need to find ways to have a diverse broad platform of supporting initiatives and being adventuresome and brave.
The city staff right now, from what I can tell, is amazing, they know about best practices. That is a great platform to begin to make evidence-based decisions that are in the public good. What council brings to that expertise is asking great questions and doing research and listening to the community. I am excited about that, I am insatiably curious.
One of the things I have learned from being part of the Civic Theatre is that we can do amazing things when we all work together, whenever we can draw on the knowledge and energy of multiple groups of people with multiple interests, then really a lot of amazing things can get done. Success is working with other people, multi-sectoral collaboration.
What has current council done well?
All the city's plans, such as the corporate energy plan, are inclusive and forward thinking, and when we ask ourselves what we want in ten years, much of the thinking the city has already been done. The challenge now is to make sure they don't gather virtual dust.
The housing and cultural development committees have been really active in identifying Nelson's needs and coming up with solutions. I'm looking forward to seeing the Housing committee's report that will be out soon, and I'm really excited about the revamping of the Cultural Development Committee. The plan for a cultural hub is a great one, as is the idea for a Nelson Festival.
What could the present council be doing better?
I would be excited to look into some fresh ways of engaging the public on issues and keeping people informed. I find the website not the easiest to navigate, and making it more user friendly would be a step. So would creating some sort of listserve that people could sign up for to get updates and information. Those are pretty low- hanging fruit, but would be a start, I think. We can also learn from our neighbours. Revelstoke has done amazing things with youth engagement. While here we may think, "how can we get young people out to the meetings?" in Revelstoke they got a bunch of money and got kids to go out and do video interviews with other kids, and that ended up being the youth input, and the videos are amazing. There were also pizza parties and things, which don't hurt.
How would you like to see the city involved in affordable housing?
Something I keep trying to understand is this transition away from rental housing and into condos that happened in the 70 s or 80s and I am curious about how to make rental units.  If you go to the major cities that we love and that we send postcards home from like New York, Paris, London, Berlin, many people spend their entire lives in apartments. They are born in them they raise children in them and they die in them.
I would like to see an organization come in and build nice rental units for everyone, not just for people in a certain age bracket. I was at the council meeting when Jim Reimer made that pitch for a homeless camp. That is a complex issue I would need to learn more about, but there needs to be a place in the world for everyone.
What would you like to see Nelson looking like in 20 years?
I would love to see us continue to be diverse and vibrant economically, socially, and culturally. I would love to see us take climate change seriously and make preparations for citizens and the ecosystem.
Basically, I want Nelson to be green, prepared, connected, inclusive, fair, practical and gloriously artistically expressive.
Looking ahead 20 years, what to you think Nelson needs to try to avoid?
I'm afraid of us becoming a community of vacation homes. Right now about 95% of Nelson's homes are occupied by year-round residents and this plays a key part in Nelson's liveability. The same was true of Silverton in 2001, but by 2011 that percentage had shrunken to about 68%, and today the percentage of waterfront homes in and around Nelson that are occupied all year around is much lower. This also highlights the need to have really fantastic, generous frequent public access to the lake. I'm afraid of losing our access to the water, and losing our mom-and-pop business culture. 
What do you like most about Nelson?
When I first moved here someone was doing an event called the hundred-mile ideas diet. I went to their community conversation at Oso Negro, talking about creative entrepreneurs, and I was amazed. One of the things that bowled me over was how generous they were about their information and how excited they were about everybody prospering, and that just warmed my heart.
I love the vibrant arts community, and how we express ourselves, and our proximity to nature. 
Bill Metcalfe is a freelance journalist who covers Nelson city hall for The Nelson Daily. To receive a regular twice-monthly email with links to his most recent city hall stories, send a request notification to billmet4@gmail.com.