Deb Kozak joins Nelson's mayoral election race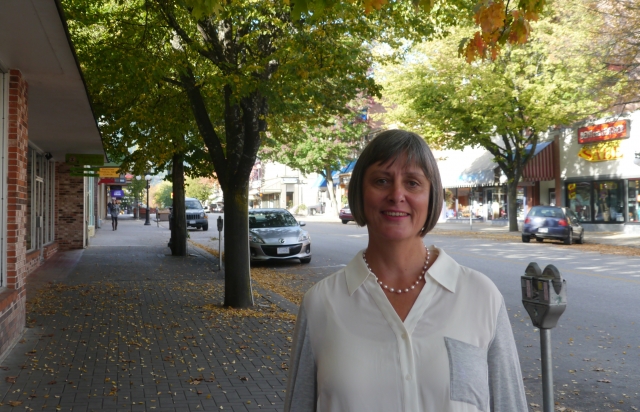 What would be the main difference between Deb Kozak and John Dooley as mayor of Nelson?
Leadership style, says Councillor Kozak after officially entering Nelson's mayoral election race.
She thinks Mayor John Dooley's leadership has been "solid and steady, but perhaps we have not necessarily had full discussion and informed debate on every issue that has come forward. It has been stopped or controlled. In some cases, we have had very difficult debates but there was a fear of what the outcome might be.
"If people do not recognize that there is a difference in our styles yet, they will during this campaign," Kozak says.  "My style is one of openness and welcoming discussion of some of the more difficult issues."
As an example of such an issue, Kozak points to the 2013 council meeting at which a broad-based representation from the community asked council to rescind the dog bylaw for a trial period. Council did not debate the motion because no one seconded it.
"The mayor is a member of council and he can second a motion," says Kozak. "If it had been me, I would have seconded the motion, so we could have a discussion."
Kozak also gives the example of the infamous marijuana discussion of 2012, when council was asked to support an effort by Stop The Violence BC to promote the legalization of marijuana. She says Dooley blocked the discussion.
Since moving to Nelson in 1983, Kozak has worked for, and volunteered for, a variety of organizations in the social services sector. She is just finishing her third term on city council where her activities have included work on the Nelson and District Economic Development Partnership, the recreation commission, and a working group on the Columbia Basin Treaty.
Kozak says the dog bylaw and the marijuana issues should be relatively easy issues, compared to some bigger ones that also need more discussion, including climate change, housing, growth, and shared regional services.
"We have seen some steady progress over the years on climate change," said Kozak, referring to the city's greenhouse gas emissions reduction plan, its Ecosave program, and the partnership with Alp-S, a climate change Institute in Austria. "But we need to do more."
As for affordable housing,  "the sector that I am hearing from the most these days is young families and people of moderate income, wage earners, finding it really hard to live here, to find places to rent. We built the dorms at Selkirk to take the pressure off, but that has not necessarily happened, and it has not dropped the price of rents.
"I have been looking at various communities around the country, what they have been doing, but at the same time we need support from federal and provincial governments. They have pulled way back. It is not the responsibility of municipal councils to provide housing. However, we can pave the way in other ways to make it happen. I am exploring that."
Kozak thinks council is afraid to enter fully into the affordable housing conversation. "There are reasons to be afraid of this, and one of them is that local governments should not be involved because we have so much on our plates already. If you take on housing in a real way there are all these questions— about capacity, how far does our involvement go, what is the responsibility of the private sector—so I think it is stalled around this because there is a deep fear that we can not put one more thing on our plate. I am prepared to put it on the plate for conversation and for partnerships and strong advocacy."
Kozak said that a multi-sectoral discussion about housing that took place in Nelson last week, sponsored by the city, is a good sign.
Regarding growth, Kozak says, "You can't build a fence around a community and say you can't come in. The larger growth is happening in the regional district and Nelson is the hub."
Kozak says she supports the general approach taken by council toward housing development in Nelson, which she says is based on "smart growth" principles including increasing density to decrease sprawl.
She says that on some regional  issues like transit and the moving of the transfer station, partnerships between the city and the regional district work well.
"But we need to do better on resource recovery. For example, composting, we know 40% of our landfill is organic material. The regional district is not ready to take it on because they have their hands full because this is a large region. But Nelson could take some more steps as a community."
Kozak says shared recreational services is also a big issue, referring to city facilities such as the Civic Centre that are also used by people from outside the city. She says the discussion of who should pay for what services needs to be opened up to innovative thinking because it has been stalled for some years.
And that comes back around to leadership, she says.
"Our current mayor has been in the chair for nine years and he has developed a strong reputation and a strong following, but I think there is some cross-appeal there. He does not have it entirely sewn up. Some of the people that support him would consider another candidate. People in this community are passionate, they think, they consider things carefully."