Nelson Curling Club up and running following Christmas break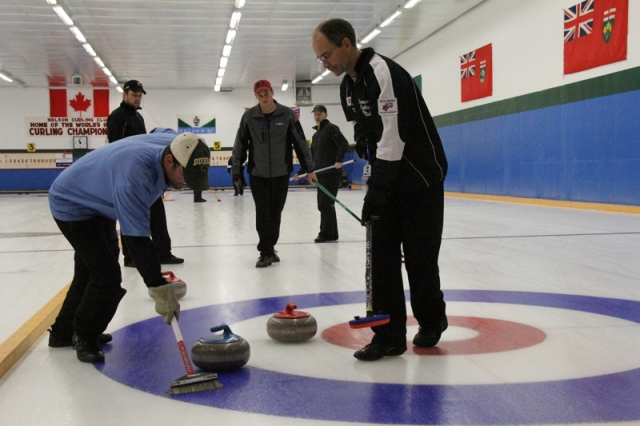 By Terri Richardson, Nelson Curling Club
The Nelson Curling Club curlers are happy to return from the Christmas break to two exciting events. 
One is the Mixed League, which focuses on curlers of all ages and varying levels to curl in social and non-competitive games. 
One only has to drop by on a Friday evening to watch the fun games while music blares out on the ice with curlers laughing and chatting it up the whole evening. 
Because they want to share all this fun with everyone, they are hosting an evening for curlers to invite friends to join in their games this Friday night.  If you don't know a curler, just come to the rink and before you know it, you will know many, many curlers. 
We look forward to seeing you this Friday (January 10) at 6:45 p.m.  Please bring clean indoor shoes and curling equipment will be provided. 
The second event, is a bit more competitive with the Kootenay Zone playdowns for the Senior Men's qualifier for the B.C. Provincials being hosted January 17-19. 
Drop by to watch as the runner-up in last year's provincials, Tom Shypitka, defends his berth (Nelson's, Fred Thomson is third on this team). 
Teams who are challenging Shypitka for the opportunity to represent the Kootenays are, Fahselt, McHargue and Bothamley from the East Kootenays and Nichol, Salviulo and Ferguson from the West. 
These teams promise to provide us with entertaining games and the public is invited to come and watch.
Standings for the first half of the curling season are:
Tuesday Mens:
Beaudry (14); Meadows (11); Savliulo (11); May, R. (10); Zelonka (9); Cutler (8); Marsh (8); Thomson (8); May, A. (7); Haynes (4)
Thursday Mens:
Salviulo (14); Zelonka (14); Lewis (13); Wudkevich (10); McLellan (9); Cutler (6); Barnhart (6); Meadows (6); Richardson (6); Burch (4)
Ladies:
DeTremaudan (16); May (13); Sutherland (11); Walgren (11); Cowden (10); Dreher (5); Prentice (4); Mackenzie (0)